Should Rent Be Cancelled? Tenants Holding Mass Rent Strike During Coronavirus Crisis
The debate on whether people should still be made to pay rent after they have been forced from their jobs will be highlighted again as tens of thousands of tenants across the U.S. are expected to take part in a mass strike in order to help ease the financial burden brought on as a result of the coronavirus.
A coordinated day of action had been planned by groups across the country urging people who have lost their jobs as a result of the virus and lockdown procedures to withhold paying their rent on Friday, May 1.
The strike is not only planning to help the millions of Americans forced out of work amid the outbreak, but also to put pressure on state government officials to implement moratoriums on evictions if tenants are struggling to pay.
Dozens of states already imposed temporary moratorium on evictions for April and into May, but many have no such measures in place, leaving millions at risk of losing their homes.
The National Multifamily Housing Council, which represents apartment owners and managers, previously revealed that 31 percent of renters didn't make their payment in the first week of April, compared to the norm of around 20 percent.
While it is unclear how many people will purposely withhold their rent payment on May 1, organizations across the country are predicting that thousands of their members will take part.
Housing Justice for All, a coalition of dozens of New York-based groups, has attracted more than 13,000 signatures on an online form from people promising to take part in the strike.
More than 12,000 members of the Alliance of Californians for Community Empowerment (ACCE) have said they will take part in withholding their payments in order to put pressure on Governor Gavin Newsom to cancel rent and mortgage payments.
Miriam Goff, a mother of two living in Chula Vista, California, is one of those who has vowed to take part in the strike.
"I have been out of work for over a month due to COVID-19 and I don't know if I'm going to have a job when this is all over," she said in a statement via the ACCE. "What I want to ask the government is to think about the millions of us who were living paycheck to paycheck and do not have savings to pay rent. We need to eat first."
However, property owners and groups which represent them are wary of the knock-on effects that could occur if vast waves of people stop paying rent as planned.
Marlynn Orlando, CEO of Pennsylvania Apartment Association (PAA), said they have asked landlords to speak to their tenants to discuss options with regards to payment of rent if they are struggling, including waiving late fees, allowing residents to use their security deposits as payments and holding off on evictions until July.
"We do not believe rent strikes are necessary," she told Newsweek. "Our owners are doing what they can to help residents and that a rent strike is just harmful to everybody.
Orlando said many organized rent strikes involve people who all live in the same residential building agreeing to not pay their rent all at the same time.
"Unfortunately that means people that can pay rent, will stop paying rent. And every person that can pay rent that does, helps a person that can't as it allows the property owner to pay their bills, so they can stay solvent and pay their bills and mortgage.
"The PAA absolutely emphasizes the financial crisis that the pandemic has put millions of people in," Orlando added. "But the same way a renter has to pay their rent, a property owner haa to find a way to pay their mortgage. It's a trickle down crisis."
Doug Bibby, president of the National Multifamily Housing Council, said the rent strikes were "politically motivated," telling Newsweek, "Given that so many individuals and families are being directly impacted by the disease, it is now more important than ever that residents who can pay their rent do so.
"By paying their rent they are assisting their neighbors who may not be able to, keeping their communities safe and secure and supporting apartment employees responsible for keeping 40 million Americans housed.
"Politically motivated rent strikes are reckless and potentially harmful. They threaten to make an already difficult situation far worse. Such energy would be better spent in contacting members of Congress and calling for legislation to support renters such as a rental assistance fund."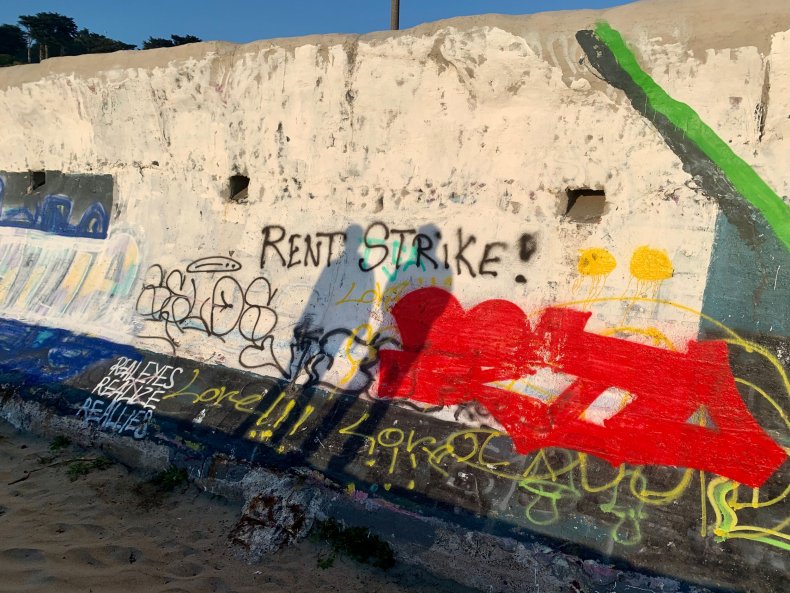 Several lawmakers have backed the holding off of rent and mortgage payments until the national emergency has been lifted.
Minnesota Rep. Ilhan Omar introduced a bill earlier this month which would bring in a nationwide cancellation of rents and home mortgage payments through the duration of the coronavirus pandemic.
"Congress has a responsibility to step in to stabilize both local communities and the housing market during this time of uncertainty and crisis," Omar said. "In 2008, we bailed out Wall Street. This time, it's time to bail out the American people who are suffering."
A similar sentiment was also expressed by the Minnesota-based United Renters for Justice, who are encouraging a rent strike.
"Thousands across the state were unable to make rent on April 1, and now even more are unable to pay rent on May 1. In the meantime, banks like U.S. bank have received millions of dollars in bailouts. We need a people's bailout," the group wrote on Facebook.
New York congresswoman Alexandria Ocaiso-Cortez also backed the strike and urged Governor Andrew Cuomo to cancel rent and mortgage payments during a virtual town hall hosted by the Housing Justice for All coalition.
"People aren't striking because they don't feel like paying rent, they're striking because they can't," said Ocasio Cortez.
The Austin Tenants United group is also asking people to block traffic with their vehicles to highlight the issues that people are dealing with amid the outbreak.
"May Day is a day that we remember the power of solidarity and acting together," a spokesperson told Newsweek.
"Today in Austin and in cities across Texas and the U.S., renters are striking alongside workers and taking to the streets in car caravans and other forms of creative protest to demand that real action is taken to protect the health and safety of poor and working class people.
"By slowing down traffic on a day that Texas 'reopens,' we show our collective determination to put our own health and safety over the profits of the rich."
A recent survey conducted by the Community Alliance of Tenants revealed 80 percent support a suspension of rent during the health crisis. However, only a mere 18 percent are in support of strike action.
According to the latest figures, U.S. jobless claims have hit 30 million over the past six weeks.