'Creep' Supervisor Roasted for Hitting On Job Applicant: 'Total Cringe'
In a now-viral post, a man said an Applebee's supervisor hit on his wife via text after she applied for a job with the restaurant.
The man, u/ArchaicChaos, shared screenshots of the messages in Reddit's "Mildly Infuriating" forum, writing: "Am I wrong to be extremely infuriated by this? Is this not inappropriate? What kind of action do you think can/should be taken?" The post has garnered over 35,000 upvotes and thousands of comments roasting the supervisor's "cringy" texts.
Some Redditors also encouraged u/ArchaicChaos's wife to report the "creep" to human resources (HR).
'I Respect Your Marriage'
Per the screenshots, the conversation between u/ArchaicChaos's wife and the supervisor was professional at first.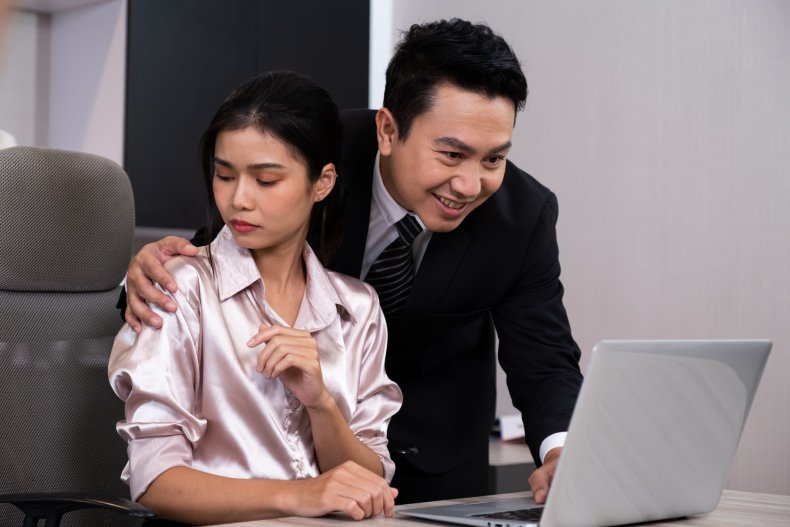 "Hey [redacted] from Applebee's. Did you get the link to your email for the onboarding?" the supervisor asked.
Redditor u/ArchaicChaos's wife said she hadn't received the link, so the supervisor confirmed he had the right email and promised to send it over again. But things quickly went downhill from there.
"Awesome! Also, I didn't get to ask in your interview...are you married? So I can go ahead and start your tax paperwork," the supervisor said.
"Yes I am," u/ArchaicChaos's wife said, to which the supervisor responded: "Okay awesome. Lucky guy."
He then complimented the woman's "charisma and willingness to work," but this didn't sit right with her. So, she reiterated that she's married, adding: "And I don't text other men. I understand you're my supervisor I just want [you] to know it's that [and] that only."
The supervisor "apologized" but then hit on u/ArchaicChaos's wife again.
"I am sorry. I can't help when I see a beautiful girl. I respect your marriage...I applaud [your husband] for keeping a beauty like you," he said. "Please don't take it wrong...This job is my life. I'm here 24/7 then I go to the gym every night haha."
When a Boss Hits on You
Before talking to HR, career coach Marcie Schorr Hirsch says employees should try to sort things out with their bosses one-on-one by making it clear they aren't interested in a relationship.
"Appropriate responses include, 'I'm sorry if you got the wrong impression, but I want to keep our relationship professional,' or, 'I'm just starting this job. I would like to have a great work relationship with you. However, one of the rules I've set for myself is that I don't get personally involved with people at work. That's not about you, it's just my rule,'" Hirsch told Forbes.
Employment lawyers Anne Golden and Edward Hernstadt also advised workers to consult a lawyer "early on" about any unwanted advances.
"That doesn't necessarily mean taking legal action, but it's useful to know your rights," Forbes reported. "A lawyer can tell you about your rights under federal law and also the protections you have available in state and local law."
Of course, if all else fails, Forbes encourages employees to speak with HR.
Redditors React
Though u/ArchaicChaos's wife wasn't yet an employee of Applebee's when she received the texts, many Redditors still urged the couple to report the supervisor.
"See if you can find out who their head of HR is and email them. This guy is all sorts of inappropriate," u/LokiNightmare said.
"Report him. If he's a creep to someone that doesn't even work there yet imagine what he's like to the girls that do work there," u/phackeu added.
Others simply roasted the supervisor for his "cringy" messages.
"I go to the gym haha, You're a beauty haha, I like to breathe air haha, I enjoy H2O haha, Haha," u/NoLifeTilMetal joked.
"'I go to the gym every night.' That s**t made me laugh and cringe at the same time," u/Demon_Coach wrote.
Redditor u/Which-Government-657 said: "That dude's a [motherf**king] weirdo.
Redditor u/DeanofaDead added: "Wow he needs to work on his game. Total cringe."
Newsweek reached out to u/ArchaicChaos for comment.
Other Viral 'Antiwork' Posts
An employee went viral on Monday for sharing that he makes more money as a server than as a health care industry worker. Also on Monday, Redditors slammed a boss who purportedly fired an employee for being 20 minutes late to work.
And last week, Redditors backed a woman refusing to follow her work schedule.