The Crew, Netflix's new comedy starring Kevin James, has now been released on Netflix. In the lead-up to the show's release date, however, the NASCAR Twitter page released Wheelin' & Dealin', The Bobby Spencer Story, which purported to be a documentary about "NASCAR's most famous driver you've never heard of."
As Bobby Spencer is a character played by Bruce McGill in The Crew, many were left wondering whether the series and Wheelin' & Dealin' were based on real events.
The short answer is no. The Crew is an entirely fictional story set in the world of NASCAR, while The Bobby Spencer Story is somewhere between a mockumentary and an advert for Busch Beer, who created the fake doc and who are currently hosting the short film on their YouTube page. This may explain why the character's driving career began after he got into on of the drink brand's trucks at a gas station.
This, sadly, means that some of the claims in the mock-doc are not true: he did not really invent the mullet, and did not really invent the six-pack after taping together his beers.
In the Netflix show, Spencer is the owner of the Bobby Spencer Racing team, a fictional crew run by chief Kevin Gibson (Kevin James.) The show begins as Spencer decides to retire, handing the reins over to his millennial daughter Catherine (Jillian Mueller.)
If Spencer's face in the show feels familiar to you, that is because he has a TV and film career that goes right back to the late 1970s, where the classic comedy Animal House was one of his breakout roles. More recently, the actor starred in over 100 episodes of Rizzoli & Isles and provided the voice of Mr. Waterman on The Cleveland Show.
Asked by Entertainment Weekly why he was attracted to the world of NASCAR for his new comedy, the former Kevin Can Wait and King of Queens star said: "We can go anywhere with this show with NASCAR, whether it's starting up a truck team, or going against different teams, or losing a driver [on our team.] There are so many aspects that are new to me that I love. It doesn't feel claustrophobic."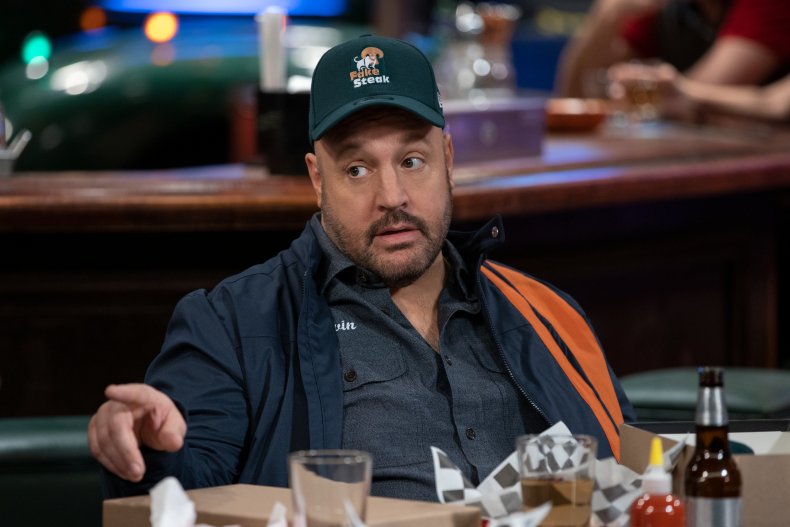 Though the show is a fictional story, it does feature some big-name NASCAR cameos, including Ryan Blaney and Austin Dillon. In fact, Blaney plays himself as a long-standing enemy of James' character. James explained to EW: "Once I met Ryan and knew what his personality was, he's fantastic for it. He's crazy funny, which kind of pisses me off a little bit—like, you're so good at one thing."
Fiction also very briefly became fact. In order to film some of the race scenes, they actually had a car with the company's fake branding and ads for in-show company Fake Steak on it compete in a NASCAR race.
The Crew is streaming now on Netflix.