Exclusive: How Cristiano Ronaldo Helped a Mute Syrian Refugee Find His Voice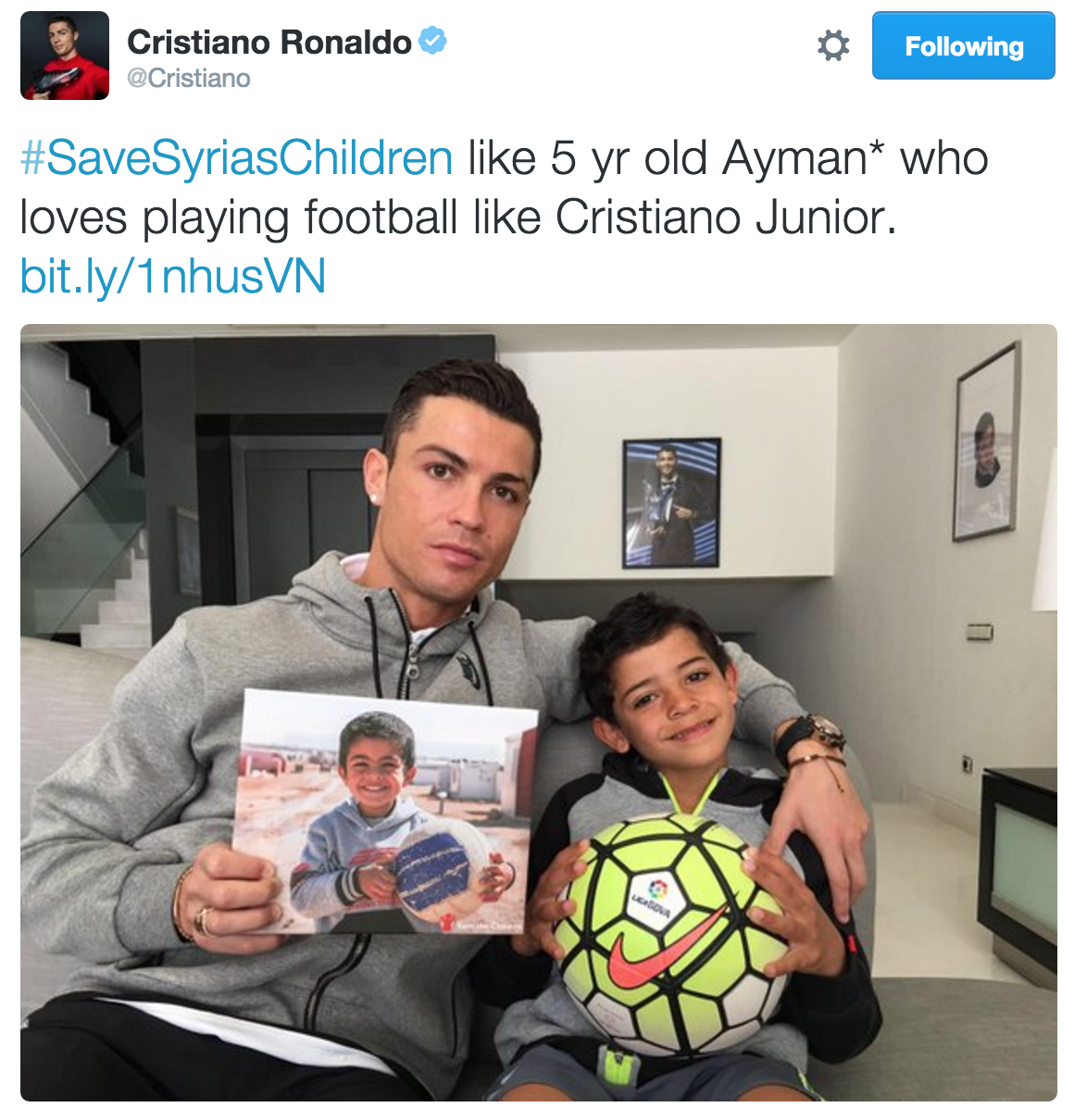 The father of a boy rendered mute by the atrocities of the Syrian civil war would like his football-mad son to meet Cristiano Ronaldo.
Ayman, a five-year-old Syrian from Daraa, in the south of the country, was forced along with his family to leave for Jordan two-and-a-half years ago, fleeing the violence between the forces of the regime and the Free Syrian Army.
The family, including Ayman's three brothers, ended up in the Zaatari refugee camp in the far north of Jordan, via a treacherous passage through eastern Syria and the Syrian-Jordanian-Iraqi border after the Jordanian government closed a number of borders in 2013.
But when they reached the camp, the trauma Ayman had experienced in Syria left him dumb.
"When we first arrived at the camp, Yaman couldn't speak very well. He used to speak in Syria, but now he couldn't talk any more. His situation was very bad; he used to wet himself at night, when he was sleeping," his father, who asked not to be identified in order to protect himself, tells Newsweek Europe.
"Now he talks, but he still has issues with his speech. He doesn't speak very well."
"He [Ayman] was very aggressive," Safayyeh, Ayman's teacher, recalled to Save the Children, which supports the kindergarten he attends. "But after starting kindergarten, Ayman changed his attitude from aggressive to hyperactive in a good way. He became very active in classes, and began to talk."
And football played a role, too. " Football really helps him, especially playing with other children around the camp. His confidence has got better and better. He also has painting and drawing as hobbies; he's very good at those," his father says.
Things got even better 11 days ago when Ronaldo, the Real Madrid superstar footballer often, and perhaps unfairly, casually accused of narcissism, posted a photograph to his Instagram account showing himself and Cristiano Jr., his son, holding up a photograph of Ayman.
Hassan Hijazi, the Save the Children photographer who was present when Ayman saw Ronaldo's post, says it piqued the boy's curiosity.
"He was really happy to see the pictures. He kept wanting to see more photographs," Hijazi says.
It turns out Ayman's father is an even bigger Ronaldo fan than his son.
"He [the father] has been watching Ronaldo since 2004, and he has always kept up with his news, especially when he won his Ballons d'Or," Hijazi says.
"He started teaching his son more about who Ronaldo is. He told him, 'He is the best player in the world.' Now Ayman is much more familiar with Ronaldo."
The family has been in the Zaatari camp for two years and three months; Ayman's father dreams of a day when his son might be able to travel outside of it, perhaps even to visit the Santiago Bernabeu, where Ronaldo plays his club football for Madrid.
"I would be very happy for him to meet Ronaldo," his father says. "Ayman has been through a lot of bad memories, a lot of horrific situations. Meeting Ronaldo will make him love football even more."
Belying his reputation for on-pitch selfishness, Ronaldo has made a habit of philanthropy in recent years. Last week, the Save the Children ambassador met Ahmed Dawabsha, a five-year-old Palestinian boy whose parents died in a Madrid firebomb attack by alleged Jewish extremists in July 2015.
His charity work dates back as far as 2005, when he flew to Indonesia to meet Martunis, a victim of the 2004 Asian tsunami. Remarkably, Martunis later signed for Sporting Lisbon, Ronaldo's first club before he moved to Manchester United in 2003.
Martunis now goes by the surname of Ronaldo on his Twitter account, and on March 15 he re-posted the image of Ayman, Ronaldo and Cristiano Jr., calling for "respect" for the star.
"I read recently that Ronaldo is supporting a Palestinian child. He is really helping these children," Ayman's father says. I want to thank Ronaldo for paying attention to the children and for raising awareness of refugees."
Though Ayman's family remains rootless, adrift in the giant Zaatari camp, Ronaldo's altruism ensures that they, and others like them, still have a voice.