Crowds have gathered outside the Supreme Court as it prepares to hear a Mississippi case that could topple abortion rights nationwide.
On Wednesday, the high court will hear arguments in Dobbs v. Jackson Women's Health Organization, a case seeking to revive a 2018 Mississippi law that bans most abortions after 15 weeks of pregnancy.
The stakes are high as Mississippi is asking the court to use the case to overturn Roe v. Wade, the landmark 1973 ruling that established a nationwide right to terminate a pregnancy. The arguments can be heard live on the Supreme Court's website, starting at 10 a.m. EST.
Early on Wednesday, activists on both sides of the abortion debate gathered in front of the court in Washington, D.C. brandishing signs and placards.
Dozens of anti-abortion activists met outside the court for a candlelight vigil on Tuesday night. Women's advocacy organization UltraViolet also organized a gathering outside the court, holding up brightly lit letters that to spell out "Abortion is freedom."
The Supreme Court has never allowed states to ban abortion before viability—the point at about 24 weeks when a fetus can survive outside the womb.
But the Mississippi case comes to a court that now has a 6-3 conservative majority, prompting experts to fear a ruling will overturn or undermine the Roe decision.
The court has been reshaped by three appointees of former President Donald Trump, who had vowed during his 2016 presidential campaign to appoint justices who would oppose abortion rights.
A decision in the Mississippi case is expected by late June 2022, according to The Associated Press.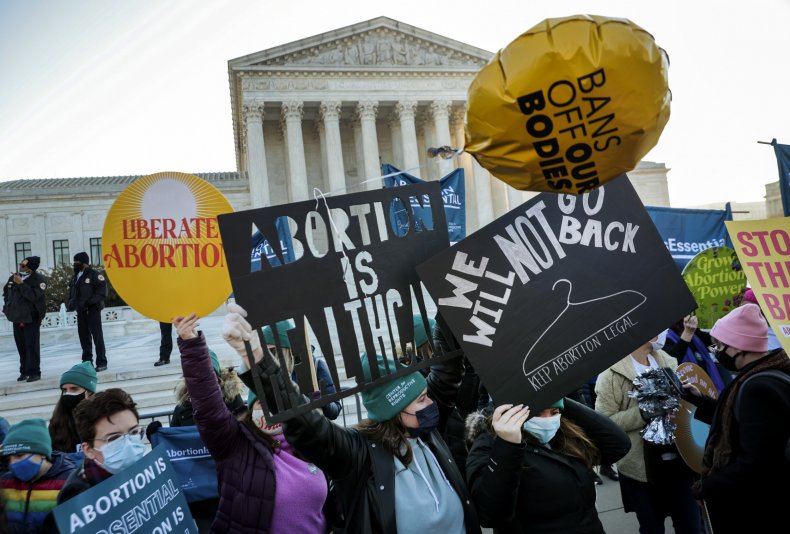 According to the Guttmacher Institute, an abortion-rights research organization, 21 states have laws or constitutional amendments already in place "that would make them certain to attempt to ban abortion as quickly as possible" if the court strikes down or fundamentally weakens Roe.
Reproductive rights activists have warned that restricting access to abortion will disproportionately harm Black women and other minorities.
Abortion bans are "racist and misogynistic and harmful to families throughout the country," Michelle Colon, the co-founder of SHERo Mississippi, told Newsweek.
Hundreds of doctors and medical professionals have signed an open letter urging the court to uphold Roe, and for policymakers to protect access to abortions and those who perform them.
"Restrictive laws against abortions, such as the Texas and Mississippi laws currently being argued in the U.S. Supreme Court, effectively block individuals from a medical procedure that may be necessary for their health, safety, and general well-being," the letter, organized by the Committee to Protect Health Care, said.