Putin's 'Mini-NATO' Is His Newest Headache
As the war in Ukraine continues and Russia is met with a strong counterattack from Ukrainian forces, Russian President Vladimir Putin's focus is being pulled from his own war and toward a border conflict between Armenia and Azerbaijan.
Azerbaijan and Armenia began fighting at their border on Tuesday and are trading blame for who is at fault for starting the dispute. The conflict puts Putin in an awkward position, as he's not in a place to send military assistance to Armenia, a military ally, and it has the potential to expose the weakness of the NATO-style coalition Russia has formed.
"Azerbaijan's attack on Armenia is a nightmare scenario for Putin," author and reporter Mark MacKinnon tweeted. "His forces are already overstretched and on the retreat in Ukraine, now he has to find some troops to send to Armenia's aid—or the CSTO, Russia's answer to NATO, will be exposed as a paper tiger."
Dozens of soldiers have died on each side since fighting began. The conflict is the worst that the two countries have engaged in since a 2020 war that killed thousands of soldiers.
Armenian Prime Minister Nikol Pashinyan requested help from the Russia-led Collective Security Treaty Organization (CSTO) as he invoked Article 4 of the CSTO after fighting began. Article 4 declares that any "aggression against CSTO member states is considered by other participants as aggression against everyone," according to GlobalSecurity.org. Russia has long been known as the powerbroker of the CSTO, which resembles a mini version of the National Atlantic Treaty Organization (NATO), of which Russia is not a member.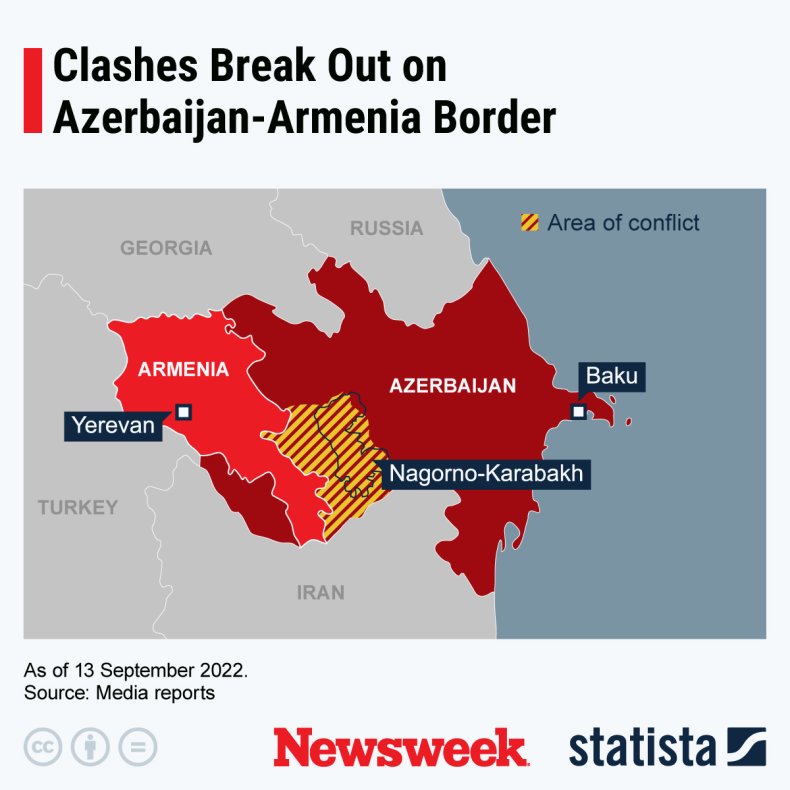 This chart, provided by Statista, shows the outbreak of clashes on the Azerbaijan-Armenia border.
Russia has been unceremoniously quiet in response to the fighting between Azerbaijan and Armenia. Earlier this year, Russia was quick to deploy peacekeepers to CSTO-member Kazakhstan to calm violent protests. In 2020, when Azerbaijan last targeted Armenia to reclaim the Nagorno-Karabakh region, the subject of a decadeslong conflict between the two nations, Russia issued a ceasefire. Russia then deployed thousands of peacekeeping troops to broker the deal after Azerbaijan forced Armenia to surrender significant parts of Nagorno-Karabakh.
The CSTO met Tuesday in response to Pashinyan invoking Article 4. The treaty organization declared a ceasefire, but Armenia reports that fighting continues. A fact-finding mission led by the CSTO is expected to arrive in Armenia's capital today according to reports from Bloomberg, but neither Putin nor the CSTO have agreed to send troops to assist with Armenia's defenses.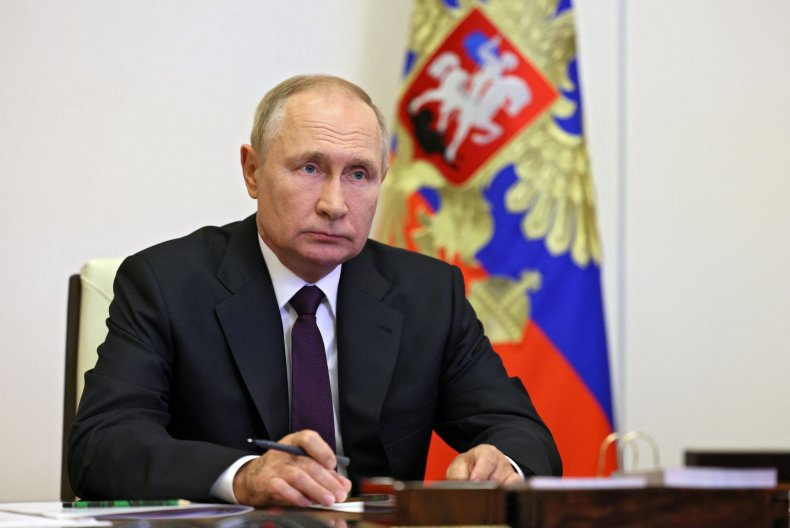 The situation has shaped up to be a major headache for Putin, who risks losing respect as the region's powerbroker if he doesn't intervene. Russia has been dedicating its resources to the Ukraine war and is meeting a substantial counterattack that has weakened the Russian forces and pushed them to retreat. ABC News has reported that Azerbaijan may have planned to take advantage of the Russia-Ukraine war as a distraction to force Armenia to concede while Russia is resistant to intervene.
Among the pressure of Armenia's pleas for help, the United States and the European Union (EU) encouraged Russia to help resolve the dispute. On Tuesday, U.S. State Department spokesman Ned Price blamed Azerbaijan for the conflict and insisted Russia help stop the fighting.
"We have seen significant evidence of Azerbaijani shelling inside Armenia and significant damage to Armenian infrastructure," Price said during the briefing.
France also urged Russia to take action. According to a Reuters article, France plans to present the issue at the United Nations Security Council. French President Emmanuel Macron urged Azerbaijani leader Ilham Aliyev to end hostilities and follow ceasefire orders.
The EU asked for both sides to peacefully return to negotiations, according to Bloomberg. Ophelia Coutts, Russia and former Soviet Union analyst at risk intelligence company Verisk Maplecroft, told Bloomberg that with Russia distracted by the Ukrainian war, the EU may be the next best option to aid in peacekeeping initiatives.
Kremlin spokesperson Dmitry Peskov said Russia was working intensely to resolve the conflict, and that Putin was involved in the discussions.
However, Russia likely does not have any troops to spare to intervene in the Azerbaijan and Armenia conflict. Russian troops are significantly outnumbered on the Ukraine battlefield, according to Aleksandr Borodai, who serves in Russia's State Duma. Borodai advocated for a draft to help replenish diminished military units during an interview with The New York Times.
Despite Article 4, other CSTO members are hesitant to get involved as well. Aydos Sarym, a member of the Defense and Security Committee of the Majilis of Kazakhstan, told the radio station Govorit Moskva that Kazakhstan refuses to assist Armenia because it doesn't want to damage its relationship with Azerbaijan, even though Azerbaijan is not a member of the treaty organization.
"It is clear that in a situation of conflict with Azerbaijan, Kazakhstan is in no way interested in sending troops there, somehow supporting Armenia to the detriment of our relations with Azerbaijan," Sarym said. "Azerbaijan is a people very close to us, with which there is a huge trade turnover, very big plans. Public opinion is more in favor of Azerbaijan."
As CSTO members hesitate, Azerbaijan allies are declaring their support. Turkish Defense Minister Hulusi Akar said that Turkey would "stand by" Azerbaijan's "just causes" in a Reuters article.
Newsweek reached out to the Russian defense ministry and the CSTO for comment.