Who is Cy Vance? DA on Weinstein and Trump Cases Was Once a Progressive Hopeful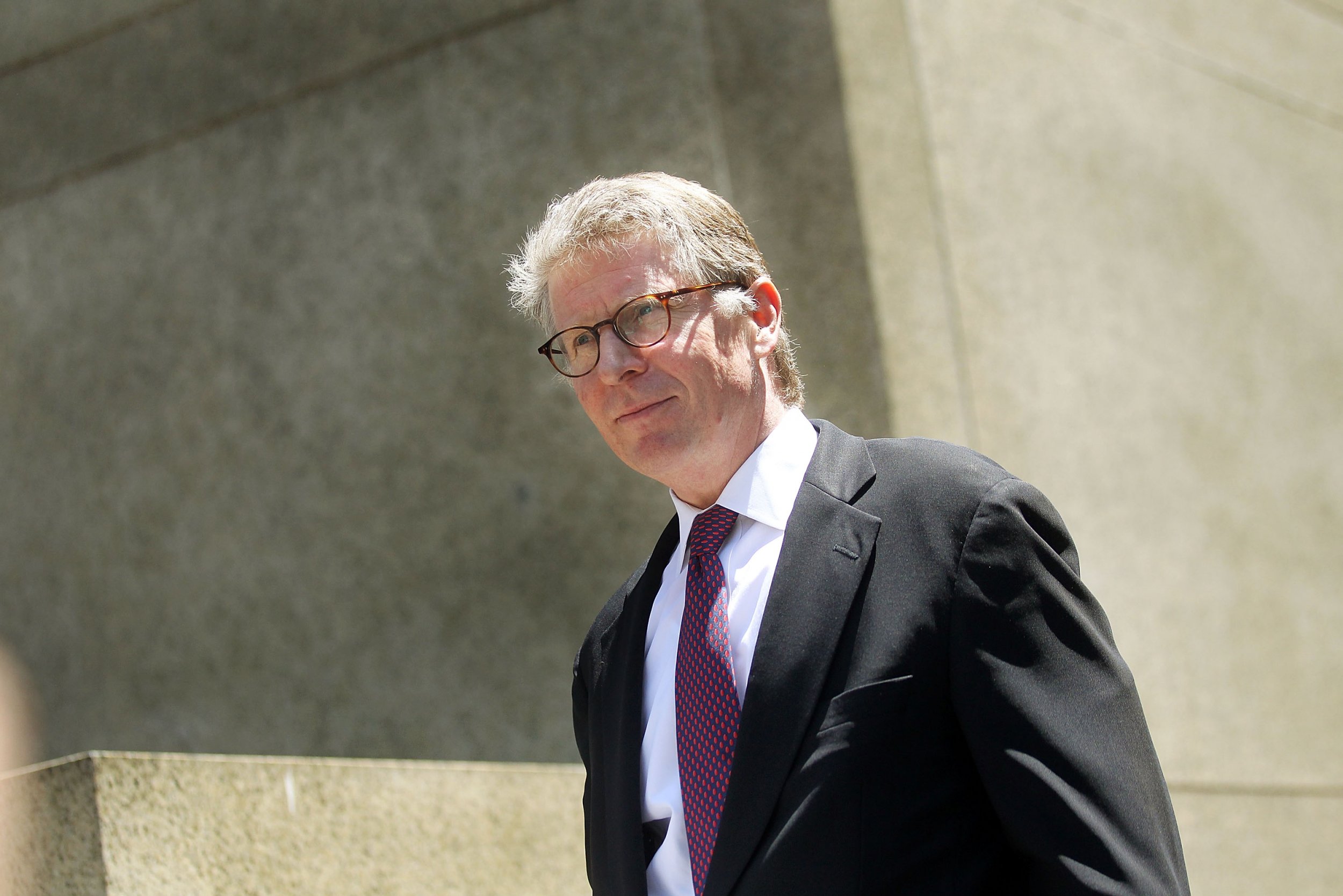 A few years ago, Manhattan District Attorney Cyrus Vance Jr. decided not to prosecute a public figure for alleged sex crimes. The DA was up for re-election, and analysts speculated whether politics played a role in the outcome of the case.
That was in 2011, and the public figure was Dominique Strauss-Kahn, the French politician whom a New York City hotel maid alleged of sexual assault. When Vance dropped the case, the lawyer for the alleged victim said the woman felt "abandoned by the Manhattan district attorney."
Vance, 63, has since dropped another sex crime case involving a public figure: Harvey Weinstein, the ousted Hollywood producer who more than two dozen women have accused of sexual harassment or assault. The Manhattan DA's office reviewed one of those cases, from 2015, but decided not to prosecute. Critics of the DA are questioning that decision, as well as one Vance made ending a probe into two children of President Donald Trump. He received campaign contributions from lawyers connected to both cases.
Related: Manhattan DA's office comments on its Weinstein investigation
Advocates for criminal justice reform had praised Vance as a progressive, citing his support for closing the Rikers Island jail and for dismissing more than 240,000 old warrants for minor offenses. But he is now taking the kind of fire he experienced following the Strauss-Kahn case, and then some. On Sunday, he promised to stop taking campaign contributions for 90 days, while Columbia Law School's Center for the Advancement of Public Integrity reviews his handling of donations. In recent days, activists have chanted outside of his office, and a state official demanded an investigation into his conduct. He is running for re-election unopposed in November, but at least two people are now campaigning as write-in candidates.
"Take any elected prosecutor, and if you want to go through their campaign contributions by lawyers and then cross reference that to the list of all cases that those lawyers might have in front of the office," says Daniel R. Alonso, who was chief assistant district attorney under Vance from 2010 to 2014, "you're going to see a set of random stars, and anyone can make a constellation out of that."
Sonia Ossorio, president of the New York chapter of the National Organization for Women, which called on Vance to reopen the Weinstein investigation, is saying otherwise. Vance's conduct, she said in a statement, raises concerns about "whether the rich and famous are able to use their influence and money to get away with crime."
The Progressive?
Since the 1930s, just four people have been elected to lead the New York County district attorney's office. The first, Thomas Dewey, left in 1941 to become governor. Then his successor, Frank Hogan, served so long that in 1967, The New York Times Magazine wrote about him, "Nobody in the history of New York City has held a single elective office so long." He continued to serve after that, for a total of 32 years. The man next elected, Robert Morgenthau, went on to lead the office for even longer: 34 years.
Morgenthau hired Vance, the son of former President Jimmy Carter's secretary of state, as an assistant DA. After Morgenthau retired in 2009, Vance ran to succeed him and won. When he took the job, responsible for overseeing some 550 attorneys who investigate and prosecute crimes in Manhattan, he appeared progressive. He marched in an LGBT pride parade, announced a program to prevent wrongful convictions and invited the Vera Institute of Justice, a nonprofit that seeks reforms, to evaluate how his office was doing.
"He ran as a progressive candidate [and] promised to look into and understand whether the office he might accept was contributing to disparities in the criminal justice system," says Nicholas Turner, president and director of the Vera Institute. "That was unusual and ahead of its time. And then he did it."
But as news continues to unfold about his campaign contributions—the New York Daily News reported Sunday that the firm of a lawyer representing New York City Mayor Bill de Blasio, whom Vance was investigating, donated $70,000—his critics are alleging that the so-called progressive has made decisions based on who gave money to his campaigns. Vance has denied such accusations.
On October 4, ProPublica, WNYC and The New Yorker reported that Vance's deciding in 2012 not to pursue a case against Donald Trump Jr. and Ivanka Trump came after Marc Kasowitz, a lawyer for Donald Trump, donated $25,000 donation to Vance's re-election campaign. Kasowitz was not representing the younger Trumps, but he had reportedly met with Vance and asked him to end the investigation. Vance returned the donation before ending the probe, but later, Kasowitz made another donation and helped raise additional funds, adding up to to more than $50,000, according to the report.
Then on October 5, The New York Times published several women's allegations of sexual misconduct by Weinstein. The New York Police Department had pursued one of the cases, an alleged incident in 2015, but Vance's office declined to prosecute. Later that day, International Business Times revealed that months after his office declined to prosecute that case, Vance received $10,000 for his re-election campaign from a lawyer who had represented Weinstein, though not in the 2015 case. That lawyer and his associates had also donated more than $182,000 to Vance over the years, according to the report.
An October 10 article in The New Yorker drew more attention to Vance's dropping the 2015 case and included an audio recording in which Weinstein seemed to admit to touching Italian model Ambra Battilana Gutierrez's breast. A police source told the magazine that the department believed it had enough evidence to prosecute. Hours after The New Yorker published the article, Vance's office released a statement explaining why it had not filed charges against the producer. "If we could have prosecuted Harvey Weinstein for the conduct that occurred in 2015, we would have," Chief Assistant District Attorney Karen Friedman Agnifilo said in the statement. She blamed the NYPD, claiming the department had botched the sting operation that produced the recording. (The NYPD later announced it is reviewing cases involving Weinstein, and Vance's office told Newsweek it plans to help.)
The next day, Vance reiterated his office's comments. "If we had a case that we felt we could prosecute," he told reporters, "we would have."
As for the campaign contributions, Steve Sigmund, a spokesman for Vance, said in a statement, "Contributions have never and will never have an impact on the work of the DA's office. Every contribution is vetted, accepted where appropriate and declined or returned when appropriate."
Others close to the DA are defending him, too. "He's certainly the most earnest elected official I've ever met or heard of," says Alonso, the former chief assistant district attorney and now managing director at the global compliance firm Exiger. "He ran for office based on wanting to accomplish certain things, and that is what he has tried to do during his entire tenure." He adds, "The allegation that any of the campaign contributions affected him is just silly."
Not everyone is allowed to donate to DA election campaigns, according to Alonso, and Alonso was the person in Vance's office responsible for making sure people and companies involved in cases weren't giving money. But that rule didn't apply to lawyers, he says, and so lawyers could contribute unless there was "an appearance problem, and that's what happened with the Kasowitz donation." Alonso says he flagged the donation to the campaign and recommended the campaign return the money, which it did.
Lawyer Paul Shechtman, another person who has known Vance for years and served on his transition team following the 2009 election, says about the Trump family case, "I think most prosecutors would have done what District Attorney Vance did." As for the Weinstein case, in which Schectman says he had "brief involvement," he echoes his previous comment: "Any responsible prosecutor would have made the same decision."
Elkan Abramowitz, who was Weinstein's lawyer in the 2015 case and worked with Vance at the firm Morvillo Abramowitz Grand Iason & Anello, calls the DA "smart and solid and a straight-arrow kind of guy." He says, "I think people can criticize some of the decisions to prosecute or not to prosecute, but I can tell you that they were all done with what he believed to be the right thing, doing the right thing."
The New York Post reported that Abramowitz has donated $26,550 to Vance and that his firm donated an additional $11,500 prior to the decision not to prosecute Weinstein. Abramowitz, who says he no longer represents Weinstein, insists he did nothing improper and says he never met with Vance to discuss the 2015 case, though his colleagues did. "Whatever contributions were given by me, my firm, have nothing to do with any kind of matter I had in the DA's office," he tells Newsweek. "I didn't expect to have any special treatment because I was a friend of his, a former partner or a contributor."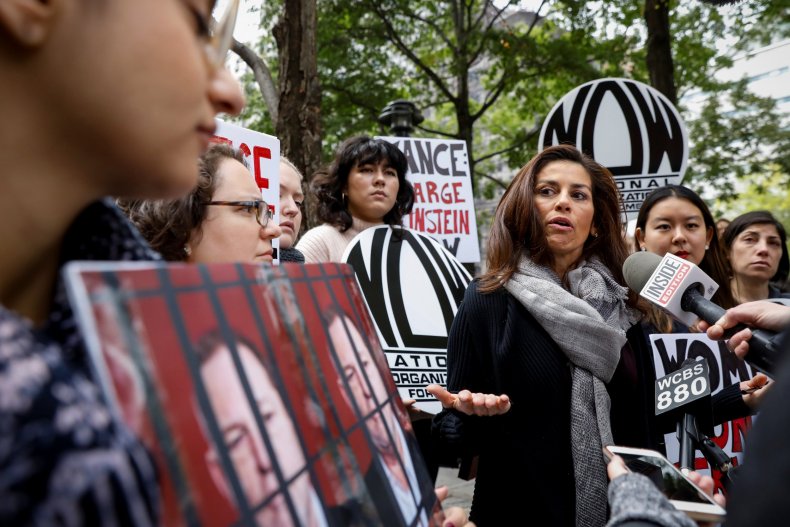 'They Came After Me'
As the scrutiny of Vance intensified, his critics pointed out that he was running for re-election unopposed in November. Then on October 10, following the report in The New Yorker, a Twitter user suggested Marc Fliedner run as a challenger. Soon after, people with large followings voiced support for the idea, including Jon Favreau, who was former President Barack Obama's speechwriter and now hosts the popular podcast Pod Save America, and Shaun King, a columnist and commentator.
Speaking with Newsweek inside a diner near Manhattan's Bryant Park, Fliedner explains that he hadn't considered trying to unseat Vance until he saw the social media posts. He had spent much of 2017 campaigning to become DA in Brooklyn, where he lives with his husband and father, but he came in third in the September primary. Though he's too late to appear on the ballot in Manhattan, he announced on October 11 that he'll campaign as a write-in candidate. He plans to move to Manhattan by Election Day to satisfy election law.
Fliedner worked in the Monmouth County prosecutor's office in New Jersey, where he oversaw the sex crimes and child abuse unit, and an assistant DA in Brooklyn, where he was chief of the civil rights bureau. It was there that he witnessed what he describes as a broken system. In 2016, one case made him decide to leave the Brooklyn office. He had prosecuted Peter Liang, the NYPD officer who in 2014 fatally shot Akai Gurley in a dark stairwell in a housing project. After a judge sentenced Liang to just five years probation, Fliedner resigned in protest. He also spoke out about his former boss, calling then-Brooklyn DA Ken Thompson "abusive."
Days after Fliedner voiced that criticism, Eric Gonzalez, who was Thompson's top deputy and is now the acting Brooklyn DA who beat Fliedner in the September primary, accused Fliedner of withholding evidence in a 2005 case. "I faced retaliation. They came after me," Fliedner says. He has threatened to sue Gonzalez for slander. That experience, along with the reports about Vance, has taught him that "we're set up so there's so much of an insular, almost good-ol'-boys' club atmosphere to the way that things are done in a DA's office," he says. He believes he is the first openly gay man to run for DA anywhere. (At least two gay women have done so.)
Fliedner isn't the only one trying to take down Vance. Peter Gleason, a Republican who ran against Vance in 2013, is also reportedly running. Meanwhile, State Assemblyman Dan Quart has asked New York Attorney General Eric Schneiderman to review Vance's decision to drop the case against the Trumps. Quart also plans to introduce legislation to cap donations that defense attorneys and firms can give to candidates for district attorney.
With just more than three weeks until the election, Vance isn't so worried about the criticisms, according to Erin Duggan Kramer, his senior adviser for public affairs and external relations. "He's probably the calmest one in the office," she said by email last Friday. "Even when other disagree, even very publicly, he is confident that he made the right decision, for the right reasons."
Sigmund, the other spokesperson for Vance, said in a statement, "Cy Vance's established record prosecuting murder, sex crimes, financial abuse, domestic violence and a host of other crimes stands second to none…. We're confident that voters in Manhattan will continue to recognize that record on November 7."
Vance might be hoping that the review of how he receives donations will reassure voters. (A spokesperson said he was unavailable for a Newsweek interview.) But the results of that review won't come until after the election. On Monday, his campaign had a balance of $925,333, according to state records. "Unlike other public officers, prosecutors are often not able to explain their actions," he wrote Sunday in the Daily News. "In other words, public trust in prosecutors requires a leap of faith. I want to make it much easier for that faith to exist."