D.L. Hughley has slammed Kanye West for his numerous Instagram posts and comments directed at ex-wife Kim Kardashian and her partner, Pete Davidson.
Kardashian, 41, was on Wednesday declared legally single, days after stating in court documents that officially ending their marriage was necessary in order for rapper and designer West, 44, to "accept that our marital relationship is over."
In the hours that followed the court ruling, West unveiled the video to his new track, "Eazy," which depicted him kidnapping and burying a claymation representation of comedian Davidson, 28—who the musician has also attacked in Instagram posts.
Weighing in on West's flurry of social media posts about Saturday Night Live star Davidson, radio host Hughley said that the way West has handled things has "never been funny," as he said a less famous man would likely have faced a restraining order.
"The difference between him and the other dude who would get a restraining order on them is hundreds of millions of dollars," Hughley said in a recent interview with VladTV.
He went on: "I think that I've watched too many times when things like that happened and a woman or somebody is not believed. And then things escalate.
"He is stalking her. You can think it's cute. If it was my daughter, I'd do something about it. I don't think it's funny. I think that you can't write a beat so good that you get to do these things. And society laughs it off because they say, 'Well, she's showing her a** all the time and he's this and he's that'", he said in the interview, recorded before West unveiled the "Eazy" video.
He said: "The difference between him and a restraining order is about 20 hits and a couple of hundred million dollars. I just don't think it's funny."
While Kardashian has complained about West's Instagram posts in court documents related to their divorce, at no time has she referred to his behavior as stalking, nor has she sought a restraining order.
In his interview, former CNN host Hughley also suggested that West would be a lot less popular with women had it not been for his musical success and subsequent wealth.
"I think that Kanye wouldn't get [any] p**** at all if he didn't write [any] hits. He counts on this mystique, and in the end [Kim has] got just as much bread as [Kanye does]."
Turning his attention to West's Instagram posts about Davidson, who he has taken to calling "Skete" in his attacks on the comedian, Hughley said: "I don't get what the point is of threatening him."
West, who shares four children with Kardashian, has spoken publicly on a number of occasions about wanting his family back together. Last month, he shared a video of a truckload of roses that he had delivered to Kardashian's home for Valentine's Day.
While Hughley said that he understands West's sentiment, he added that the star is going about things the wrong way. He also suggested that West, who has bipolar disorder, should "take [his] medicine."
"I would want my family [together], I understand that, too," Hughley told VladTV. "But if you want your family, stop doing the s*** you did that made her leave. How about take your medicine. All that wild s*** you were doing that got her, be different."
"Stop doing the crazy s*** that exhausted her," he went on. "It's so important, when a woman gets in her 40s and you get in your 40s, all that s*** that was fun is exhausting."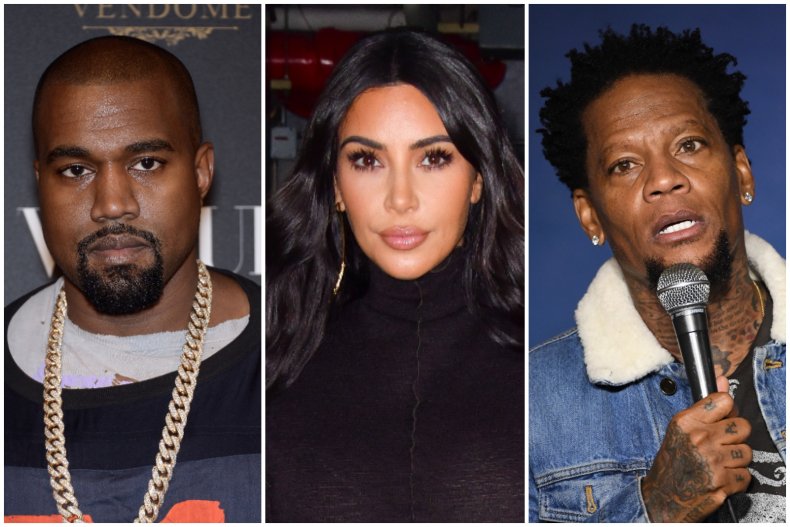 Urging West to save his "crazy s***" for his albums, Hughley said: "You can't threaten a motherf***** and then drop of a truck load of roses and think that's OK."
Newsweek has contacted representatives of West and Kardashian for comment.
Back in February, West took to Instagram to share screenshots of messages where Kardashian told him he was creating a "dangerous and scary environment" for her boyfriend with his series of targeted posts.
"Someone will hurt Pete and this will be all your fault," Kardashian wrote.
West captioned the post: "Upon my wife's request please nobody do anything physical to Skete. I'm going to handle the situation myself."
Bar his "Eazy" video, West has deleted all of his Instagram posts referencing Kardashian and Davidson. On February 15, he issued a public apology to Kardashian on the platform as he conceded that his previous actions "came off as harassing" her.
"I'm working on my communication," he wrote. "I can benefit from a team of creative professionals, organizers, mobilizers and community leaders. Thank everybody for supporting me.
"I know sharing screen shots was jarring and came off as harassing Kim. I take accountability. I'm still learning in real time. I don't have all the answers. To be good leader is to be a good listener."
In her court filing last month, Kardashian said of West: "Kanye has been putting a lot of misinformation regarding our private matters and co-parenting on social media which has created emotional distress."
"While I wish our marriage would have succeeded, I have come to the realization that there is no way to repair our marriage," her statement continued. "Kanye does not agree but at least it appears that he has come to the realization that I want to end our marriage, even if he does not.
"I ask that the Court restore me to the status of a single person so that I can begin the healing process and so that our family can begin the healing process and move forward in this new chapter in our lives."