DaBaby Claims He Slept With Megan Thee Stallion in New Song 'Boogeyman'
DaBaby does not mince his words on new track "Boogeyman" about his alleged sexual relationship with Megan Thee Stallion.
The rapper, 30 — whose real name is Jonathan Lyndale Kirk — released his new album Baby on Baby 2 on Friday, and one track has caught the attention of hip-hop fans.
In the opening lines of "Boogeyman," DaBaby says he slept with Megan, 27, multiple times in the days before she was allegedly shot by Tory Lanez, 30.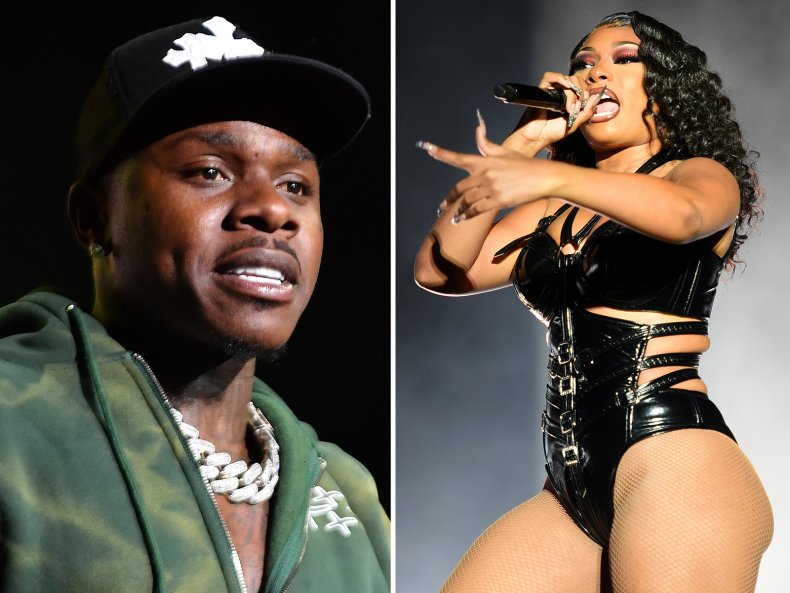 The "WAP" rapper claimed Lanez shot her in the foot in 2020 in Hollywood Hills, California.
He was charged in 2020 but pleaded not guilty. His criminal trial was set to start this September but has been pushed back to later in 2022.
Now, DaBaby has made his claims about Megan and labeled himself the Boogeyman, warning his enemies not to "play with me."
After shouting out to his producer JetsonMade, the rapper wastes no time describing his alleged sexual escapades with the Grammy Award-winning Megan.
Starting by labeling her as childish, DaBaby raps: "The day before she said that Tory Lanez shot her, I was f***in on Megan Thee Stallion."
He warns again about his foes "poking the bear" because now they would have to "handle me."
Megan and DaBaby worked together on her early hit "Cash S***" and "Cry Baby," and she featured on his song "Nasty."
Megan, who is set to host and perform on Saturday Night Live in October, has not responded publicly to DaBaby's claims.
DaBaby's new album comes weeks after he had a concert in New Orleans canceled reportedly because of low ticket sales.
He was meant to perform at the Smoothie King Center in New Orleans on September 2, alongside NoCap and Showtek, but a seating arrangement on Ticketmaster showed only a small percentage of seats had been sold in the 14,000-capacity venue.
Clear Bizness Entertainment and 70/30, which were promoting the event, blamed DaBaby's team for pulling the plug on the show.
The promoters issued a statement saying the show was simply "postponed" because of "a number of business reasons why we saw best to do that.
"We decided to postpone, and that was in our best interest," said promoters Euell "7th Ward Shorty" Sylvester and Greg Pulver.
But DaBaby's booking agency said it was the rapper's team who canceled the show because Sylvester and Pulver were allegedly in breach of contract, a claim they both denied.
"DaBaby's New Orleans show was pulled by the artist's team due to the promoter being in breach of contract," said Andrew Lieber, CEO of the bookers MAC Agency.
"DaBaby will be back in New Orleans very soon to make it up to his fans." Lieber denied the postponement was due to low ticket sales.
The rapper became a hit in 2019 when he was signed to Interscope Records and started his own imprint, Billion Dollar Baby Entertainment.
He managed 22 entries on the Billboard Top 100 chart in 2019, the most of any artist that year, but has since seen his career plummet after a string of controversial incidents.
DaBaby made homophobic comments last year when he made remarks about gay people and people living with HIV at the Rolling Loud Miami music festival in July 2021.
He tried to save his career by meeting with HIV and LGBTQ advocacy groups, but his efforts were overshadowed by other incidents of violence.
The rapper was slammed for calling the police on DaniLeigh, the mother of his then-three-month-old daughter, Velour, as she fed the newborn.
Then, a few months after that, police attended his North Carolina home over reports of a shooting.
Police reported finding "one subject suffering from a non-life-threatening gunshot wound," according to the Troutman Police Department on Facebook.
DaBaby was also involved in a deadly shooting at a Walmart in North Carolina in 2018 but claimed he was shopping with his children when a man tried to rob them.
The rapper said he did not shoot 19-year-old Jalyn Craig, who was found dead at the store.
DaBaby was first charged with murder, but police later dropped the charges to a misdemeanor of carrying a concealed weapon.
He was given a suspended 30-day jail sentence and 12 months of unsupervised probation.
In 2020, the rapper got into more legal trouble when police detained him in Miami for allegedly robbing a promoter he said owed him money.
But while in custody there, police found a warrant out for DaBaby in Texas in relation to a battery charge.
A crowd also booed him off stage in Tampa when he slapped a female fan after getting annoyed she held a camera to his face. He wrote later on Instagram that "you know it's a well known fact that male or female, I would've responded the same exact way."
Earlier in 2022, a video emerged of DaBaby and his friends at a Los Angeles bowling alley where they were allegedly beating up DaniLeigh's brother.