Tory Lanez and Megan Thee Stallion Shooting Trial: What to Know
Another high-profile celebrity court case is set to begin on Wednesday, this time involving rappers Megan Thee Stallion and Tory Lanez.
Canadian rapper Lanez, whose real name is Daystar Peterson, is facing criminal charges for allegedly shooting Megan Thee Stallion, also known as Megan Jovon Ruth Pete, in the foot in 2020 in Hollywood Hills, California.
He was charged in 2020 with the shooting but pleaded not guilty, and the criminal trial for the shooting is set to begin on September 14.
Here is everything you need to know ahead of the upcoming trial.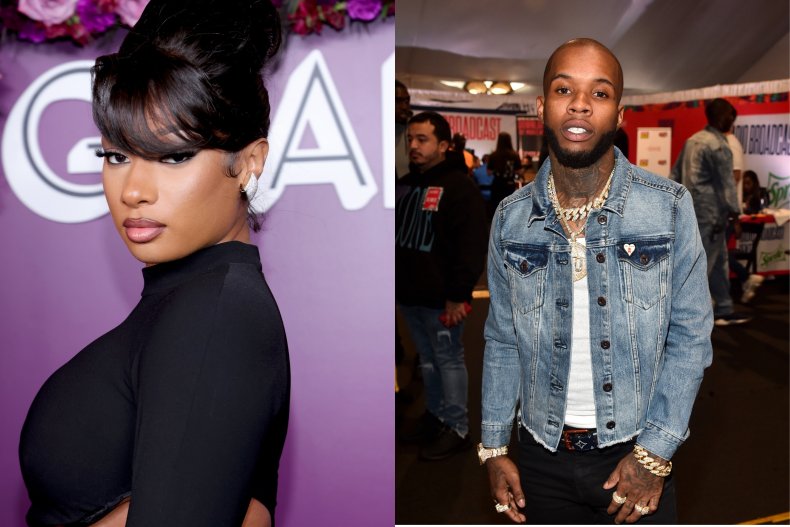 Megan Thee Stallion opened up about the event in an interview with Gayle King on CBS Mornings in April, saying that an argument broke out between her, Lanez, and her ex-best friend Kelsey Harris as they left a pool party at Kylie Jenner's home in Hollywood Hills in July 2020.
The argument escalated to gunfire, where the rapper alleges that Lanez was the shooter. According to Variety, Megan Thee Stallion confirmed statements on social media and in the press that stated Lanez shot her in the foot while she was attempting to walk away from the car that they were traveling in.
"What nobody knows is, I had to get the surgery the same night. I stayed in the hospital in California for maybe four days," she said, adding that she had bullet fragments in her foot and was unable to walk for some time after.
In the interview with King, she admitted that she had initially lied about what happened at the scene, first telling the police that she had stepped on glass. She stated that she feared for her friends, who were all being detained by police, as the incident took place at the peak of the Black Lives Matter protests.
The rapper later alleged that Lanez apologized for the incident and offered her money to say nothing. Lanez was charged with felony assault and pleaded not guilty in November 2020.
A month after the incident, Megan Thee Stallion posted a gruesome photo of the wound on her Instagram, which has since been taken down. However, the graphic image was paired with a long caption addressing some media claims that she was making the injury up.
"I got hit at the back of my feet because when I got shot I was WALKING AWAY FACING THE BACK," she wrote in the Instagram caption, according to Variety. "Why would I lie abt getting shot? Why are y'all so upset that I don't wanna be in the bed sad? Why y'all upset that I can walk ? I got my stitches out my feet like 2 weeks ago and I was ready to go celebrate WAP going number1... I usually don't address internet bulls**t but y'all people are so sick! God was really watching over me and I'm healing so well! Sorry I'm not as sad and miserable as a lot of y'all lol but ima keep being Megan Thee Mf STALLION."
In April of this year, Lanez was arrested again for allegedly violating court orders that ordered him to stay away from contacting her, and he was released hours later after posting bail.
His lawyers also sought to postpone the upcoming trial date in a court hearing in July, citing "potential conflicts" from an unrelated case involving Megan Thee Stallion, to which the judge ruled postponing would be "premature."
Shawn Holley, an attorney for Lanez, told CBS in a recent statement, "We look forward to addressing Ms. Pete's claims—including all its inconsistencies, discrepancies and omissions—in a court of law."
Megan Thee Stallion told Rolling Stone in June, "I want him to go to jail. I want him to go under the jail."
Newsweek reached out to a representative for Megan Thee Stallion and Tory Lanez for comment.