Megan Thee Stallion's New Album Reveals a Major Detail About the Tory Lanez Shooting
Shots are fired on Megan Thee Stallion's debut album, Good News.
Released late Thursday night, the Houston rapper's proper debut album kicks off with a track that's literally titled "Shots Fired." And while it doesn't name him directly, it's pretty obvious that she's taking lyrical aim at Tory Lanez, the Canadian rapper who was arrested on felony assault charges in October, for a shooting incident involving Megan that occurred over the summer.
The taunting first track rehashes the July incident, during which Megan suffered a gunshot wound to the foot, allegedly at the hands of Lanez. The song doesn't reveal a lot of new info aside from one major detail: that the handgun Lanez allegedly used to shoot Megan was loaded with pellets—a note that seems to fall in line with Lanez's criticism of Megan on his October album, Daystar. In one of the songs on that 17-track project, Lanez questioned how Megan escaped a shooting without any damage to her bones and tendons. In "Shots Fired," Megan gives him an answer.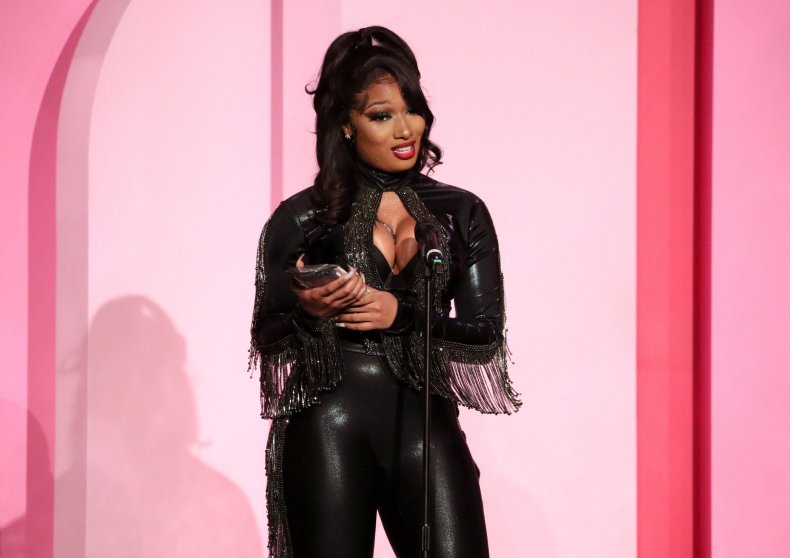 "You shot a 5'10" bitch with a .22/Talkin' 'bout bones and tendons like them bullets weren't pellets/A p***y n***a with a p***y gun in his feelings," Megan snaps on the track.
Along with dropping bars about liars trying to save face and chase clout, the 25-year-old hip-hop star also alleges that Lanez would have faced legal trouble much sooner had it not been for her.
"Imagine n***as lyin' about shootin' a real b***h/Just to save face for rapper n***as you chill with/Imagine me givin' a f**k it was your f**kin' birthday/You in your feelings, I just thought it was another Thursday/Now imagine me c**kblocking them n***as, on some dry s**t/I don't want you on a bench, believe you wouldn't've been invited/And if it weren't for me, same week, you would have been indicted (Lock yo' a** up)," Megan raps, according to Genius.
She later adds: "Ooh s**t, it's a lotta weak n***as in this b***h/They confused/They hate me, but watch my videos beatin' they d**k/Who a snitch? I ain't never went to the police with no names/I thought a b***h that got her chain snatched, caught a loss had something to say, ayy."
Through his attorney on Wednesday, Lanez pleaded not guilty to felony assault charges, including counts of assault with a semiautomatic firearm and carrying a loaded, unregistered firearm in a vehicle. He is expected to appear before the judge at a hearing in January.
Lanez is facing a maximum sentence of 22 years if convicted.