Dad Cheered for How He Handled Kid's Stepdad Complaining He's 'Interfering'
A parent has been cheered online for schooling his children's step-dad, after the step-dad asked the kids' biological dad to stop "interfering" with the life he's established with the dad's ex-wife.
The father of two revealed in a now-viral Reddit post that his ex-wife's new husband, Michael, had spoken out about his dislike for how involved the Redditor is with his children, a 10-year-old boy and an 8-year-old girl.
In a particularly bold and controlling move, Michael had asked the Redditor to consider sitting out some of his children's school events so that he can have more time with them.
Most of the 2,400 Redditors engaging with the post expressed their support for the divorced dad and praised how he handled Michael's attempt at coming between his relationship with his own children.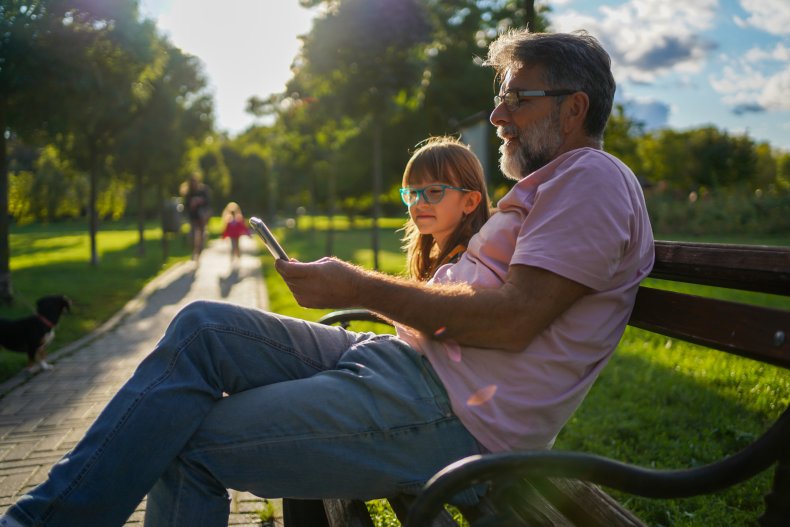 "I share two kids with my ex-wife Thora," the Redditor shared in the post.
"We have remained very close, and she and I don't follow a strict parenting plan. We do our best to have the kids see us both as much as possible. We celebrate every birthday and every Christmas together, and we show up to support our kids together as much as we can make work with our jobs," he added.
The father-of-two went on to explain that when his ex-wife met Michael in 2021, the pair got along well instantly. "He clearly loved Thora and was great with the kids, which is what Thora and I cared most about," the Redditor said.
But things quickly took a turn for the worse in the summer of 2022.
The Redditor detailed the change in Michael's attitude: "[My daughter] was singing and playing an instrument at a talent show. Thora and I both went, and so did Michael who took the day off work. Michael did not look happy to see me and once Thora was not within earshot or sightline, he was visibly tense. Then, Thora had to go out of state to see a friend who was very sick. The kids chose to stay with me and I don't believe Michael was happy about that."
In the fall, the Redditor was able to attend more of his kids' talent events, but shared that he didn't feel Michael was happy about his attendance. The dad then revealed that Michael recently asked him to show up to less of his own children's events, and to stop spending as much time with them.
"Last month when Michael and I were the ones attending a school function for the kids he asked me to show up to less of the kids events, and let him and Thora do some of that stuff with the kids as a family," the Redditor wrote.
"I told him that they already do. He said not when I'm around and that I am getting in the way of him being a parental figure for the kids. I told him he was a parental figure and that the kids love him. He said they will never consider us equal until they see him instead of me at some of these events. I told him I was not willing to miss the kids events," he added.
According to the Redditor's account, Michael didn't take his response well and instead accused him of "interfering" with their family unit and ruining its chances of long-term success.
"He texted me afterwards with [events] he wanted me to miss, including [my daughter's] elementary school graduation in May. I told him it was not happening. He told me Thora wanted this too," the Redditor concluded.
Stunned by Michael's attitude and taken aback by the audacity of his request, the father-of-two took to Reddit to gain some public insight into whether or not he should be stepping away from his kids now that Michael is in the picture.
Since being shared to the social media platform on March 4 by @Dapper-Release-3661, the post, which can be seen here, has been upvoted by 97 percent of the users who engaged with it and commented on over 2,400 times.
Most of the Redditors who commented on the post took a stand against Michael and slammed him for trying to encourage a father to stop spending time with his children.
"You and your ex are doing everything you can to put your kids first, don't let this guy's insecurities get in the way of that. You are even in agreement that he shouldn't get to decide how the two of you are co-parenting," one user asserted.
Another Redditor added: "Not only this guy wants to solve his insecurities and become a "parental figure" at OP's [the original poster's] expense, but also blatantly lies about his ex wife's opinion on this. He clearly wants to sabotage OP's position in children's life and that's honestly not what a good step-parent (and partner to Thora) would do."
"Don't talk to Michael about this anymore. Ask Thora to handle this," a different Redditor commented, backing the original poster.
How Can You Prioritize Spending Time With Your Kids?
While the Redditor's situation is quite unusual, it's not uncommon for parents to struggle to make their children's events or even spend sufficient time with them in between juggling careers and commitments.
"Parents who work full-time can prioritize and dedicate time to their children by putting their phone away more often," Jenna Liu advised
The founder of the online networking group Sixx Cool Moms told Newsweek that parents could try out digital detoxes as a way to be more present for their children.
"I recently did a digital detox, where I shut my phone off for the full weekend. Once I powered down on Friday, I was able to be present for my family without the pull of checking my email, seeing what I missed on social media," Liu explained.
The busy business owner and parent added: "I make unplugging a priority on a day-to-day basis as well. When my daughter comes home from daycare, I plug in my phone upstairs and don't touch it again until the next morning. I know that when I unplug, I destress, and actually enjoy time with my husband and daughter."
Newsweek asked @Dapper-Release-3661 for comment.
If you have a family dilemma, let us know via life@newsweek.com. We can ask experts for advice, and your story could be featured on Newsweek.