Woman Applauded for Why She Betrayed Sister-in-Law's Trust: 'I Warned Her'
A woman has been cheered online for the reason why she decided to betray her sister-in-law's trust.
In a now-viral Reddit post, the woman revealed that she had forwarded to her brother his wife's private text messages. Her reasoning for this being that her sister-in-law's behavior had crossed a serious boundary, and that her brother needed to know of this to step in and rectify it.
"My brother Todd is married to Hayley, and they have a 10-month-old son, Josh," the woman wrote.
"My family moved to Switzerland when we were young, but Todd went back to the U.S. for college which is where he met Hayley, and they moved back to Switzerland when Hayley got pregnant."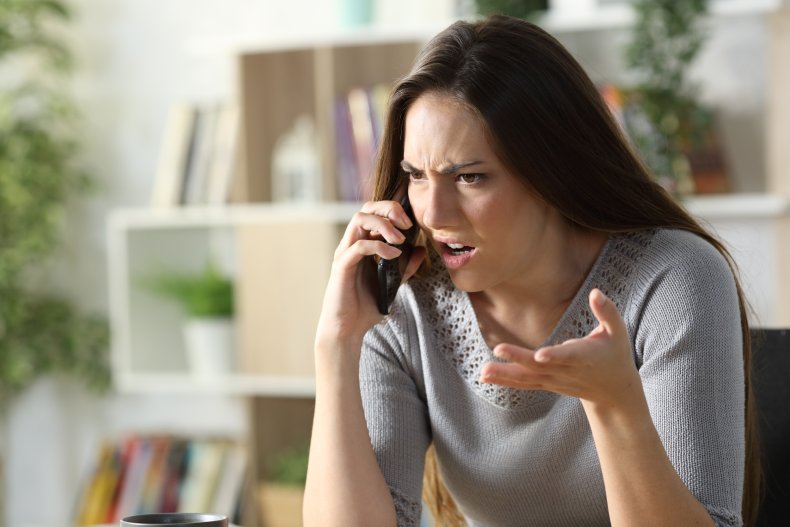 The Redditor went on to share that ever since Hayley and Todd got married, Hayley has been trying to involve her mother and herself in her and Todd's relationship.
"She started texting my mother when she and Todd would disagree, asking my mother her opinion or if she could talk to Todd on her behalf," the woman wrote.
"My mother was very uncomfortable with this. My mother was happy to help out with anything to do with adjusting to living in a different country, but she really didn't want to get involved in Hayley and Todd's relationship."
After some time passed, Hayley began texting the woman after any disagreements with her husband.
"She would get in a disagreement with Todd and text me the next day asking me to come to her house to talk about it, or ask me for advice," the woman explained.
She told her sister-in-law that she's not willing to get involved in her brother's marriage and that it was inappropriate.
"But that didn't stop her," the woman shared.
The Reddit post continued: "She started showing up at my mother's house unannounced and even tried to once at my apartment. A few days ago I got a call from Hayley. She was screaming and sobbing so loudly."
It turned out that Hayley was in such distress because her husband had changed his credit card details. She urged the woman to talk to her brother, but once again the Redditor refused to get involved.
The woman told Hayley: "She wanted me to talk to him, but I told her I was not getting involved in this and I was sick of her trying to drag me into her marriage. I told her that from now on any messages or information shared with me would be passed along to Todd because I was done."
After their heated discussion, Hayley tried calling the Redditor and sent a barrage of text messages to her phone. The Redditor then sent all of the messages to her brother, something which Hayley eventually discovered.
"That evening, I got a long text from Hayley saying she can't believe I forwarded her messages to Todd and that I betrayed her," the woman wrote.
On reflection, the Redditor has worried that perhaps she'd not behaved fairly or appropriately by passing Hayley's private messages on to her brother—despite her behavior.
"I probably shouldn't have forwarded him the messages immediately and that I did betray Hayley's trust. I don't think I did, considering I warned her what I would," she concluded.
Since it was first shared to the social media platform on March 7 by @SilmaritalDiscord, the Reddit post, which can be seen here, has been upvoted by 96 percent of the users who engaged with it, and commented on over 1,700 times. Most users have supported the woman in her decision to share Hayley's messages with her brother.
"You continuously told her that you were not getting involved. She didn't listen to you and kept going," one user wrote. "Calling you at work, and she is hysterical and again didn't listen to the boundary you set. I don't blame you."
Another Redditor commented: "This had nothing to do with venting or talking about issues. Hayley was trying to essentially manipulate her husband by getting his family to pressure him."
When Is It Right To Share Someone's Messages?
According to relationship counselor Martha Tara Lee, it's never okay to share someone else's private social media messages without their consent and permission.
"Doing so is a violation of the sender's privacy and can be considered a form of digital harassment," Lee told Newsweek. "It is important to respect other people's boundaries and not share their personal information without their consent."
Lee went on to say: "People may not understand the importance of digital privacy and boundaries because they are not aware of the potential risks associated with sharing personal information online."
Lee argues that people may not realize that their data can be collected, shared and used by companies and organizations without their knowledge or consent. The relationship counselor also feels that there are heavy potential consequences to sharing too much information online, such as identity theft, cyberbullying and other forms of online harassment.
"Digital privacy and boundaries can be more difficult to understand than in person because of the lack of physical cues. Online, these cues are not available and it can be difficult to determine if someone is uncomfortable or if they are giving consent," she added.
If you have a family dilemma, let us know via life@newsweek.com. We can ask experts for advice, and your story could be featured on Newsweek.