Daily Mail Slams 'Baseless' Defamation Lawsuit Filed by Mike Lindell: 'No Stranger to Scandal'
British tabloid the Daily Mail has filed a memorandum calling for the dismissal of a defamation lawsuit brought against the paper by MyPillow CEO Mike Lindell, a conspiracy theorist and staunch supporter of former President Donald Trump.
In January, the Daily Mail published an "exclusive" article reporting on rumors that Lindell had a "secret romance" with actress Jane Krakowski, best known for her role on the sitcom 30 Rock. Lindell and his attorneys quickly responded to the article by suing the British newspaper for defamation, describing the story as "thoroughly deceitful" and "bogus."
The tabloid fired back at Lindell's defamation claim in a Monday memorandum, first reported by Law & Crime, dismissing the controversial businessman's lawsuit by saying he has made numerous false claims.
"Plaintiff Michael Lindell is no stranger to scandal. In the last year alone, the self- described crack-addict-turned-CEO ventured beyond pillow sales to become a peddler of an unproven COVID-19 'cure,' and a leading proponent of baseless election fraud theories; stores dropped his company's product after Plaintiff was photographed leaving the White House in January 2021 with a notepad referencing 'martial law,'" the Daily Mail's memorandum said.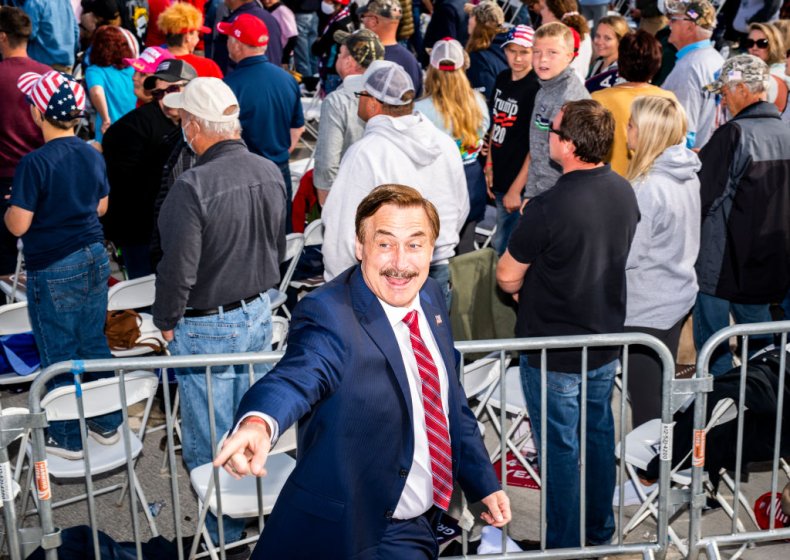 "He and his company have been mired in litigation — previously, in several suits alleging fraudulent advertisement practices, and more. Yet Plaintiff (literally) has made a federal case out of statements in an article about his rumored consensual romantic relationship with a popular, award-winning actress, claiming that these references irreparably harmed his reputation. His baseless defamation claim should be dismissed," the tabloid added.
Newsweek reached out to the Daily Mail and MyPillow for further comment but did not hear back before publication.
Lindell has been one of the top promoters of conspiracy theories about the 2020 presidential election, as he continues to claim that the election was "rigged" or "stolen" by Democrats, President Joe Biden and election officials across the country, with the support of several foreign nations. Lindell continues to promise "new evidence" to support his allegations.
Although Trump and his supporters insist that Biden won the election through "massive fraud," they have not provided evidence to prove this claim. Dozens of election challenges filed in state and federal courts by the former president and his supporters have been dismissed or rejected—including by judges appointed by Trump and fellow Republicans. In mid-November, the Cybersecurity and Infrastructure Security Agency at the Department of Homeland Security, which was led by a Trump appointee, asserted that the election was the "most secure in American history."
Former Attorney General William Barr, who was widely viewed as one of Trump's most loyal Cabinet members, said in early December that there was "no evidence" of widespread fraud that would change the election's outcome. Numerous ballot audits and recounts in key battleground states have also reaffirmed Biden's victory.
Meanwhile, Lindell is facing a $1.3 billion defamation lawsuit from Dominion Voting Systems, which the MyPillow CEO has falsely claimed was involved with the alleged plot to rig the election. The businessman responded to that lawsuit by saying in March that he plans to countersue the company. Lindell has also said that his business already lost some $65 million in revenue due to multiple prominent retailers cutting ties with MyPillow over the CEO's promotion of Trump's unsubstantiated claims.