Dallas Cowboys owner Jerry Jones believes Dak Prescott's performances won't have an impact on his price tag. The quarterback is in his final year of his rookie deal and is expected to sign a big-money extension with the Cowboys.
Prescott and Dallas got off to a superb start this season, with the signal caller leading his team to a 3-0 start on the back of 920 passing yards, nine touchdowns and two interceptions for a then-league-best completion rate of 74.5 percent.
The Cowboys have since racked up back-to-back losses, with Prescott recording a combined two touchdowns and four interceptions in defeats against the New Orleans Saints and Green Bay Packers.
Jones, however, dismissed the suggestion that the quarterback's form could affect his next contract.
"First of all, the narrative about his financial as opposed to how he's playing is laughable. It's just not that way," the Cowboys owner said on his weekly radio show on 105.3 "The Fan" on Tuesday night.
"It's too much on both ends of that for both ends of the team and for Dak to equate his performance, stats, or won-loss these first two or three games. Let me get that real clear. It's not impacting that with me at all. But I do see Dak showing the ability to handle adversity and basically go out and make the kind of plays that win important games for the Cowboys in the future. I see that."
The Cowboys have had a busy offseason, making Ezekiel Elliott the highest-paid running back in the NFL after signing a six-year deal worth $90 million, with $50 million in guaranteed money.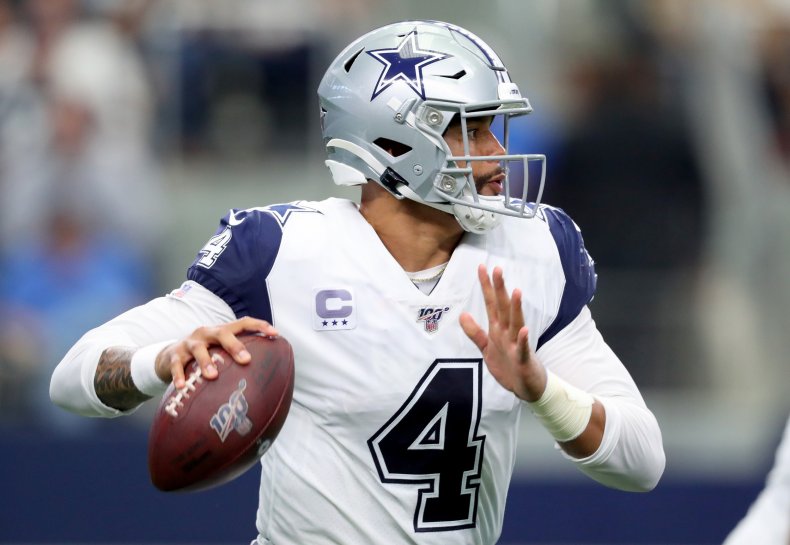 Dallas also signed linebacker Jaylon Smith and offensive tackle La'el Collins to long-term extensions, while defensive end DeMarcus Lawrence was retained to the tune of a five-year deal worth $105 million. However, new contracts for Prescott and wide receiver Amari Cooper are yet to be finalized.
Throughout the summer, Jones has maintained that a deal was "imminent," but negotiations haven't moved forward. "I had my time in those communications, but as the season began it was important for me to focus on my team," the 26-year-old told The Dallas Morning News.
Focus on the team that we're going to play each and every week. The moment I give any focus to the contract, I'm taking away from what's important. So, I just believe in the Cowboys and believe in my team that they'll get something done."
Prescott is in no particular rush to sign a new contract, as he is looking to maximize his value.
The quarterback market is in a constant state of flux and could reach a pivotal point this offseason if, as expected, Patrick Mahomes becomes the highest-paid player in the league.
ESPN first reported in January that the Kansas City Chiefs star could be in line to sign a contract extension worth $200 million, which would make him the first man to land a deal of that size. The 23-year-old is expected to rework his contract next year and the Chiefs are determined to tie him down to a lucrative, long-term deal.
While the exact figure won't be confirmed until Mahomes puts pen to paper, the fact the salary cap will rise again next season and that he has emerged as a once-in-a-generation talent make it plausible the Chiefs could table a $200 million offer.
Russell Wilson is currently the highest-paid quarterback in the NFL, after signing a four-year extension worth $140 million with the Seattle Seahawks in April.
Wilson's deal includes $107 million guaranteed and a $65 million signing bonus, just edging the record set by Aaron Rodgers in August when the veteran quarterback agreed a four-year extension worth $134 million with the Green Bay Packers.
While Prescott may not be on the same level as Mahomes, the Cowboys quarterback is well aware that a deal in the $200-million region for the Chiefs quarterback would give him more leverage in the negotiations.
In many ways, Prescott's current situation is similar to the scenario Joe Flacco found himself in 2012 when he led the Baltimore Ravens to victory in Super Bowl XLVII in the final year of his rookie deal.
A month later, Flacco, who was also named Super Bowl MVP, became the highest-paid NFL quarterback at the time as he penned a six-year extension worth $120.6 million.
Uncommon Knowledge
Newsweek is committed to challenging conventional wisdom and finding connections in the search for common ground.
Newsweek is committed to challenging conventional wisdom and finding connections in the search for common ground.
About the writer
Dan Cancian is currently a reporter for Newsweek based in London, England. Prior to joining Newsweek in January 2018, he was a news and business reporter at International Business Times UK. Dan has also written for The Guardian and The Observer.