Ezekiel Elliott Holdout: Will Dallas Cowboys Running Back Play This Year?
The Dallas Cowboys kick off their NFL campaign on Sunday, but whether Ezekiel Elliott will be available against the New York Giants remains anyone's guess.
Last month, the running back told Pro Football Talk that he would not join the Dallas Cowboys training camp unless he got a new deal, and has kept his word so far.
For their part, the Cowboys haven't projected a sense of urgency as they continue to work on deals for Dak Prescott and Amari Cooper.
"Zeke who?" quipped franchise owner Jerry Jones last month when asked about the prospects of Elliott suiting up in Week 1.
Last week, speaking after the Cowboys' final preseason game, Jones wasn't any more conciliatory towards the running back.
"We were negotiating and have been negotiating all the way up until we play the Giants and that's preparation," the Cowboys owner said.
"That's a part of posture, that's a part of dialogue, discussion, conjecture, it's everything that has to do with words. But when we kick off and don't have our player, then we have to play without any given player."
On Tuesday, however, Jones sounded more confident a deal could be reached before the start of the regular season, although he warned there was a lot of work left to be done.
"We'll see how today goes," the Cowboys owner told 105.3 The Fan in Dallas, as per ESPN. "We'll see how tomorrow goes. We'll see how the ensuing hours pan out."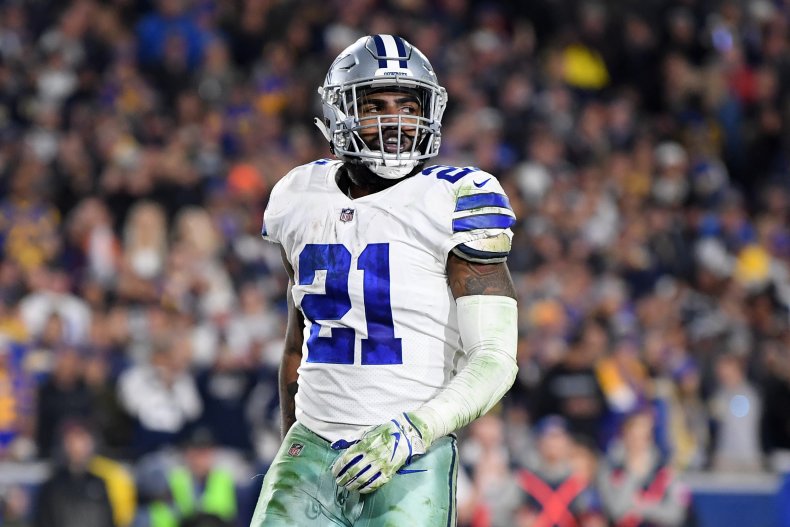 Earlier this week, NFL Network's Ian Rapoport reported that Elliott was returning to Dallas in case a deal could be reached.
Dallas has signed linebacker Jaylon Smith and offensive tackle La'el Collins to long-term extensions, while defensive end DeMarcus Lawrence was retained to the tune of a five-year deal worth $105 million.
Elliott, however, is still waiting for the new lucrative deal he believes he deserves. The fourth overall pick of the 2016 draft has two years left on his rookie deal, due a combined $13 million, with $9.1 million due next season alone.
Elliott has averaged 1,349 rushing yards per season in Dallas, scoring 28 rushing touchdowns in three seasons, making the Pro Bowl in two of those years. Last season, he led the NFL in rushing yards with 1,434 and set career-highs in receptions and receiving yards with 77 and 567, respectively. The combined 2,001 yards from scrimmage Elliott recorded last season were also a career-best figure.
It is widely understood that he wants a deal in line with that of Todd Gurley, who became the NFL's highest-paid running back when he signed a four-year deal with the Los Angeles Rams last season. Gurley's contract is worth $57.5 million, with $45 million guaranteed.
The Cowboys host the Giants at AT&T Stadium in Dallas with kickoff scheduled for Sunday afternoon at 4:25 p.m. ET.