NFL 2019 Schedule: Week 1 Games, Where to Watch, Live Stream, TV Channel
Free agency is only a distant memory, the draft has come and gone and even preseason football is in the history books. After a seven-month wait, the NFL returns this week as its 100th season kicks off on Thursday night.
The honor of playing in the curtain raiser is bestowed upon two of the league's oldest franchises, with the Chicago Bears hosting the Green Bay Packers at Soldier Field.
Here's everything you need to know about Week 1.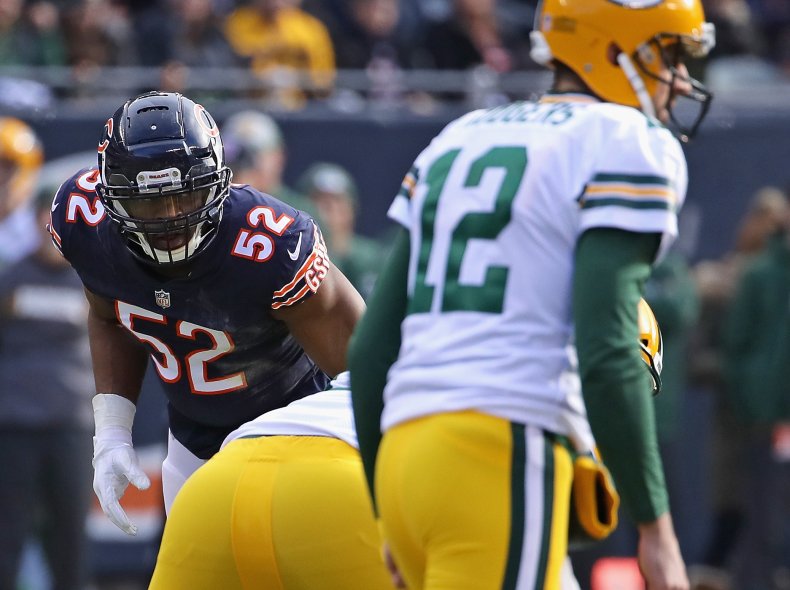 When does the NFL season start?
The 100th season of the NFL begins on Thursday, September 5, when the Bears welcome the Packers in Chicago at 8:20 p.m. ET.
Thirteen games are scheduled for Sunday, September 8. The new-look Cleveland Browns welcome the Tennessee Titans at 1 p.m. ET, while last year's AFC champions, the Los Angeles Rams, face the Carolina Panthers on the road.
Also at 1 p.m., Le'Veon Bell makes its New York Jets debut at home against the Buffalo Bills.
The Indianapolis Colts begin their post-Andrew Luck era at 4:05 p.m. ET in Los Angeles against the Chargers, while Kyler Murray makes his NFL debut less than half-an-hour later as the Arizona Cardinals host the Detroit Lions.
The New England Patriots, the reigning Super Bowl champions, round up the action on Sunday when they host the Pittsburgh Steelers at 8:20 p.m. ET.
Two games are on the slate for Monday night, with the New Orleans Saints welcoming the Houston Texans and Antonio Brown making his Raiders debut when Oakland welcomes the Denver Broncos at 10:20 p.m. ET.
TV coverage
The upcoming season marks the sixth year under the current broadcast contract with ESPN, CBS, FOX and NBC.
ESPN will broadcast Monday Night Football, while FOX will air Super Bowl LIV and Thursday Night Football, which will also be broadcast on NFL Network.
NBC will broadcast the opening game on September 5, as well as the prime time Thanksgiving game and Sunday Night Football.
CBS and FOX, meanwhile, will carry the Sunday afternoon games.
Live stream
Live stream will be available through the four broadcasters' digital platforms, which includes apps on Apple and Android devices as well as via connected TVs. Similarly, NFL Network's game pass will be available via connected TVs and on mobile devices.
Live stream will also be available via fuboTV and DirecTV.
TV schedule (all times ET)
Thursday, September 5
Green Bay Packers @ Chicago Bears—8:20 p.m., NBC
Sunday, September 8
Los Angeles Rams @ Carolina Panthers—1 p.m., FOX
Washington Redskins @ Philadelphia Eagles—1 p.m., FOX
Buffalo Bills @ New York Jets—1 p.m., CBS
Atlanta Falcons @ Minnesota Vikings—1 p.m., FOX
Baltimore Ravens @ Miami Dolphins—1 p.m., CBS
Kansas City Chiefs @ Jacksonville Jaguars—1 p.m., CBS
Tennessee Titans @ Cleveland Browns—1 p.m., CBS
Indianapolis Colts @ Los Angeles Chargers—4:05 p.m., CBS
Cincinnati Bengals @ Seattle Seahawks—4:05 p.m., CBS
San Francisco 49ers @ Tampa Bay Buccaneers—4:25 p.m., FOX
New York Giants @ Dallas Cowboys—4:25 p.m., FOX
Detroit Lions @ Arizona Cardinals—4:05 p.m., FOX
Pittsburgh Steelers @ New England Patriots—8:20 p.m., NBC
Monday, September 9
Houston Texans @ New Orleans Saints—7:10 p.m., ESPN
Denver Broncos @ Oakland Raiders—10:20 p.m., ESPN
Odds
The New England Patriots remain the team to beat, at least in the eyes of oddsmakers. According to Oddschecker, the Patriots are 7/1 favorite to win a second consecutive Super Bowl and a seventh overall.
The Kansas City Chiefs, who narrowly lost to the Patriots in the AFC Championship last season, are second-favorite at 8/1, with the New Orleans Saints close behind at 9/1.
The Los Angeles Rams, last season's Super Bowl runners-up, are an 11/1 shot, while the Philadelphia Eagles and the Los Angeles Chargers are 14/1 and 16/1 outsiders respectively.