Dallas Floods: Videos, Pictures Show Cars Submerged and Vehicles Abandoned
The Dallas area was struck by major flash floods overnight into Monday morning, leaving cars submerged and vehicles abandoned, videos and photos show.
Rescue efforts are underway as flash floods from northeastern Texas into northern Louisiana and far southern Arkansas are set to persist into Monday morning.
Avery Tomasco, a meteorologist with local news outlet CBS Austin shared pictures of the flooding in Dallas on Twitter.
According to an update from the National Weather Service in Fort Worth, rainfall began in northern Texas on Sunday evening as part of a "multi-day heavy rainfall event."
The weather service said that while 2-5 inches of rainfall is expected, there is the potential for up to 8 inches of rain in some isolated areas.
A flash flood warning with a considerable flood threat remains in place for Dallas County until 8 a.m. local time (9 a.m. ET), while two additional flash flood warnings were issued for Ellis County Monday morning.
Almost all of central Texas is under a slight—level 2 of 4—risk for excessive rainfall Monday, CBS Austin meteorologist Austin Burkes said.
Dallas, Fort Worth and Austin, Texas, as well as Shreveport, Louisiana are under a moderate—level 3 of 4—risk of excessive rainfall.
The National Weather Service in Fort Worth said there was a "considerable" risk of damage from the floods, and urged residents not to drive their vehicles on flooded roads.
It was "another 1-in-1,000 interval flood," said Kathryn Prociv, a meteorologist with NBC News.
In just three hours, 7.8 inches of rainfall were reported across parts of Dallas County, said Jeff Lindner, a meteorologist in Harris County, Texas.
"Flash flooding is ongoing or expected to begin shortly," the National Weather Service said Monday morning.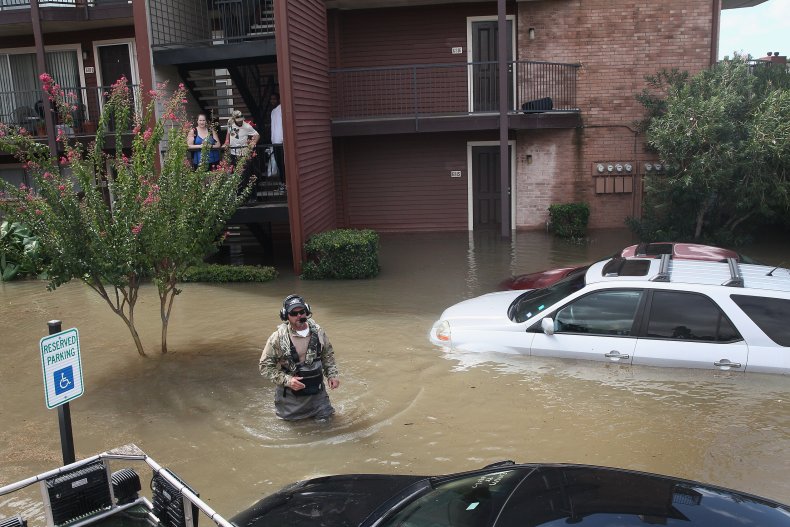 Videos and images circulating on social media show abandoned cars and water rescues as fast-rising water engulfed vehicles.
"I was able to back up on a ramp to get off the highway," Cassondra Anna Mae Stewart, who was caught up in flooding on Interstate 30 in Dallas, told CNN. "I took an alternate route home ... although most streets are flooded down there as well."
Many people were forced to abandon their vehicles as flooding left many low-lying streets and ramps blocked, reported AccuWeather's Bill Wadell. Other images show multiple empty vehicles submerged in floods, their owners nowhere to be seen.
Footage showed the I-30 freeway submerged in water, with vehicles and tractor-trailer trucks unable to move.
Another video circulating on social media shows a water rescue in the Dallas area.
According to the National Weather Service, heavy rainfall is expected to shift the lower Mississippi Valley later in the week. It said that the chance of thunderstorms will persist through the remainder of the week, with the highest chances expected on Tuesday and Wednesday.
On August 10, the Dallas area ended its second longest dry streak on record after 67 days without rainfall.