Dana Loesch Doesn't Care If Herschel Walker Paid 'Skank' for Abortion
Pro-life TV and radio host Dana Loesch said she doesn't care whether or not pro-life Republican Senate candidate Herschel Walker paid for his girlfriend's abortion, saying what she wants is "control of the Senate."
The Trump-backed Republican candidate for Georgia's Senate race has been accused of paying for a former girlfriend's abortion in 2009, an apparent contradiction of Walker's proclaimed pro-life beliefs.
Walker, a former football player, has been vocal about his opposition to abortion rights, likening terminating a pregnancy to murder.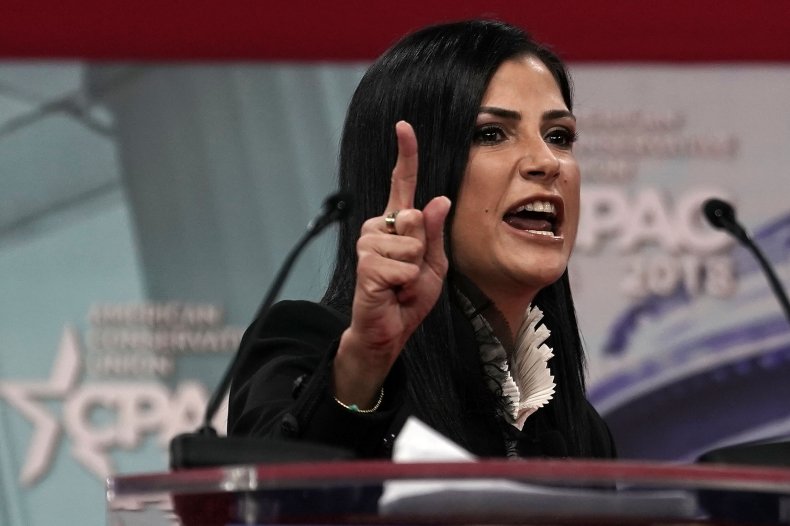 But on Monday, The Daily Beast reported that Walker paid a $700 check to his ex-girlfriend to pay for an abortion at a time when the two were dating.
The Republican nominee has denied the claims and has threatened to sue the newspaper for defamation.
"Does this change anything?," Loesch, a former spokeswoman for the National Rifle Association (NRA), said, talking about the apparent scandal surrounding Walker while on air for The First. "Not a damn thing," she added.
"How many times have I said four very important words. These four words: Winning. Is. A. Virtue," she continued.
"What I'm about to say is in no means a contradiction or a compromise of a principle. And please keep in mind that I am concerned about one thing, and one thing only at this point. I don't care if Herschel Walker paid to abort endangered baby eagles. I want control of the Senate," Loesch said.
"If The Daily Beast's story is true, you're telling me Walker used his money to reportedly pay some skank for an abortion, and Warnock wants to use all of our moneys to pay an all bunch of skanks for abortion," Loesch said, using a derogatory term for people, especially women, of perceived low or sleazy character.
"I don't know if he did it or not," the radio host concluded. "I don't even care."
Newsweek reached out to Loesch for comment.
In a tweet posted on October 4, Loesch said: "I'm not willing to make more babies pay for Walker's actions, if even true, by enabling an abortion-on-demand Warnock win."
In a follow-up tweet addressing her speech on air, Loesch added that she want control of the Senate to block legislation funding abortion procedures.
"Damn right I want power," she wrote. "Unlike some of y'all, I'm just honest about it."
The accusation against Walker comes as the midterms are fast approaching in one of the tightest Senate races in the country.
According to FiveThirtyEight's latest poll, Walker trails behind Democratic incumbent Raphael Warnock, who's projected to have 54 chances in 100 of winning the race against Walker's 46 in 100.
It's still unclear how these allegations will influence Walker's campaign, as the polling site said these have "not yet" affected their polls.
According to FiveThirtyEight, "Georgia is the most likely 'tipping-point' state in the chamber—i.e., the state most likely to give Republicans or Democrats their majority."