'Dancing With the Stars' Season 29 Episode 3 Live Recap and Results 
Can't watch the third episode of Dancing With The Stars Season 29? We've got you covered. Keep up with our live coverage as the show airs on ABC at 8 p.m. ET.
It's Disney Night on Dancing With The Stars and we're about to see just how far each celebrity will go. From Moana to The Lion King, the night's theme could showcase some wild skills, or contestants falling flat.
Stepping back into the spotlight as the leading scorer from last week is former Bachelorette Kaitlyn Bristowe. Her story is even more intense—Bristowe injured her ankle over a week ago, and it's very possible she won't take the stage. She told Good Morning America on Monday morning she's still waiting for MRI results. But Bristowe has perfected a dance in hopes she'll be able to compete again tonight.
At the bottom of the pack is Carole Baskin, the Tiger King star who just can't seem to get her footing. It should be no surprise Baskin and partner Pasha Kovalev will be dancing to "Circle of Life" from The Lion King. Baskin may even shed some tears, as she revealed the song is one that reminds her of the difficult decision to euthanize the big cats she loves at Big Cat Rescue when their time comes.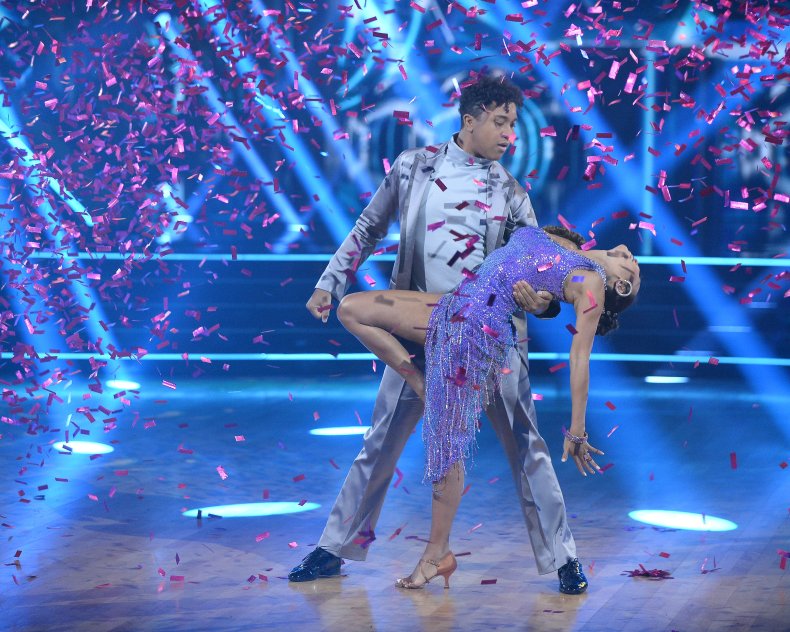 Oh, and of course, there will be an exclusive sneak peek at a new Disney film. Soul the November 2020 release is the catalyst of Disney night, and fans will get to know the film a bit more in between the celebrity dance numbers.
While we don't know how well they'll perform just yet, we do know the songs each team has chosen. Here's the full list, according to Gold Derby. We'll update each couple with details from their dances as they perform live. Grab your family, some popcorn and every Mickey Mouse-themed item you own and get ready for a wonderful night of magic and smooth moves.
Monica Aldama and Val Chmerkovskiy will be dancing a waltz to "Part of Your World" from The Little Mermaid.
Carole Baskin and Pasha Pashkov unsurprisingly chose an animal-themed song. They'll samba to the "Circle of Life" from The Lion King.
If Kaitlyn Bristowe and Artem Chigvintsev can take the floor, they've got a rumba planned to "How Far I'll Go" from Moana. Bristowe claimed she doesn't have to wear shoes to embody the character, which may help her ankle.
Vernon Davis and Peta Murgatroyd will show off a quickstep to "Be Our Guest" from Beauty and the Beast.
Anne Heche and Keo Motsepe also have a quickstep planned, but they'll be dancing to the Hercules song "Zero to Hero."
Skai Jackson and Alan Bersten will jive to "Almost There" from The Princess and the Frog.
Typing this one will be a doozy. Justina Machado and Sasha Farber are committed to a tongue-twisting Charleston. They've chosen "Supercalifragilisticexpialidocious" from Mary Poppins.
AJ McLean and Cheryl Burke will be dancing a quickstep to "Prince Ali" from Aladdin.
A Viennese waltz is next for Jeannie Mai and Brandon Armstrong who picked the song "Married Life" from Up.
Jesse Metcalfe and Sharna Burgess will jive to the classic "King of New York" from Newsies.
Nelly and Daniella Karagach have been gifted a foxtrot to the film of the night. Apparently, it will be the first taste of Soul's song "It's Alright."
Nev Schulman and Jenna Johnson will dance the Argentine tango to "Angelica" from Pirates of the Caribbean: On Stranger Tides.
Dancing With The Stars Episode 3 Live Blog
8:00
Host Tyra Banks opened the show, but not alone. A silhouette of Mickey Mouse tugged on Tyra's skirt and welcomed her to her first Disney night on Dancing With The Stars (DWTS). It turns out, Mickey may have mistaken the host for his wife, or longtime girlfriend, Minnie. When Tyra stepped into the lighting, an extravagant red and white polka-dotted dress signified Minnie Mouse almost as much as the more than obvious Minnie Mouse ears and bow atop Tyra's head.
She explained that Disney's Main Street Electrical Parade made its way to the DWTS stage. That note was helpful to explain the giant, LED-covered snail rolling around the dance floor during the host's opening monologue.
In just a few minutes, the show seems to be more than lively, with celebrities and dance pros lining the balcony in their impressive costumes. Carole Baskin is dressed as a lion, because of course she is.
Up first tonight is Skai Jackson. The former Disney Channel star may be right at home considering her roles on the station. Skai embodied Princess Tiana from The Princess and the Frog with a jive to "Almost There" in a white mini-dress.
Judges had some critiques. Derek Hough commented that Skai's weight needed to shift forward a bit, while Bruno Tonioli called the performance stiff.
Skai's judges score totaled 18/30.
With just a little bit of pixie dust, or just a lack of commercials, a second celebrity took the stage. Monica Aldama was up next with a "Part of Your World" dance routine. She shared that the song reminded her of her family, especially when her children were young.
The Viennese waltz was romantic and soft, but judge Bruno warned Monica to be careful of her posture. Carrie Ann Inaba thought she seemed to relax as opposed to the first two weeks, though.
Monica's total score was 21/30, setting a great bar for the rest of the night.
Already want to vote for Skai, or another celebrity? Check out our guide on how to vote here.
8:20 p.m.
Justina Machado was up next with a super...or a "Supercalifragilisticexpialidocious" Charleston. Justina has a personal connection to Mary Poppins; it reminds her of caring for her younger siblings.
The actual dance went great, and compared to a slapstick performance by Bruno. It was entertaining, but did it gain the judge's love? Machado took an immediate second place with 19/30.
Up next is AJ McLean, but first, commercial. Quick! Grab snacks, everyone!
8:25 p.m.
Disney night is back, and Tyra is LOVING IT so far. Backstreet's Back with some Aladdin songs. For just tonight, AJ is Prince Ali. After an explosion of confetti, Cheryl Burke joined AJ for a catchy quickstep.
Derek opened up the judges' comments by explaining that AJ brings joy to the crowd. They ended the segment with 19/30 before it was time for Anne Heche to become a hero. The actor took on the Hercules tune "Zero to Hero" with a quickstep. While her dance skills were more than passable, we couldn't stop thinking about how great she looked with pink hair.
Bruno was "having a fit" according to Tyra. Carrie Ann slammed the duo, though, and seemed to say they lost whatever chemistry they had at the start of the season. She also reprimanded the pair for "intro" lifts. Any lifts on the show are illegal. Derek also said Anne relied too much on her partner Keo. They received the lowest score so far: 15/30.
8:40 p.m.
After a teaser for The Bachelorette during commercials, we met back up with Jeannie Mai, who dedicated the Up song "Married Life" to her boyfriend. It happens to be his birthday, which seems sweet. They let go a giant bunch of balloons, and it's impossible not to think that half of the audience is recognizing the track only from TikTok.
More balloons, in fact, the floor is full of them. "It takes away from the dance," according to my dad, who never watches these kinds of shows.
Carrie Ann suggested to focus more on the turns, and Derek called the dance "beautiful." For the first time tonight, the judges called the dance the "best performance" so far in Jeannie's time on the show. Her score reflected it with 22/30. Jeannie then stole judge Bruno's number paddle.
Another commercial, but not before a preview of what's ahead. And what's ahead? Carole Baskin.
8:49 p.m.
It's time for the big moment: a reveal of Disney's Soul. Nelly is dancing to a song called "It's Alright" which is going to be in the film. It's not out until November, though, so this can be considered a sneak peek. Nelly got to watch the movie, seemingly while all of the other celebrities worked their butts off in the studio all week.
But Nelly's story seemed to reflect the film. He commented that he had a job at UPS right when he had a song take off, and he thought of leaving his dream behind for job security. The song served as an upbeat melody to a sweet foxtrot that likely sparked some interest in the film.
Judges enjoyed Nelly's performance without being too critical. He received an 18/30.
More commercials, but Carole is next! And she's fully dressed as a lion...mane and all.
8:56 p.m.
It's time. Carole is clawing at the screen, and we can barely wait to see her rendition of "Circle of Life." The goal is to avoid the bottom two this week...a big goal for Carole, who has been there since the start.
Tiger King fans got a good glimpse into Big Cat Rescue and revealed Carole does have at least one lion. This week, Carole took on a samba, and while it wasn't quite daring, it didn't seem too bad. "The Carole Baskin" flashed on the screen as the room went dark.
Bruno wasn't happy. He claimed Carole "sleep walked" through the samba, and didn't give any bounce. Carrie Ann stuck to kind words and said she felt the love. Derek followed suit and thanked Carole for her advocacy. They praised her costume and ignored the dancing.
"You're doing it. You're out here," Derek concluded. Ouch. Carole ended the dance with a 12/30.
Now, Kaitlyn Bristowe is up with her injured ankle. Even with an injury, Kaitlyn got the highest score last week, and though she's still hurting, there's no doubt Kaitlyn will impress with her dance skills. She's Moana this week, dancing the rumba.
Within just a few steps, it's clear Kaitlyn knows how to dance far better than anyone else on this season. So far, at least. Carrie Ann agreed when she called it the "best dance of the night." Bruno even compared her to the "shape of water." A 23/30 brought Kaitlyn to the top of the board.
9:10 p.m
Vernon Davis is up with a Beauty and the Beast-themed dance. Apparently, he loves the movie and was excited to play the Beast. Surprise! He's actually the candlestick. The candle on his head looks more like a birthday cake, though, if we can be completely honest.
The quickstep went well as Vernon and partner Peta Murgatroyd shuffled around the floor. Derek called out the NFL star for "foot fumbles," but the other judges seemed to applaud growth between the pair. Carrie Ann even called it one of her "favorite dances of the night." Vernon got an eight from Carrie Ann and two sevens, bringing the score to 22/30.
Nev Schulman is up next. He'll be dancing to a Pirates of the Caribbean song...there's probably a pun in there somewhere considering the wild success of Catfish. But we're swept into a preview for a new 911-based reality show called Emergency Call which, apparently, starts next.
9:20 p.m.
Nev loves Pirates of the Caribbean, he says. And his costume is a work of art. Tonight, Nev really is Jack Sparrow. It's both comical and impressive. The Argentine Tango is the dance of choice, as in true Jack Sparrow fashion, Nev hops across the floor comedically. The dance takes a more serious turn, though, in what's undeniably the most sultry dance of the evening.
He kept an "inebriated" manor, Bruno said, in the character of Jack. Still, Nev was able to impress with a serious tango. With 24/30, Nev took the lead, not only tonight but in the entire season.
9:26 p.m.
Figure skater Johnny Weir is up with a take on Mulan's "Reflection"...the Christina Aguilera version. Tyra throws in a quick plug that the new Mulan is on Disney Plus already, in case you haven't seen it.
Johnny dedicated his dance to his parents, who gave up parts of their life for his dream of being an Olympian. He was praised for grounding himself with the dance floor after a lifetime of skating. Johnny topped the leaderboard with 24/30.
9:45 p.m.
The last dance of the night saw Selling Sunset star Chrishell Stause dressed as Cinderella for a Disney-themed waltz. A sweet version of "A Dream Is A Wish Your Heart Makes" accompanied the dance. Judges didn't get to say much in the rush to end the show, but Chrishell got a 22/30.
9:54 p.m.
That's all for the dancing tonight, folks. If you're not too dizzy from watching all of those spins, it's time to watch someone go home. The bottom two based on both fan votes and judges' votes is announced as Anne Heche and Carole Baskin. Having the bottom scores of the night, based on judges alone, it made sense.
Unfortunately for fans, Carole was sent home. It was unanimous from judges who wanted to send her back to Big Cat Rescue and off the floor. As the sun sets on the Lion King savanna, so does Carole's reign on reality TV. At least for now.