Russia Names Second Suspect in Killing of Darya Dugina—'Prepared in Moscow'
Russia has named a second Ukrainian citizen that it alleges was involved in the the killing of Darya Dugina, daughter of an influential ally of President Vladimir Putin.
Russia's FSB security services said in a statement Monday that Ukrainian national Bogdan Tsyganenko was involved in the death of 29-year-old Dugina, daughter of Russian political commentator Alexander Dugin.
Dugina was killed on August 20 when a bomb placed in a Toyota Land Cruiser exploded as she drove on a highway on the outskirts of Moscow. According to Russian media reports, Dugina borrowed her father's car at the last minute.
Numerous theories and accusations circulated in the aftermath of her death.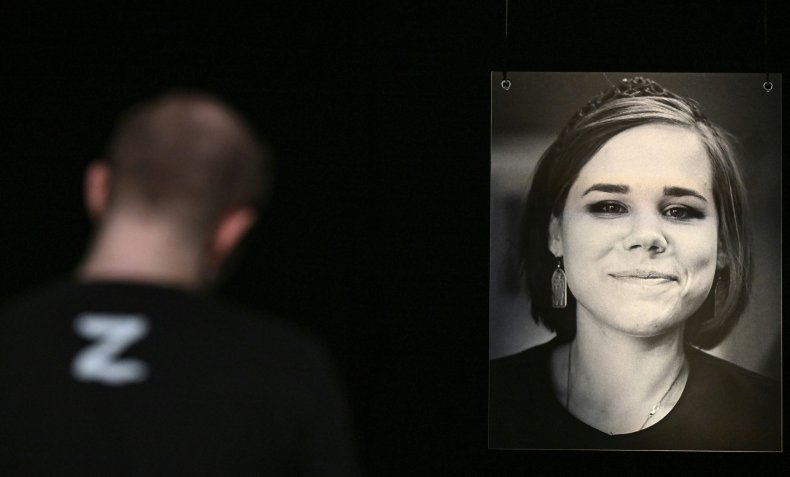 The FSB, after a brief investigation, claimed that a female Ukrainian citizen was involved in Dugina's killing and that the woman fled to Estonia on Sunday.
Ukraine has consistently denied any involvement. Newsweek is still trying to independently verify the claims.
The FSB is now alleging that Tsyganenko, 44, was also involved, and that he assisted the key suspect in the assassination plot by providing her with a fake ID and fake license plates, and by helping her assemble the bomb that killed Dugina.
The FSB also alleged that Tsyganenko helped to assemble an improvised explosive device in a rented garage in the south-west of Moscow.
According to Russia's security service, Tsyganenko is a member of a "Ukrainian sabotage and terrorist group" and arrived in Russia in transit through Estonia on July 30, and left the territory of Russia the day before Dugina's death.
"The murder of Dugina ... was prepared in Moscow," the FSB said.
The intelligence service alleged that the documents and with fake license plates he gave the first named suspect were in the name of "a real-life citizen of Kazakhstan, Yulia Zaiko."
The FSB said the first suspect, a female Ukrainian citizen born in 1979, arrived in Russia on July 23 together with her daughter, and rented an apartment in the same building as Dugina.
"On the day of the murder," the Ukrainian citizen and her daughter "attended the literary and music festival Tradition, where Dugina was present as an honorary guest."
The Ukrainian citizen subsequently left through the Pskov region to Estonia after the car explosion, the FSB said.
Unverified claims that the female Ukrainian citizen had been murdered in a rented apartment circulated on social media on Sunday. Austria's interior ministry told Sputnik it could not confirm the reports.
Russia has previously accused the Security Service of Ukraine (SBU) of ordering a group of "saboteurs" to carry out terrorist attacks on Russian territory.
Ukraine has denied any involvement in Dugina's death.
Newsweek has contacted Ukraine's foreign ministry for comment.