Who is Alexander Dugin? 'Putin's Brain' in Distress After Daughter Killed
An ultra-nationalist Russian ideologue with ties to Russian President Vladimir Putin was reportedly seen arriving at the scene of a suspected car bomb attack that killed his daughter, according to video posted online.
Darya Dugina, the 29-year-old daughter of Alexander Dugin, was in a Toyota Land Cruiser Prado when it exploded near the village of Velyki Vyazomy on the outskirts of Moscow on Saturday, Russian state media reported.
The Investigative Committee branch for the Moscow region said the blast was caused by a bomb planted in the SUV.
The explosion happened as Dugina was returning from a cultural festival she had attended with her father, according to some Russian media reports. They said the vehicle belonged to Dugin, who decided at the last minute to travel in another car.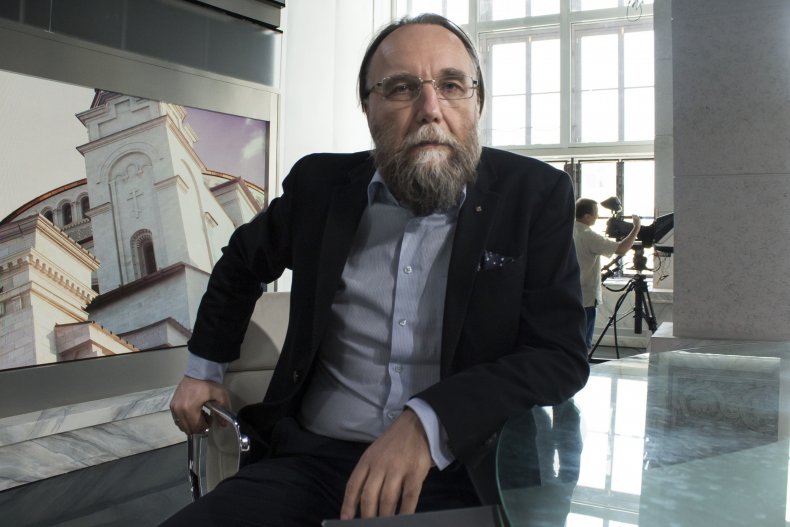 There is speculation that Dugin—who is often referred to as "Putin's brain" and "Putin's Rasputin"—may have been the intended target of the attack.
Dugina was born in 1992 and studied Philosophy at Moscow State University, according to Russian news agency TASS.
Footage posted on the Telegram messaging platform purports to show a distressed Dugin arriving at the scene and placing his hands on his head.
Baza, a pro-Kremlin Telegram channel that often leaks crime scene footage, shared the video claiming that Dugin was one of the first to arrive at the site of his daughter's death. Newsweek has not been able to independently verify the footage.
A fire was still burning as the man stood on the street, littered with debris, as sirens blared.
Dugin has long advocated for the unification of Russian-speaking and other territories, including Ukraine, in a new and huge Russian empire. His 1997 book Foundations of Geopolitics: The Geopolitical Future of Russia is viewed as the cornerstone of Putin's expansionist foreign policy.
His writings are thought to have influenced Russia's annexation of Crimea in 2014 and the full-scale invasion of Ukraine that began on February 24.
He has long called for Russia to be more aggressive on the world stage and is supportive of Russia's assault on Ukraine.
His daughter, a journalist and political commentator, shared similar views and had regularly appeared on the nationalist TV channel Tsargrad to promote Russia's actions in Ukraine.
Both father and daughter were sanctioned by the U.S. and U.K.
The U.S. Treasury said in March that Dugin, who was also placed on a sanctions list in 2015 following Russia's annexation Crimea, controls Geopolitica, a website that allows Russian ultra-nationalists to spread disinformation and propaganda.
Dugina was sanctioned as the chief editor of the website United World International, which U.S. officials said was acting on behalf of Yevgeny Prigozhin, a Russian businessman with close ties to Putin.
Recent reports suggested Prigozhin himself was "killed" in a strike on Russian-held Popasna in Ukraine, claims that Newsweek found to be unverified and likely false.