Could Putin's FSB Be Linked to Dugin's Daughter's Killing?
As uncertainty continues to surround the killing of Darya Dugina, the daughter of an influential ally of Russian President Vladimir Putin, many have floated the possibility that Putin himself may have been behind the blast that killed her.
Dugina, 29, daughter of Russian political commentator Alexander Dugin, was killed in a car bombing on the outskirts of Moscow on Saturday. Her father, 60, has been credited with being a key architect of Russia's invasion of Ukraine.
Numerous theories and accusations circulated in the aftermath of her death.
Russia's FSB security services, after a brief investigation, claimed that a female Ukrainian citizen was involved in Dugina's killing and that the woman fled to Estonia on Sunday. Ukraine has denied any involvement.
Former Russian state deputy Ilya Ponomarev alleged that Dugina was killed by Russian partisans from the so-called National Republican Army (NRA), and that both Dugin and his daughter were targets.
He claimed the NRA's goal is to "overthrow" and "destroy Putin." Ponomarev's claims could not be verified by Newsweek.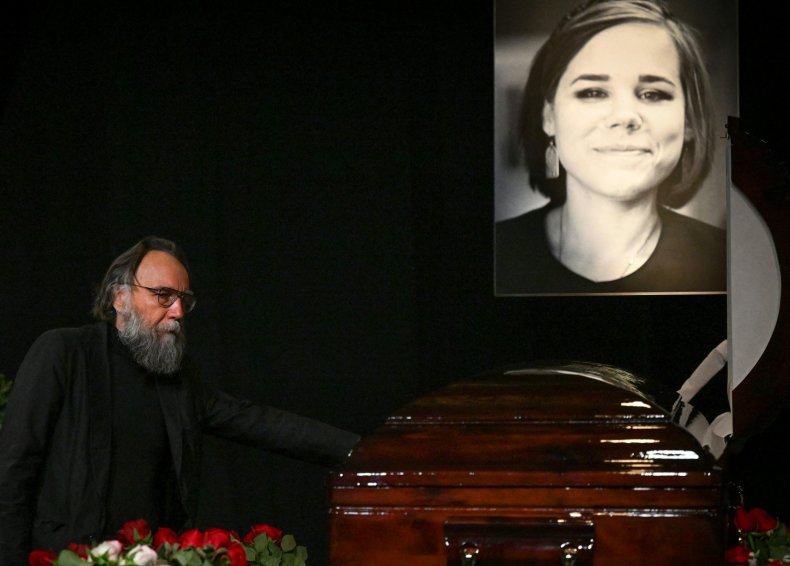 Some experts say Dugina's death may have been plotted by Putin himself, although no concrete evidence to back up these theories have surfaced.
Tom Tugendhat, a British member of Parliament, suggested that Putin may have targeted Dugin over recent criticisms made against the Kremlin.
Could Russia's FSB be linked to Dugina's death? Newsweek asked a couple of experts to weigh in on the matter and to break down existing claims.
FSB 'Disinformation Campaign'
Sergej Sumlenny, a German political expert with a particular focus on Russia and Eastern Europe, told Newsweek that he believes the Kremlin's version of Dugina's assassination is "totally fake."
"It's absolutely out of the scale of plausibility," said Sumlenny, pointing to the evidence the FSB produced in attempting to pin the blame on a female Ukrainian citizen, who allegedly arrived in Russia in July with her daughter, rented an apartment in the same building as Dugina and spied on her before killing her.
The FSB released a purported passport photo of the Ukrainian citizen, as well as footage that allegedly showed her in Russia. Data analysts were quick to point out on Twitter that the document was photoshopped.
"We already see that what they call evidence is clearly forged, for example, the ID of the woman who they say has killed Dugina is photoshopped," said Sumlenny.
Sumlenny suggested the allegations are part of the FSB's "standard disinformation campaign after every event."
"Why did they do this? Because they want to spoil the discussion. They want us to dig into all these insane versions and spend all valuable time in debunking them," he explained.
Does the NRA Exist?
Sumlenny said that from a historical point of view, he doesn't believe that the NRA underground partisan group exists at all, and suggested that it may even be a creation of the FSB.
"I don't believe it [NRA] exists, why? Russia is a state with very strong surveillance and a lot of informants among all potential groups," he explained.
In recent history, there were no terrorist networks in Russia, except for some Islamic terror groups in northern Caucasus, and a gang of young men, known as the Primorsky Partisans, who, in the early 2000s, committed crimes, including the murder of two policemen, Sumlenny said.
"All other terrorist groups which existed after that were poor FSB creations," he said.
Sumlenny explained that a typical FSB strategy has been to attend political discussion clubs in universities, infiltrate them with an agent and attempt to radicalize these young people in order to present them as a terror group.
He pointed to the "non-existent" terror group Set, which Russian authorities said were plotting to overthrow the government.
Rights groups and lawyers argued that charges against the members were fabricated and that they were tortured into confessing. Russian opposition leader Alexei Navalny also described the Set group a "fictitious terrorist organization."
"So this is how Russian terror groups are being created," said Sumlenny. "So to think that some anti-Putin liberal pro-European movement has appeared, which is not infiltrated by the FSB, which has skills to assemble a bomb, to put this bomb into a car and to let it explode remotely. It's impossible."
Given the Kremlin's official narrative is that Ukraine is behind Dugina's killing, it is only logical that Russia has yet to comment on the existence of the NRA, Sumlenny suggested.
"Their unofficial narrative, which they have allowed to be spread is the 'underground movement,'—they also need to crack down [on opposition]. So they let this narrative be transmitted."
'A Patriotic Flame'
Ruslan Trad, a security researcher at the U.S. think tank Atlantic Council, told Newsweek it is evident that the murder of Dugina "created a wave of needed anger" in Russia, now six months into its war against neighboring Ukraine.
"Dugin is now mostly a symbol, not an instrument for the state. His role in the creation of the current Kremlin mythology for Eurasia and the so-called 'Russian world' has already ended and he can be sacrificed," Trad said. "Currently, the Russian army needs victories, a patriotic flame."
The Russian state and its proxies already use murder for political purposes, he said.
"Undoubtedly, this will not be the last such episode in Russian history and an internal order should not be ruled out by one of the security agencies."
Trad also noted that there has been tension between Dugin, who was the main actor behind the annexation of Crimea in 2014, and the FSB, which led the major operations in Ukraine until recently.
"He [Dugin] accuses the agency of not working properly and failing military operations. Putin is influenced by Dugin—he is one of his main spiritual advisers and inspires him. Everyone in the Kremlin knows this."
Echoing Trad's remarks, Sumlenny suggested that Dugina may have been killed by the FSB to kickstart a campaign to intensify the war.
Doing so could ramp up the war psychoses, eliminate the last remains of opposition, and fuel those who want take revenge, he continued.
"Because the picture which they broadcast is a picture of a young innocent girl who was killed by evil Nazis from Ukraine. And that's a strong image I must say," Sumlenny said.
On Wednesday, the Russian Embassy in the United States lashed out at the idea that Russian authorities "are responsible for the death of their own citizen, a true patriot of Russia."
Newsweek has reached out to the Russian foreign ministry and Ponomarev, for additional comment.