Russian President Vladimir Putin may have been behind the blast that killed Darya Dugina, the daughter of one of his key allies Alexander Dugin, experts say.
Dugina was killed in a car bombing on the outskirts of Moscow Saturday night—though many experts believe the bomb was likely intended for her 60-year-old father, known for being Putin's top propagandist. In the aftermath of her death, Russia has sought to pin blame on Ukraine, which has denied any involvement. The situation has also raised concerns that Putin may escalate his attack on Ukraine amid the Russia-Ukraine war.
Some experts are saying Putin himself may have orchestrated the bombing. However, sufficient evidence to back up theories that the Russian president is to blame for her death have not been presented.
In response to Russian journalist Igor Korotchenko saying that Ukraine is to blame for the bombing, author Anders Åslund hit back that Russia may have ordered the bombing.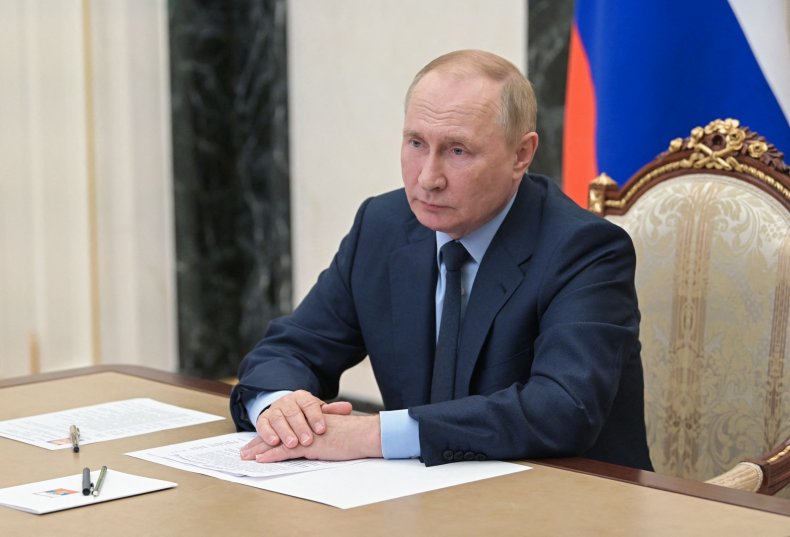 "Since Korotchenko, who is close to the [General Staff of the Armed Forces of the Russian Federation], blames the Ukrainian special services for the murder of Darya Dugina, we can be pretty sure that it was carried out by Russian special services. These people avoid the truth as the devil holy water," he wrote.
In a separate tweet, he added: "All told, it appears most likely that Putin killed Darya Dugina. He has that habit. The videos at her house were out. Aleksandr Dugin was supposed to be in the car. Why would Ukraine waste resources on such a target?"
Tom Tugendhat, a British member of parliament, wrote that Putin may have targeted Dugin over recent criticisms made against his government.
"In recent months, Dugin had been criticising the Kremlin for being too soft. Given the terrorism used by Putin over decades - Beslan, Nemtsov, Litvinienko, to name but a few incidents - means the list of suspects should include his own government," he wrote.
Historian Yuri Felshtinsky told The Daily Beast that he believes the bombing "was organized, it seems, by the Russian security services."
"The Ukrainian special services, involved in a deadly battle with the aggressor on the territory of Ukraine, are unlikely to be able to send their officers to Moscow to organize terrorist attacks there," he said.
Russian authorities have not publicly commented on these theories, and Newsweek reached out to the Russian foreign affairs ministry for comment. They have instead blamed Ukrainian special services, in a statement accusing an unnamed female Ukrainian citizen of being involved in the killing.
Mykhailo Podolyak, the adviser to the Head of the Office of the President of Ukraine, said during an appearance on Ukraine's United News that Kyiv is not responsible.
"Ukraine definitely has nothing to do with this, because we are not a criminal state, which the Russian Federation is. And even more so, we are not a terrorist state," he said.
Meanwhile, former Russian state deputy and Putin critic Ilya Ponomarev said that Dugina was killed by Russian partisans from the National Republican Army, an anti-Putin group.