Daunte Wright's Dad 'Can't Accept' Claim Officer Kim Potter Shot His Son by Mistake
Daunte Wright's father has said he can't accept the explanation that the Brooklyn Center police officer who fatally shot his son did so by mistake.
"I can't accept that," Aubrey Wright said in an interview on Good Morning America on Tuesday. "I lost my son, he's never coming back."
Daunte Wright, a 20-year-old Black man, was pulled over by police in the Minneapolis suburb on Sunday afternoon for having expired registration tags, authorities said.
Body camera footage released on Monday showed Officer Kim Potter shouting at him as officers tried to arrest him on an outstanding warrant.
"I'll Tase you! Taser! Taser! Taser!" she is heard yelling, before shooting him with a handgun. After firing a shot, she says: "Holy sh**! I just shot him."
At a news conference on Monday, Brooklyn Center police chief Tim Gannon said he believes Potter mistook her handgun for a Taser.
"From what I viewed and the officer's reaction in distress immediately after that, this was an accidental discharge that resulted in the tragic death of Mr. Wright," he said.
But Aubrey Wright told Robin Roberts that he won't accept the explanation that his son's killing was "a mistake," noting the officer involved is a 26-year veteran of the police department.
"I can't accept that—a mistake, that doesn't even sound right," he said. "This officer has been on the force for 26 years. I can't accept that."
Daunte Wright's mother, Katie Wright, added that she wants to see "justice served" and Potter "held accountable for everything that she's taken from us."
Ben Crump, a civil rights attorney representing the Wright family, said Potter was a training officer "so it's not about training, it's about implicit bias."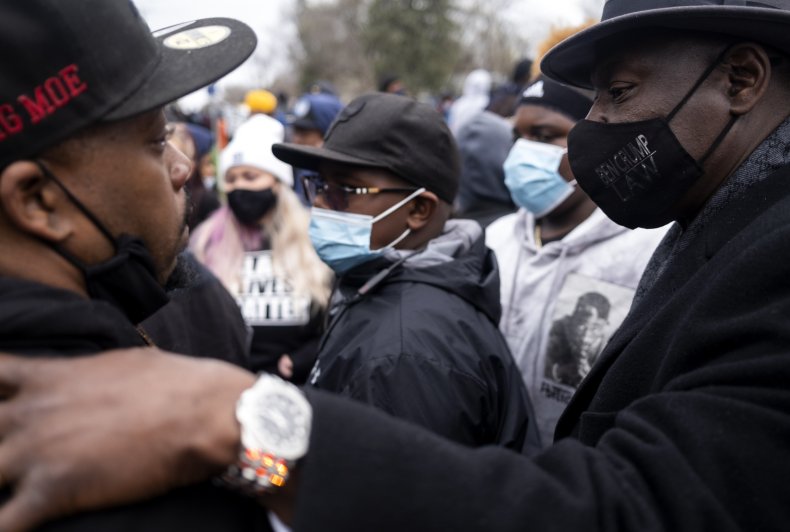 Crump added: "We don't see these sort of things happening to white young people that we see happening over and over and over again to young, marginalized minorities."
Wright's shooting has triggered unrest in the region, mirroring the protests seen following the death of George Floyd in May last year. Crump, who represents the Floyd family, was already in Minneapolis for the trial of Derek Chauvin, the former officer charged over Floyd's death.
In a statement on Monday, the Minnesota Bureau of Criminal Apprehension (BCA) said Potter is on "standard administrative leave" and that she had been with the police department for 26 years.
That revelation raised questions about how the senior officer, who is also the police union president, could have confused a handgun for the brightly-colored stun guns officers carry.
Crump on Twitter said Potter had "taught" officers who fatally shot a man in August 2019 "how to protect themselves & obscure accountability."
The attorney cited a Hennepin County Attorney's Office report that cleared the officers of wrongdoing in then shooting of Kobe Dimock-Heisler.
"Officer Potter instructed Officers Turner and Akers to exit the residence, get into separate squad cars, turn off their body worn cameras, and to not talk to each other," the report said.
"Ofc. Kim Potter knew exactly what she was doing," Crump tweeted. "She knew how to obscure the truth. In that instance, her actions were clearly intentional."