Daunte Wright Shooting Shows System Is 'Irreparably Broken,' Activists Say
The police killing of Daunte Wright shows the system of law enforcement in the United States is "irreparably broken," activists have said.
Wright, a 20-year-old Black man, was fatally shot by Officer Kim Potter during a traffic stop in Brooklyn Center on Sunday afternoon.
Authorities released body camera footage of the shooting at a news conference on Monday, with Brooklyn Center Police Chief Tim Gannon saying he believes Potter, a 26-year veteran of the department, mistook her handgun for a Taser.
Hundreds of protesters faced off against police in the Minneapolis suburb for a second night on Monday, after Minnesota Gov. Tim Walz announced a 7 p.m. curfew.
Tensions were already high in the region as the trial of Derek Chauvin, the former Minneapolis officer charged in George Floyd's death, is currently underway in a courthouse around 10 miles from where Wright was killed. Floyd's death in May last year triggered unrest that quickly spread from Minneapolis to the rest of the country and beyond.
"This weekend, we watched our community come together to mourn another loss of Black life; Daunte Wright was 20 years old and his life was cut short on Sunday," Miski Noor, the co-executive director for Black Visions, said in a statement to Newsweek.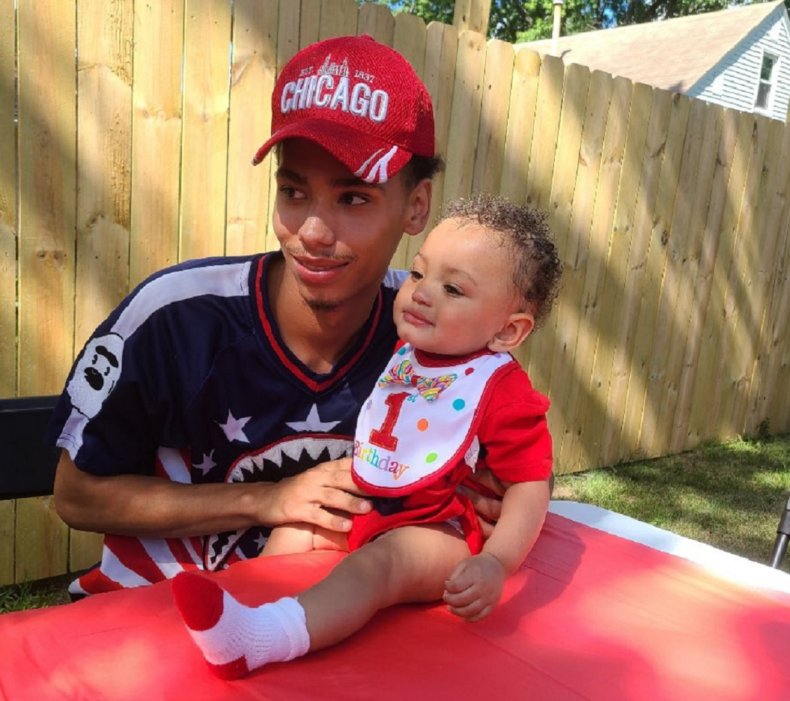 "How many more losses must we mourn? The pain of George Floyd's shooting is still scarred into our minds and yet history continues to repeat itself because of a rotten and racist institution. For too long, law enforcement and the legal system have continued to racially profile, harass, arrest, and murder Black people more harshly than the rest of America."
Karissa Lewis, the national field director of Movement for Black Lives, said the fact that "police killed [Wright] just miles from where they murdered George Floyd last year is a slap in the face to an entire community who continues to grieve and cry for Black people to stop being the casualties of an irreparably broken, racist system.
"As Black people across the country are forced to relieve George Floyd's murder through watching the trial of his murderer, Derek Chauvin, we're reminded, yet again, that there can never be justice for Black lives lost when police departments continue to reward their killers with outsized budgets and impunity."
Both Noor and Lewis both called for divesting funds from the budgets of police departments.
"Our community has reached its breaking point; we are tired of rogue police departments operating with little to no accountability and oversight. Again and again, they show us that every police department across Minnesota and this country is full of Derek Chauvins," Noor said.
"A traffic stop should not be a death sentence. Daunte Wright should still be here, and his death and the many who were murdered by police before him, highlight a clear and concise need for safety beyond policing, and a new department of safety governed by the community."
Lewis added: "We say it again: there is no "reforming" this system—the time is now to divest from deadly policing and invest in a vision of public safety that protects us all.
"We're grieving alongside Daunte Wright's family and community, and will continue fighting to divest from systems of oppression in the pursuit of justice and Black liberation."
Meanwhile, the American Civil Liberties Union of Minnesota has called for an end to traffic enforcement by armed police officers.
"We want to make it clear that Daunte Wright should be alive today, and just like George Floyd and Philando Castile, Wright is one of the countless Black men who would still be with their families and communities had police simply issued a citation," the organization's chief programs officer Ben Feist said. Castile was fatally shot in 2016 after being pulled over for a broken tail light in a suburb of Saint Paul, Minnesota.
"Police making traffic stops and performing custodial arrests for low-level infractions, which disproportionately target people of color, are dangerous, racist and unnecessary practices that don't aid public safety, but instead result in predictable violence and death for Black men like Daunte Wright, and require change on the local, state and national level," Feist said.
Missouri Rep. Cori Bush, who led protests following the 2014 police shooting of Michael Brown in Ferguson, echoed the call on her Twitter page.
"Police killed 121 people in traffic stops in 2020. Black people are pulled over at disproportionate rates," she wrote.
"Sandra Bland. Philando Castile. Daunte Wright. All their deaths began with a traffic stop. Remove police from traffic enforcement. We can't keep adding names to this list."