Dave Chappelle 'SNL' Hosting Gig Condemned by Members of Trans Community
Comedian Dave Chappelle was recently announced as the host of Saturday Night Live for November 12, and the news was met with swift backlash from members of the LGBTQ+ community.
Chappelle last hosted the sketch show on November 7, 2020, hours after President Joe Biden was declared the winner of the presidential election. Since that time, though, he has become embroiled in controversy following the release of his 2021 stand-up special The Closer. Jokes within that Netflix show were deemed by many people to be transphobic.
"Wait I thought I cancelled him. Is it possible cancel culture isn't a real thing??" Terra Field wrote with apparent sarcasm on Twitter.
Field was co-vice present of Netflix's transgender employee resource group (Trans* ERG) when The Closer was released in early October of 2021 and helped organized a protest walkout. She resigned from Netflix in November 2021.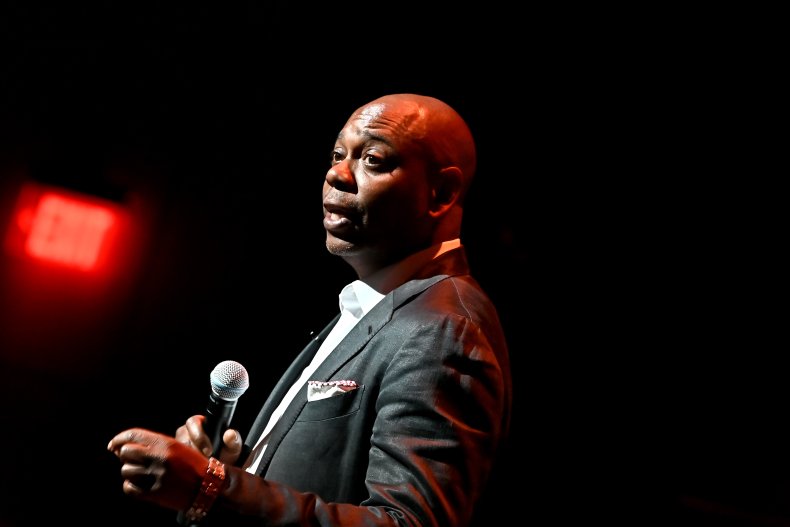 Other transgender users of social media referenced how Saturday Night Live creator/executive producer Lorne Michaels recently brought on Molly Kearney, a nonbinary comedian, as a new addition to the cast.
"Having Dave Chappelle host SNL again is a slap in the face to trans people, including one of their own new cast members. What the hell Lorne?!" one person tweeted.
The remarks directed toward transgender people in The Closer include this: "Gender is a fact. Every human being in this room, every human being on Earth, had to pass through the legs of a woman to be on Earth. That is a fact."
Elsewhere in the special, he defended Harry Potter author J.K. Rowling, who has been beset by her own controversy over a string of comments that are regarded as anti-transgender. Chappelle proclaimed during the Netflix show that he, like Rowling, is on "team TERF," which stands for "trans-exclusionary radical feminist." The term and ideology deny that trans-women are women.
GLAAD and the National Black Justice Coalition were among the organizations that condemned Chappelle following the release of The Closer. Protests have followed the comedian at various events in the past year, and a venue in Minneapolis canceled one of his standup performances hours before he was scheduled to take the stage due to complaints.
Dr. Sebastian M. Barr, a psychologist who frequently writes about transgender health, tweeted on Sunday: "I don't love reminders that the general public and even creators I enjoy don't care about my community. Dave Chappelle on SNL is sadly not surprising but f****** hurts."
A fair amount of people did support the news of Chappelle returning to host SNL, though. One Twitter user said, "Chappelle is only controversial to conformists. Im looking forward to seeing him on SNL. Hopefully they don't cancel it."
Chappelle has also argued his commentary on the transgender community has not been truthfully portrayed. In The Closer, he discussed he death of his friend, a trans comedian named Daphne Dorman. He noted how she would understand the comments he made earlier in the special.
Following the backlash to The Closer, Chappelle released a statement on Instagram that addressed a report that he had turned down a meeting with trans employees at Netflix.
"It was said in the press that I was invited to speak to the transgender employees at Netflix and I refused. That is not true," he wrote. "If they had invited me, I would have accepted it though I would have been confused about what we were speaking about. I said what I said and boy, I heard what you said, my God. How could I not?"
Chappelle added in the statement that he'd "be more than willing to" to meet with the transgender employees but only after they watched his special all the way through to the ending.
Newsweek reached out to Chappelle and Lorne Michaels for comment.