David Cicilline Rips Kevin McCarthy: FBI Director is Trump Appointee
The Federal Bureau of Investigation's (FBI) Monday raid on former President Donald Trump's Palm Beach, Florida home and base of operations Mar-a-Lago prompted an outcry from Republicans leaders across the country.
South Dakota Governor Kristi Noem accused the Department of Justice (DOJ), which oversees the FBI, of "unprecedented political weaponization." And Senator Rick Scott of Florida said impeachment "needs to be on the table" if Attorney General Merrick Garland, who leads the DOJ, does not explain the action.
One of the strongest messages came from House Minority Leader Kevin McCarthy, who said that if Republicans took control of Congress' lower chamber he "will conduct immediate oversight of [the DOJ], follow the facts, and leave no stone unturned."
"Attorney General Garland, preserve documents and clear your calendar," McCarthy warned.
Democrats have jumped to defend the FBI from accusations of playing politics. Congressman David Cicilline of Rhode Island, who serves on the judiciary committee and managed Trump's second impeachment, offered facts dismissing McCarthy's allegations.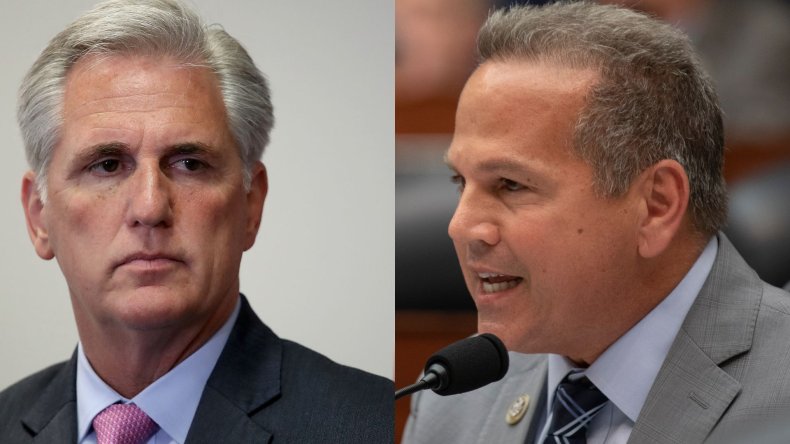 "Kevin McCarthy's threatening response was completely inappropriate and reckless," Cicilline told Newsweek in a statement. "The search warrant at issue here was lawfully issued and approved by a federal judge and the search was overseen by an FBI director that was appointed by former President Trump."
"To suggest that this was some sort of illegal raid by the FBI is not only ridiculous but dangerous, especially after what happened on Jan 6th," he added. "Leader McCarthy should support the rule of law instead of peddling conspiracy theories and lies in order to curry favor with the disgraced ex-president."
FBI Director Christopher A. Wray was appointed by Trump in 2017 and is a member of the Republican Party. In order for his agency to conduct a search, the FBI must first demonstrate evidence of a crime before a federal judge who will grant a warrant, as was the case with the Mar-a-Lago raid.
Garland, who was appointed by President Joe Biden, has yet to provide a statement addressing the search. Known for his cautious approach to law enforcement, Garland has faced criticism from Democrats, who have called out "do your job" to express frustration on what they see as the DOJ's slow movement in issuing subpoenas to those tied to January 6.
Early signs indicate that the FBI search stemmed from an ongoing investigation into whether Trump unlawfully removed and destroyed White House records after leaving office. The National Archives and Records Administration confirmed in February that it had found 15 boxes containing classified materials at Mar-a-Lago.
Newsweek contacted McCarthy for comment but did not receive a response in time for publication.