Capitol Rioter Who Looked to Shoot Nancy Pelosi in 'Brain' Gets 2 Months
Dawn Bancroft, who allegedly said she was looking for Speaker of the House Nancy Pelosi during the Capitol riots of January 6, 2021, in order "to shoot her in the frickin' brain," was sentenced to two months in prison on Wednesday.
According to court documents, Bancroft was one of the participants of the Capitol riots that involved supporters of former President Donald Trump protesting the results of the 2020 presidential election. The documents state Bancroft told FBI agents she was inside the building for approximately 30 seconds to one minute. While attempting to exit the Capitol, Bancroft allegedly filmed herself saying she and Diana Santos-Smith, another woman charged in the riot, "broke into the Capitol" and "did our part."
In September 2021, Bancroft agreed to plead guilty to one misdemeanor charge in connection to her involvement in the January 6 riots. She had initially faced four charges.
"We were looking for Nancy to shoot her in the frickin' brain but we didn't find her," Bancroft said in the video made during the riots, according to a criminal complaint. Her defense attorney has stated Bancroft was not being serious when she made the comments.
Judge Emmet Sullivan told Bancroft he was especially troubled by the video. Bancroft called the video "foolish," according to CBS News' Scott MacFarlane. Prosecutors had reportedly sought a two-month prison sentence and Sullivan said he was considering a longer sentence before prosecutors made the recommendation.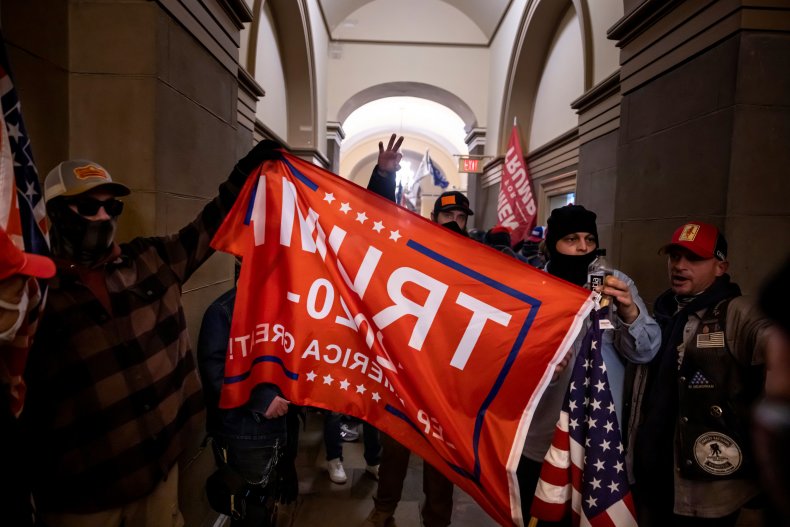 In her guilty plea made in September, Bancroft admitted she was illegally demonstrating on January 6. Santos-Smith also entered a guilty plea to a misdemeanor charge for her participation in the events at the Capitol.
Bancroft told an FBI agent that she knew they had entered restricted grounds when she came inside through a Capitol window and that she deleted the video she took inside. She also reportedly told the FBI that she instructed her children to delete the video from their phones.
Bancroft had faced potentially more than a year in prison if found guilty on all of the initial charges. Those original charges were entering and remaining in a restricted building, disorderly or disruptive conduct, disorderly conduct in a Capitol building and parading, demonstrating or picketing in a Capitol building.
As part of her plea, Bancroft was ordered to turn over her social media accounts to the government, according to Judge Emmet Sullivan, who presided over the September hearing.
In a sentencing memorandum filed in February, Bancroft's attorney, Carina Laguzzi, wrote that her client had received death threats and had suffered professionally after her business lost its designation as a CrossFit establishment following news of the allegations.
In court filings, the transcript of Bancroft's video included her talking about the conditions inside the Capitol on January 6. She reportedly described trying to exit the building, saying, "It's crazy. This is the part I don't like because you can't breathe, you can't see, and if someone comes and was to drop a bomb, we're dead, basically."