Dayton Mayor Says Trump 'Made This Bed And He's Gotta Lie In It' When Asked About Protesters During President's Visit
Dayton, Ohio, Mayor Nan Whaley, a Democrat, told reporters on Tuesday that she was "glad" that individuals in her city would be using their freedom of speech and protesting President Donald Trump's impending visit, saying that he's "made this bed and he's gotta lie in it."
Trump was scheduled to travel to Dayton on Wednesday after a gunman killed nine people and left 27 others wounded in the early hours of Sunday morning. Police have identified Connor Betts, 24, as the alleged shooter, saying officers responded and killed him within less than a minute after he began shooting. Investigators have not yet but able to conclude the motive for the attack.
In her remarks to reporters on Tuesday, Whaley was critical of the president's response to the violence. "His comments weren't very helpful to the issue around guns," she said, referring to his Monday address to the nation regarding the Dayton shooting as well as one that occurred in El Paso, Texas, on Saturday, which left 22 dead and more than two dozen wounded. The mayor said she would also communicate to the president during his visit "how unhelpful he's been."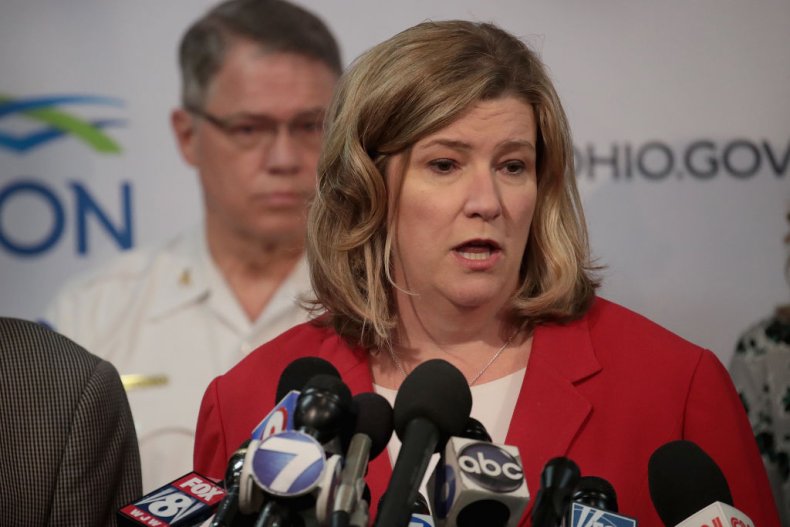 Whaley said she would "greet" the president in her official capacity as mayor, but smiled when a reporter asked about angry protesters planning to welcome the president as well. "I have lots of protesters all the time," she pointed out. "And even my friends protest me from time to time, so I'm glad that they're using their right to give a free speech comment."
"I know that he, you know, he's made this bed and he's gotta lie in it," she added. "His rhetoric has been painful for many in our community and I think the people should stand up and say they're not happy if they're not happy he's coming."
When asked about the president's response to gun violence and mass shootings in general, Whaley said she was unsure whether the president really knew what he personally believed about the societal problem.
"I think watching the president over the past few years on the issue of guns," the mayor said, "I don't know if he knows what he believes, frankly." She asserted that she has been "disappointed" in his response to the mass shooting in her town thus far.
Although Betts' motivation for the mass shooting is still unknown, his sister was among the victims on Sunday morning. The alleged shooter was also previously part of a "Pornogrind" band, a genre of music that is known for its explicitly violent and death-obsessed lyrics. Songs that Betts sang with the group discussed the butchery and rape of women.
It has also come to light that Betts appeared to support left-wing political ideas and political candidates via social media. As a result, Trump aides and supporters have attempted to suggest that Betts may have been motivated by a leftist political ideology. Investigators have made no connections between his supposed political views and the attack until now.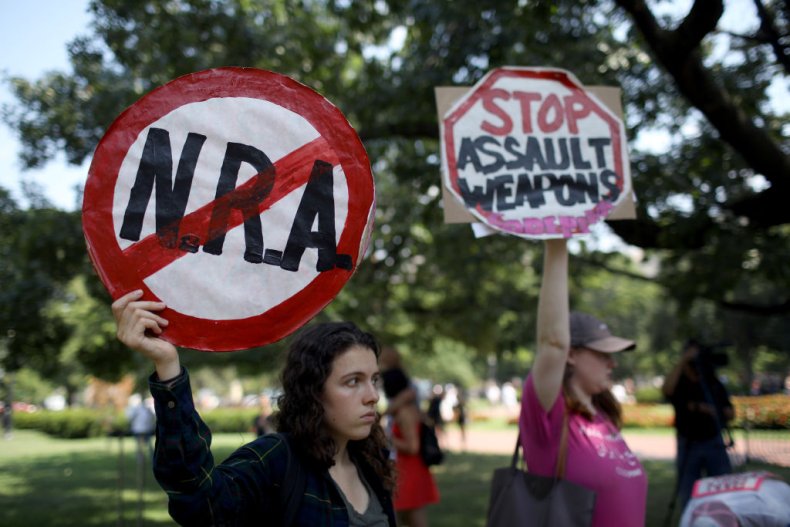 Meanwhile, the alleged attacker in El Paso, 21-year-old Patrick Crusius, has been linked to an online manifesto published minutes prior to the attack, which ranted against a "Hispanic invasion of Texas." The document called for killing Latin Americans and prosecutors have said they are considering charging Crusius with federal hate crimes. Analysts have noted similarities in language between the manifesto and words used by the president, who has often classified the influx of Central American migrants "an invasion," saying the families and children crossing the border are "criminals."
Many Democrats and critics of the Trump administration, have slammed the president and Republicans for not taking effective action to address mass shootings nationwide. Although the president said on Monday that he would push for so-called Red Flag Laws, those would not be enforceable by the executive branch. The administration could merely encourage local state government to put forward such legislation, which would make it easier to take guns from individuals who present a potential threat to society.
Critics argue that the move does not go nearly far enough, as some mass shooters never present any significant warning signs prior to their attacks. They argue that banning assault style military weapons could prevent casualties. In the case of Crusius, police responded and killed him in less than a minute after he began shooting. Yet he was still able to wound dozens and kill nine people.