Leatherface's ability to wear masks of other survivors will soon be removed from Dead by Daylight, due to reports of players misusing this feature to harass others.
For a quick bit of context to this story, Dead by Daylight is a horror-themed multiplayer game in which you control either a slasher or one of their prospective victims. If you are the latter, then you must work together with fellow survivors to turn on a series of power generators around the map, so that you can then activate a giant security door and escape the arena.
Meanwhile, if you are granted control of one of the killers, then your job is simply to stop the opposing team from getting away by hunting them down one by one and sacrificing them to an eldritch god. Naturally, there is a little more nuance and complexity to it (as each character has their own individual perks and there are various ways you can use the environment to your advantage), but it essentially plays out like a violent game of hide and seek.
At launch, Dead by Daylight's roster was comprised of original characters that were meant to evoke icons from the silver screen. For instance, the "Trapper" killer was basically the equivalent of Jason Voorhees and the "Hillbilly" was a blatant substitute for Leatherface from The Texas Chainsaw Massacre.
As Dead by Daylight steadily grew in popularity (becoming a hit phenomenon on Twitch), the developers over Behavior Interactive started to negotiate various licencing deals and crossovers. This resulted in recognizable characters making their way into matches, like Freddy Kruger, Pinhead from Hellraiser, Ghostface from the Scream franchise and James Sunderland from Silent Hill 2.
Almost every slasher villain you can think of (with the exception of Jason, who has been at the center of legal disputes for the past few years) is now in Dead by Daylight, including the Hillbilly's original inspiration, Leatherface.
Behavior Interactive Announce That Leatherface's Masks Are Being Removed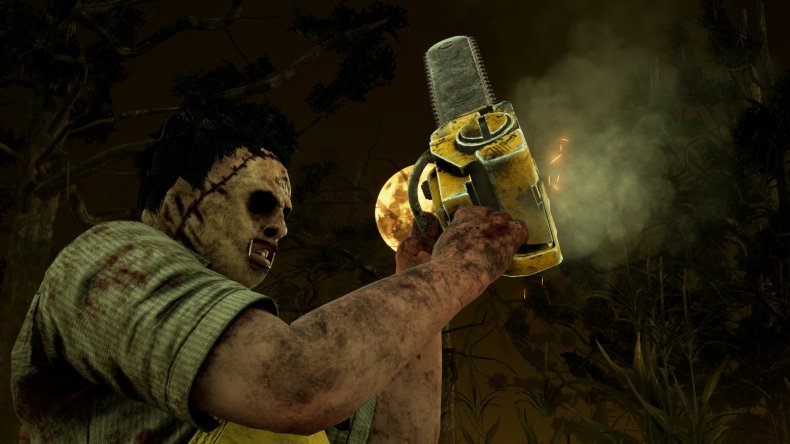 Known in-game as "The Cannibal", Leatherface was added as premium DLC in 2017 and is a faithful depiction of his movie counterpart. When controlling him, you have the ability to go into a wild chainsaw frenzy and to wield the sledgehammer weapon that he uses for putting down both cattle and people.
If you are familiar with The Texas Chainsaw Massacre films, then you'll also know that one of the killer's defining attributes is that he likes to make crude masks from the faces of his victims. In an effort to deliver an authentic role-playing experience, this is also something that Behavior Interactive allow you to do in Dead by Daylight.
In a nutshell, you can wear masks of 4 of the game's survivors if you manage to sacrifice them 25 times. There is the "Leaderface" cosmetic (based on Dwight), the "Athleteface" cosmetic (based on Meg), the "Smartface" cosmetic (based on Claudette) and the "Survivorface" cosmetic (based on Jake).
There was already a degree of controversy surrounding this mechanic, as Claudette and Jake are both Black, Indigenous and People of Color (BIPOC) characters. For some, the ability to sever their faces and then wear them while controlling the white Cannibal killer was tantamount to letting players engage in blackface. For this reason, there was already a Change.org petition to have the feature removed from the game.
However, things became even worse when it was discovered that some players have been using the Survivorface and Smartface cosmetics to specifically target BIPOC characters in online matches. There have been reports of people wearing the faces to use racist language, send abusive messages and harass Twitch streamers.
Recognizing this issue, Behavior Interactive has taken the decision to remove Leatherface's masks as part of an imminent update. In a recent developer update, they wrote: "Members of the community have shared their experiences with people targeting and harassing them while using some of these masks. These reports were disheartening to hear, and we absolutely condemn this behaviour. We are not comfortable having these masks in the game when they are used as a tool to spread hate. To that end, we will be removing The Cannibal's unlockable faces in this upcoming Mid-Chapter."
To compensate those who have already paid for the Leatherface DLC and invested time into unlocking his masks, Behavior Interactive will be giving out 6,000 Iridescent Shards (Dead by Daylight's premium currency).
In general, the move has been praised by the Dead by Daylight community, although some are concerned that it won't really solve the problem, given that the abusive players will still be active in the game and will likely just find new ways to harass people.
On the other hand, some have questioned if it's fair to remove content for those who worked hard to unlock it and that wearing faces is a big part of Leatherface's character. Others have also wondered why Behavior couldn't simply remove the Claudette and Jake masks but keep the rest.
Newsweek has contacted Behavior Interactive for comment on all of these points, as well as for broader details on the behind the scenes decision. At the time of writing, there has been no response.