Death Sentences for Blogger Killers in a Deadly Year for Bangladeshi Writers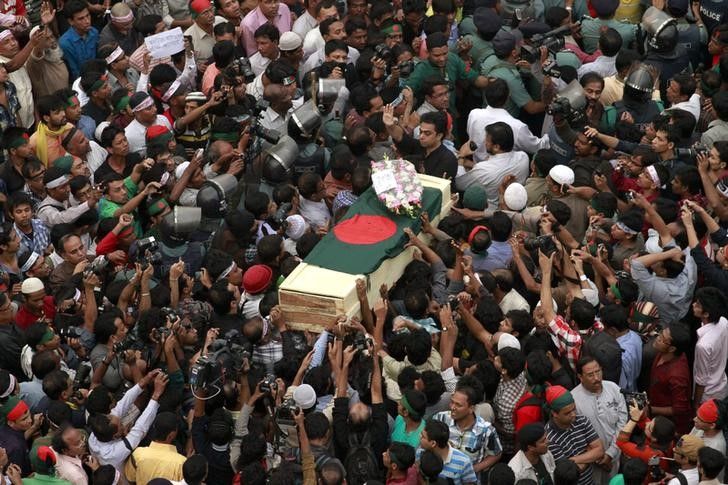 On the final day of a year that has seen four secular bloggers and a publisher in Bangladesh brutally murdered, two students have been sentenced to death for the 2013 slaying of an atheist blogger.
Blogger Ahmed Rajib Haider was hacked to death near his home in Dhaka, the Bangladeshi capital, in February 2013 after covering street demonstrations taking place against Islamist leaders found guilty of crimes during the country's 1971 war for independence. Haider, 35, who wrote under the name Thaba Baba, was an atheist and criticized Islam on his website, SomewhereInBlog.net.
Six other people were convicted in connection with Haider's death, including one for murder, but were not given death sentences. Both students, Redwanul Azad Rana and Faisal bin Nayem, attended the country's North South University. Rana was tried in absentia.
The Committee to Protect Journalists (CPJ), a New York–based press freedom organization, said Friday it was pleased with the convictions, calling them "a long overdue but encouraging first step in addressing the violence directed against bloggers in Bangladesh." However, no one has been convicted for killing the bloggers murdered in 2015, according to CPJ.
Bangladesh, a majority Muslim country, was the fourth deadliest country for journalists in 2015. Five journalists were killed there, the same number as in the conflict zones of Yemen, South Sudan and Iraq, according to a CPJ report. Listed below are the writers and publisher who were killed in 2015.
Avijit Roy: February
Avijit Roy, 42, a prominent American-Bangladeshi blogger, was killed in a machete attack in Dhaka in February after attending a book fair with his wife, Rafida Ahmed Bonya. Roy, whose writing centered on secularism and religious fundamentalism, had been receiving death threats after the publication of his book, Biswasher Virus (The Virus of Faith), in 2014. Roy also wrote for the Center for Inquiry, an American secular organization, and composed a piece on the attacks at the Paris offices of the French satirical magazine Charlie Hebdo shortly before his death. Al-Qaeda in the Indian Subcontinent claimed responsibility for the deaths of Roy and Haider in May.
Washiqur Rahman Babu: March
Just over a month after Roy's death, three men attacked secular blogger Washiqur Rahman Babu outside his home in Dhaka. He died from his injuries. Like Roy, Babu, who was also known as Oyasiqur Rahman, was a critic of religious extremism. Two men were arrested at the scene, and a third escaped. The two detained men told police that they had been ordered to kill Babu and didn't know what a blog was.
Ananta Bijoy Das: May
Ananta Bijoy Das became the third blogger to be hacked to death after a violent machete and cleaver attack in the city of Sylhet in May. Das, a banker who promoted secularism online, edited a science magazine called Jukti (Reason) and served on the advisory board for Mukto Mona (Free Mind), a blog founded by Roy. Like Roy, Das was involved in trying to bring members of the Jamaat-e-Islami party accused of war crimes during the 1971 war to justice.
Niloy Chakrabarti: August
Writing under the pen name Niloy Neel, Chakrabarti became the fourth atheist blogger to die in Bangladesh when he was hacked to death in August. Like Roy, Babu and Das, Chakrabarti promoted atheism and secularism, and he also used his writing to advocate for the rights of minorities, particularly women and indigenous people. Chakrabarti was killed when around half a dozen people showed up at his apartment and said they were interested in renting it. They forced their way in and attacked him with a machete. Al-Qaeda in the Indian Subcontinent claimed responsibility for his death on its Facebook and Twitter accounts, according to SITE, a terrorism analysis website.
Faisal Abedin Deepan: October
In late October, Faisal Abedin Deepan was found dead in his Dhaka office at secular publishing house Jagriti Prokashoni. The company published works by Roy, including his 2014 book Biswasher Virus. On the same day, another secular publisher, Ahmed Rahim Tutal, was attacked in his office at the Shudhdhoswar publishing house but survived. Deepan received death threats prior to the attack, and his father told reporters that he thought his son was targeted because he published Roy's works.