The Department of Defense (DOD) is now requiring people to wear masks inside of all its indoor facilities, regardless of their vaccination status.
All service members, federal employees, onsite contractor employees and visitors must now wear a face mask indoors at any installations and other facilities owned, leased or otherwise controlled by the DOD, Deputy Secretary of Defense Kathleen H. Hicks wrote in a memorandum issued Wednesday.
The DOD updated its policies in order to be in accordance with an updated mask guidance issued Tuesday by the Centers for Disease Control and Prevention (CDC). The CDC's guidance recommended that vaccinated people start wearing face masks indoors in certain parts of the country.
The CDC changed its guidance on masks after reports of "breakthrough" COVID-19 cases amongst vaccinated individuals. Vaccinated individuals are still capable of contracting and transmitting COVID-19 to others.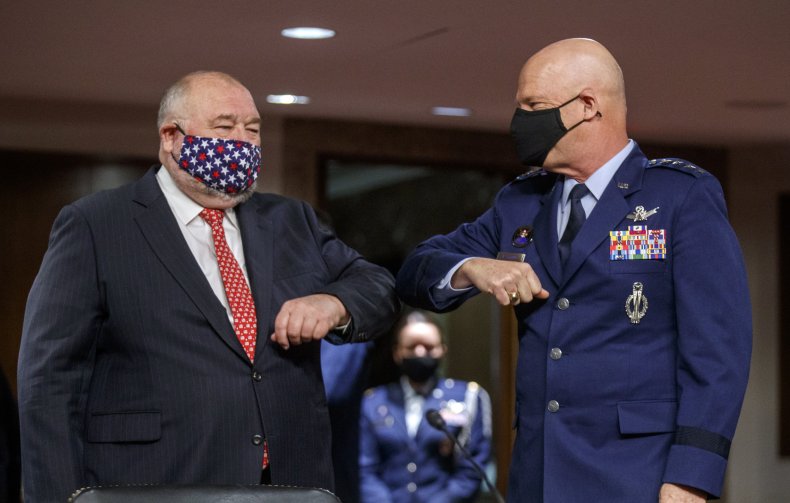 However, vaccinated people are far less likely to catch the disease or exhibit prolonged or severe symptoms. Vaccinated individuals are also far less likely to become seriously ill or die if they contract the virus.
The DOD's mask order is merely the latest move in its attempts to slow the spread of COVID-19.
In early June, a Navy official said sailors should expect mandatory vaccination soon. In July, the Army announced that it would require all soldiers to be vaccinated against COVID-19 as soon as September. The exact date for mandatory vaccinations will depend on when the Food and Drug Administration (FDA) fully licenses the available vaccines.
As of July 28, the vaccines available in the U.S. all have an "emergency use authorization." To get full FDA approval, the government agency requires six months of safety data from users, Dr. Thomas Russo, chief of infectious diseases at the University at Buffalo, told WKBW.
Pfizer applied for full FDA approval of its vaccine on May 7 and Moderna applied on June 1. As of July 21, Johnson and Johnson had not yet applied.
In early July, former U.S. Defense Secretary Leon Panetta encouraged Democratic President Joe Biden to mandate COVID-19 vaccines for all military members.
"That's an issue involving our national security." Panetta said in an interview with Gray Television's Greta Van Susteren, according to The Hill. "The last damn thing you need is to have those in the military that are our warriors unable to respond to a mission because they've gotten COVID-19. There's no excuse for that."
It's legal for the military to require mandatory vaccinations of its service members. However, Republican Representative Thomas Massie of Kentucky said that mandatory vaccinations would motivate some people to leave the military.
By the end of June, about 70 percent of the Army's personnel had already voluntarily received at least one dose of their COVID-19 vaccines, according to Army Lt. Gen. Ronald Place, director of the Defense Health Agency.
The "vast majority of transmission" these days is occurring through unvaccinated people, CDC Director Rochelle Walensky said. Approximately 90 percent of COVID-related hospitalizations or fatalities nationwide have occur amongst unvaccinated people, the Associated Press reported.
Newsweek contacted the Department of Defense for comment.