Amid Calls to 'Defund the Police,' Minneapolis Will Dismantle Police Department and New York City Is Cutting NYPD Budget
Amid protesters' calls to defund the police, buoyed by accusations of systemic failure in law enforcement across the U.S., Minneapolis Police Department faces being disbanded and the New York Police Department (NYPD) will see a budget cut.
The defund the police movement has gained traction during demonstrations across the nation, following the death of George Floyd, who died after a police officer put his knee on his neck while arresting him.
The idea revolves around taking money from law enforcement and moving it to support, serve and foster communities through other means.
In Minneapolis, the city council has announced plans to disband its police department, with members outlining a desire to strengthen the city's community-led safety initiatives.
Minneapolis City Council President Lisa Bender said the move intended to "end our city's toxic relationship with the Minneapolis Police Department, to end policing as we know it, and to re-create systems of public safety that actually keep us safe."
Nine out of 13 councillors voted in favor of the plans, which have been opposed by Minneapolis Mayor Jacob Frey.
After the announcement, he said he does not support abolishing law enforcement, stating he would like to work towards reform instead.
Frey said he and police chief Medaria Arradondo were "ready to dig in and enact more community-led, public safety strategies on behalf of our city."
The mayor was previously booed out of a protest after stating he did not support the police department's abolition, after being asked directly during the demonstration.
Newsweek has contacted Minneapolis Police Department and Frey for comment.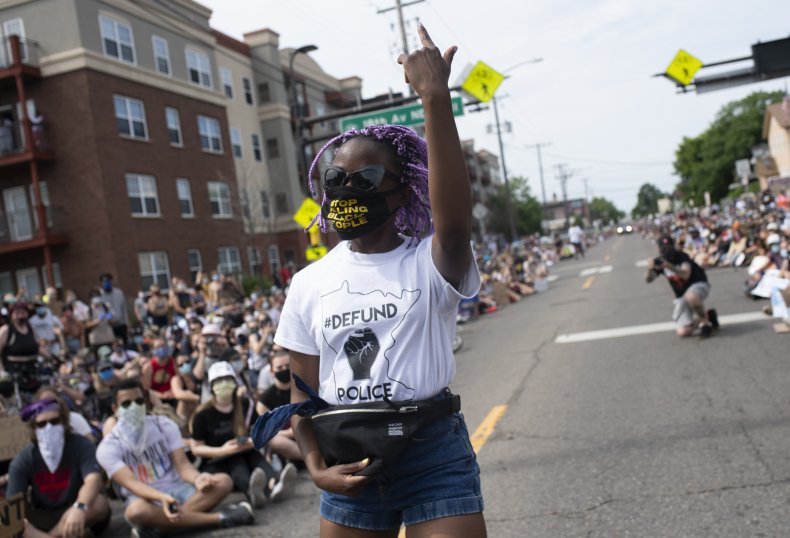 In New York City, Mayor Bill de Blasio has said funds will be cut from the NYPD budget, with the money to be given to youth and social services instead. De Blasio did not say exactly how much will be taken from the NYPD, stating this would be decided in discussions with the city council.
Answering questions at a press conference Sunday, he said: "We're committed to seeing a shift of funding to youth services, to social services, that will happen literally in the course of the next three weeks, but I'm not going to go into detail because it is subject to negotiation and we want to figure out what makes sense."
Prior to this, he had said he would ensure a funding shift was done in a way which ensured safety in the city.
"The details will be worked out in the budget process in the weeks ahead, but I want people to understand that we are committed to shifting resources to ensure that the focus is on our young people. And I also will affirm while doing that, we will only do it in a way that we are certain continues to ensure that this city will be safe," he said.
Newsweek has contacted NYPD and de Blasio for further comment.
The moves in Minneapolis and New York City come after L.A.'s Mayor Eric Garcetti pledged to remove $150 million from the city's police over the next year.
Calls for the defunding of the police come amid the widespread protests nationwide following Floyd's death, with the circumstances of his arrest prompting outrage. The demonstrations have also seen clashes between those gathered and law enforcement, further raising the concerns from those involved in the defund the police movement.
Black Lives Matter co-founder Patrisse Cullors has been among those calling for funds to be taken from the police, calling for the current systems of law enforcement to be abolished, in a recent interview with Newsweek.
A number of celebrities have also supported calls from the defund the police movement, signing a letter calling law enforcement in its current form not fit for purpose.