Delta Plane Diverts over California after Passenger Dies Mid-flight
A Delta Airlines flight was diverted to Sacramento, California, when a passenger died onboard.
The Airbus A319 jet was en route from San Jose del Cabo to Seattle when it diverted shortly after 6pm local time.
Flight DL1837 landed 20 minutes later and was met by emergency services who pronounced the passenger dead at the scene, CBS13 reported.
The Sacramento County Coroner's Office told the channel it appeared the person had died of natural causes.
At around 7.40 p.m. the aircraft departed Sacramento for Seattle, landing around an hour-and-twenty-minutes later.
Pilots can request a priority landing slot if there is an onboard emergency such as a severe illness or death.
Planes flying a direct route between Cabo and Seattle come close to overflying Sacramento, making it an obvious diversion point.
Airliners having to divert also favour larger airports with the facilities to handle a medical emergency, such as a nearby hospital and sufficient airport emergency services.
Newsweek contacted the Sacramento County Coroner's Office, Delta Airlines and the City of Sacramento Police Department for comment.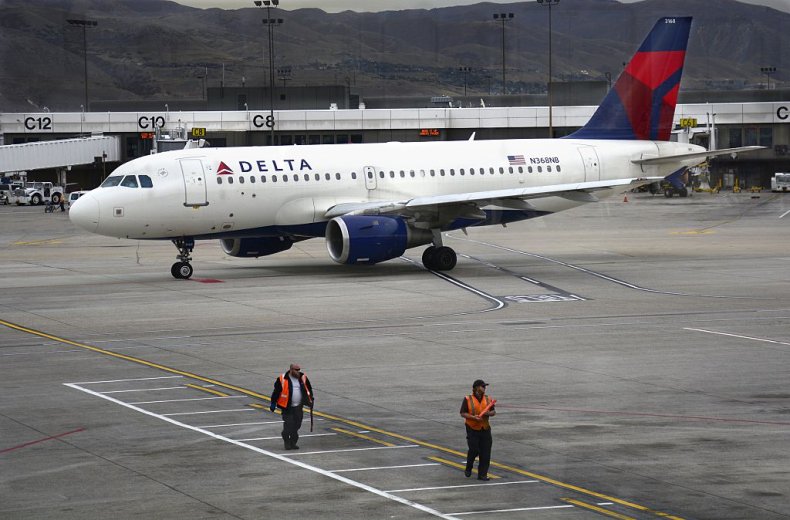 Earlier this week a plane flying from Sharjah in the United Arab Emirates to Lucknow in India diverted to Karachi, Pakistan, after one of the passenger's fell ill.
IndiGo flight 6E1412 entered Pakistani airspace at around 4 a.m. and landed around an hour later.
Local media reported the 67-year-old passenger suffered a heart attack and died while onboard.
Cabin crew are trained in first aid and can perform cardiopulmonary resuscitation (CPR).
The International Air Transport Association recommends that crews continue administering CPR until they are on the ground but after 30 minutes if there are no signs of life the person may be presumed dead.
When a person has been declared dead, or presumed dead, onboard, the crew should advise the captain immediately and move the person to a seat, preferably one with few other passengers nearby.
If the aircraft is full, the person should be put back into their own seat and restrained with a seat belt, or put into a body bag if the airline carries them.
In December, a 69-year-old man experienced a medical emergency onboard United Airlines Flight 591 from Orlando, Florida to Los Angeles, forcing the plane to divert to New Orleans.
The man was taken to a local hospital where he was pronounced dead, United confirmed in a statement to Newsweek.
A Louisiana coroner's report listed the cause of death as "acute respiratory failure, COVID-19."