Democratic Arizona Representative Ruben Gallego has told Republican Representative Marjorie Taylor Greene to "shut your seditious, Qanon loving mouth" after Greene claimed that Democrats are trying to destroy America "from within."
On May 2, Greene published a tweet that read, "Democrat policies are destructive and #AmericaLast. Dem shutdowns killed 100's of thousands of small businesses. Dem open borders grow cartel business to $400 million per month. And Democrat funded BLM/Antifa riots have cost BILLIONS in damage. Democrats are the enemy within."
Greene didn't provide sources for any of her claims.
In response, Gallego wrote, "I was trying to figure what type of pen to stab your friends with if they overran us on the floor of the House of Representatives while trying to conduct a democratic transition of power. So please shut your seditious, Qanon loving mouth when it comes to who loves America."
Greene responded to Gallego the following day by calling this Newsweek article "fake news."
"While you were hiding with your little pen, brave Republican MEN were helping police hold the door, so that ALL of us could get out safely. Coward," she tweeted in response to Gallego on Tuesday morning.
Greene has repeatedly echoed former President Donald Trump's baseless claims that a nationwide conspiracy of voter fraud caused him to lose the 2020 election. She has worn a face mask declaring "Trump won" on the congressional floor. She also opposed Congress' official certification of now-President Joe Biden as the election's winner.
In a December 30, 2020 tweet, she wrote, "I refuse to certify a stolen election. It is the duty of Congress to secure the integrity of our elections. On Jan. 6th, I will #FightForTrump."
Trump's own election security agency, his Department of Justice and over 60 court cases involving judges he appointed have said there was no evidence of widespread voter fraud that "stole" the election from him.
Greene has also blamed Democrats for inciting the January 6 Capitol riots. The riots involved hundreds of Trump supporters seeking to overturn the results of the 2020 election.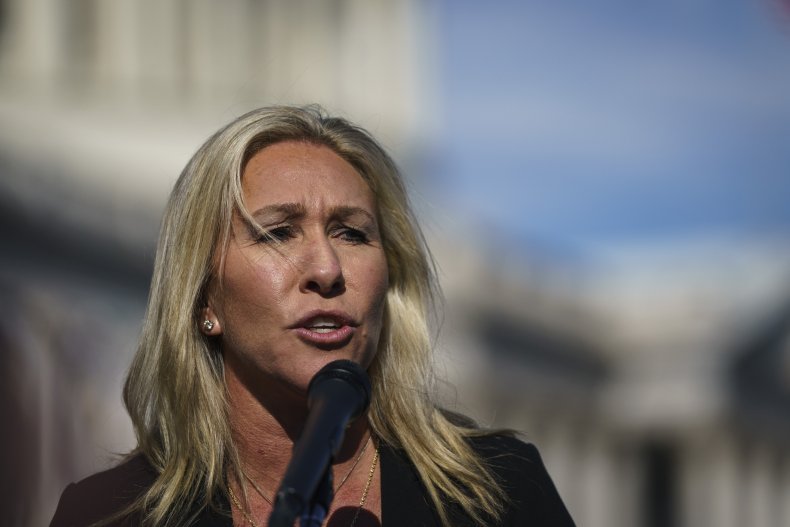 Greene's past social media activity showed her support of QAnon. QAnon is a conspiracy theory movement in which anonymous online postings from an entity known as "Q" claim to unveil a secret "deep state" plot against Trump.
The evidence-free conspiracy claims that Satan-worshipping Democrats and Hollywood elites are masterminds of an international child sex trafficking ring that seeks to torture children and destroy Trump. Trump is the movement's savior who will purportedly uncover the pedophile ring.
QAnon remains influential in American politics. The FBI has called it a domestic terrorism threat. The conspiracy theory has also been linked to several murders and death threats against politicians.
Greene has since distanced herself from the conspiracy theory, stating that she was "just like millions of other Americans" who posted in support of it. She said that she stopped believing in it after Q posted some "misinformation."
Nevertheless, Greene has also voiced support for other extremist conspiracy theories.
In her past social media activity, she said that an airplane never hit the Pentagon during the September 11 terrorist attacks, that all school shootings were faked and that a Jewish bank profited off of coastal wildfires started by a space laser. She has also accused former Secretary of State Hillary Clinton of slicing off a child's face and wearing it. She has also proclaimed belief in many other conspiracy theories.
Newsweek contacted Greene's office for comment.
Update (5/4/2021, 5:46 p.m.): This article has been updated to include a follow-up tweet published by Greene in response to Gallego.