Demands for Oprah to Denounce Dr. Oz's Political Bid Called 'Misogyny'
While Dr. Mehmet Oz continues his run for the Senate in Pennsylvania as a Republican, Oprah Winfrey is getting blamed for his political rise as many call for her to "denounce" his campaign.
Those calls have been labeled "next-level misogyny" by writer and podcast host Amee Vanderpool who compared it to the calls for Hillary Clinton to apologize for Bill Clinton's alleged misdeeds back in 2016.
A doctor turned television host turned Trump-supporting politician, Dr. Oz got his start in the public eye as a regular guest on The Oprah Winfrey Show before clinching his own daily show (The Dr. Oz Show). He brought that show to an end in January 2022 as he launched his bid for the Pennsylvania Senate which has recently been backed by Donald Trump.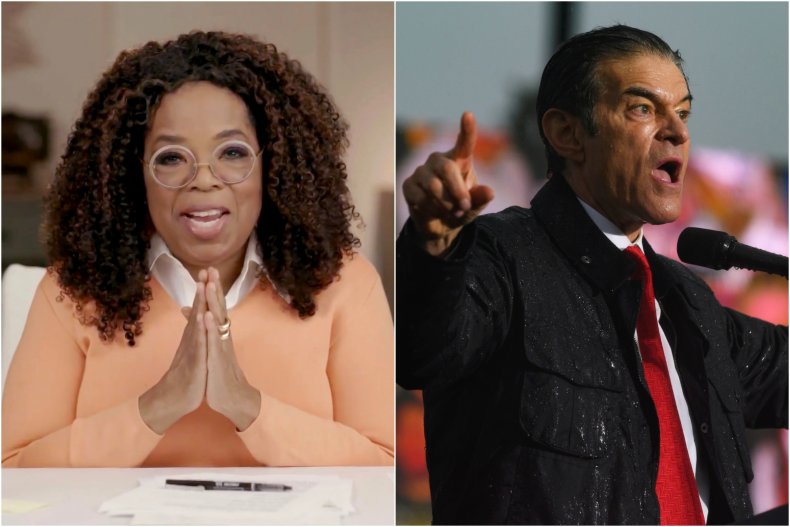 Social media has seen public calls for Oprah to denounce or apologize the actions of Oz.
"Considerable silence from [Oprah]-land re Dr. Oz," wrote former actor and SNL cast-member Michael McKean on Twitter. Another doctor, Steven Hassan, also attempted to call out Oprah. "Where is Oprah? Why isn't she putting her vast resources to helping democracy?" Hassan wrote after retweeting a tweet which claims Oprah "made" Dr. Oz.
Attorney Richard Signorelli openly blamed Oprah for the emergence of Dr. Oz. "She needs to speak out against this phony, dangerous, & craven poor excuse for a human being," he said.
Many others like @DashDobrofsky and @DavidEmmersonD called for Oprah to "denounce" Dr. Oz while @Markfry809 openly wondered if Oprah "regrets the day she unleashed a shamelessly opportunist quack like Dr. Oz on America?"
Responding to those pulling Oprah into the debate, SHERO newsletter writer Vanderpool tweeted the criticism is based in sexism.
"Demanding that Oprah defend herself for the political actions of Dr. Mehmet Oz, a decade after he was on her show, is some next-level misogyny that I haven't seen since people demanded that Hillary Clinton apologize for Bill Clinton in 2016," she wrote.
"Novel idea: hold men accountable for their words and actions to AT LEAST the same level that you want to blame the women associated with them." She continued, "and for all of you saying that you *just* want her to comment on it, you are lying to yourselves. You want more than that-you want Oprah to stop him somehow. But, that is the job of the electorate."
In December 2021, Winfrey did release a statement (via a spokesperson) regarding Dr. Oz's burgeoning career as a Republican politician. "One of the great things about our democracy is that every citizen can decide to run for public office. Mehmet Oz has made that decision. And now it's up to the residents of Pennsylvania to decide who will represent them," she told New York magazine.
The comment section of Vanderpool's original statement had people agreeing that anger toward Oprah may be steeped in sexism or racism. "Right? Asking a black woman to apologize for the actions and words or a white guy is next level," wrote @kesayers. Many others thanked Vanderpool for speaking up.
Newsweek has reached out to Oprah Winfrey and Mehmet Oz for comment.