Demi Lovato: 5 Shocking Revelations from 'Dancing With the Devil'
Demi Lovato: Dancing with the Devil is far from your typical pop documentary. While previous YouTube documentaries on Justin Bieber and BTS may as well have been PR exercises, in her doc Demi Lovato goes deep on a troubled few years that have seen her deal with an eating disorders, drug addiction and a 2018 overdose that left her minutes away from death. Here are some of the most dramatic revelations from the four-part series.
WARNING: The following contains references to rape and sexual assault
1. Lovato was raped as a teen
In the documentary, Lovato speaks publicly for the first time about losing her virginity by being raped when she was 15, around time she was becoming famous for her appearance in the Disney Channel film Camp Rock.
In the documentary, she says, "We were hooking up but I said—hey, this is not going any further, I'm a virgin, and I don't want to lose it this way. And that didn't matter to them, they did it anyways. And I internalized it and I told myself it was my fault because I still went in the room with him."
She also discusses the cruel irony that like her co-stars the Jonas Brothers, she was wearing a promise ring at the time, a piece of jewelry that signifies a commitment to wait until marriage to have sex. "I'm supposed to come out to the public after saying I have a promise ring," the singer says. "Six months later, I'm supposed to say, well I had sex—even though it was rape? Some people aren't going to see it that way."
2. She was sexually assaulted by her drug dealer the day she overdosed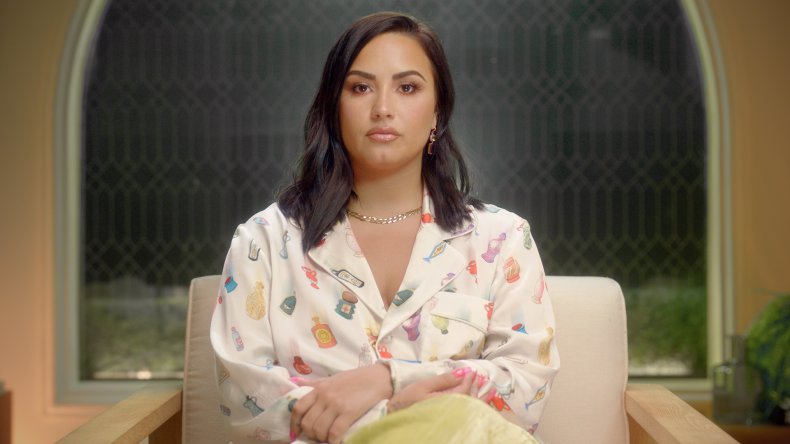 Central to Demi Lovato: Dancing with the Devil is the story of the singer's near-fatal overdose on what she says was OxyContin that had been combined with fentanyl. If that ordeal was not harrowing enough, she said that she was also sexually assaulted by her dealer that night.
She says in the doc, "I didn't just overdose. I was taken advantage of. When they found me, I was naked, blue. I was literally left for dead after he took advantage of me. When I woke up in the hospital, they asked if we had had consensual sex. There was one flash that I had of him on top of me. I saw that flash and I said yes. It wasn't until a month after the overdose that I realized, 'You weren't in any state of mind to make a consensual decision.'"
3. She says she was minutes away from death
Also speaking about the overdose, Lovato reveals she "'I had three strokes, I had a heart attack. My doctors said that I had five to ten more minutes." She also details the procedures performed by the doctors to remove the drugs from her system and to purify her blood to save her life.
She also says that the health problems from this events are still ongoing. She said, "I was legally blind when I woke up. I can't drive anymore and I have blind spots in my vision...So sometimes when I go to pour a glass of water, I totally miss the cup because I can't see it anymore."
4. She did heroin again after overdosing
"I wish I could say the last night that I ever touched heroin was the night of my overdose, but it wasn't," she admits in the YouTube series. This also meant contacting the man who she said assaulted her again. "I wanted to rewrite his choice of violating me. I wanted it now to be my choice, and he also had something that I wanted, which were drugs," she says of her decision. "It didn't fix anything, it just made me feel worse. But that, for some reason, was my way of taking the power back."
5. She is no longer fully sober
Despite that near brush with death, Lovato still uses some drugs after a few years of being fully sober. In Dancing with the Devil, she admits she still drinks and smokes marijuana—an arrangement she called being "California sober" in a CBS News interview.
In Dancing with the Devil, meanwhile, she says of this, "telling myself that I can never have a drink or smoke marijuana, I feel like that's setting myself up for failure because I am such a black-and-white thinker. I had it drilled into my head for so many years that one drink was equivalent to a crack pipe."
In the doc, Elton John, famed for offering support to fellow artists who have had drug problems, reveals he is skeptical that this method can work. He says, "Moderation doesn't work...You either do it, or you don't."
Lovato agrees to some extent in the doc, but says that the system works for her. She says, "go[ing] out and try having a drink or smoking a joint...it isn't for everybody...Recovery isn't a one-size-fits-all solution. You shouldn't be forced to get sober if you're not ready."
Demi Lovato: Dancing with the Devil is streaming now on YouTube.