Democrat Gets First $25K Payout From Texas Lt. Gov for Reporting Republican's Voter Fraud
Nearly a year ago, Texas Lieutenant Governor Dan Patrick offered about $1 million from his campaign fund to anyone that brought forward evidence of voter fraud. A progressive Democrat is the first to collect a payout after reporting a Republican who voted twice in the 2020 election.
Patrick, a Republican, has promoted former President Donald Trump's false claims of widespread voter fraud in the 2020 presidential election. The Texas leader issued his plan last November to make payments to those reporting voter fraud by saying, "Trump's pursuit of voter fraud is not only essential to determine the outcome of this election, it is essential to maintain our democracy and restore faith in future elections."
Eric Frank, a progressive poll worker in Pennsylvania, claimed a $25,000 check from Patrick's campaign fund after he reported on a GOP voter who illegally cast two ballots in the 2020 election, The Dallas Morning News reported on Thursday.
"It's my belief that they were trying to get cases of Democrats doing voter fraud. And that just wasn't the case," Frank told the Texas newspaper. "This kind of blew up in their face."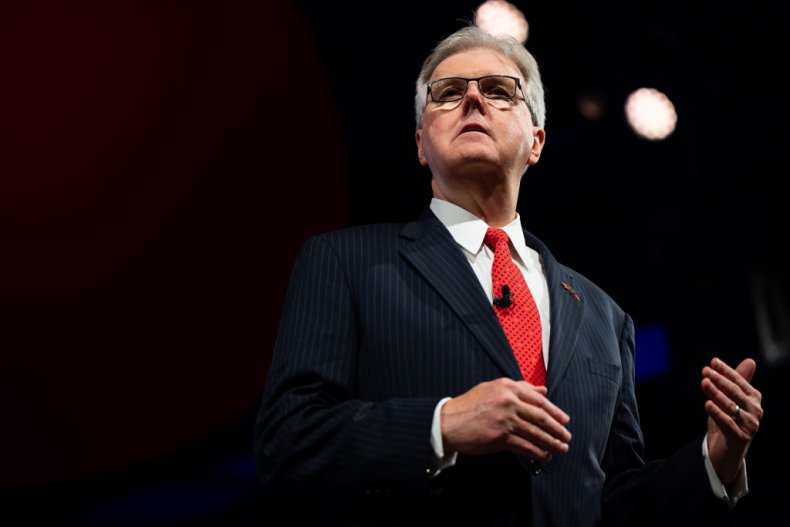 Frank turned in Ralph Thurman, a 72-year-old Republican after he observed the man casting two ballots. One vote was for himself and the other was for his son—a registered Democrat. Thurman pleaded guilty last month to casting multiple ballots. He was given a sentence of three years probation and blocked from voting for four years.
"Thank you for putting out the bounty," Frank said to Patrick. "I'm glad that you and your team honored your words." He said that he and his fiancée would use the money to help buy a new home.
Newsweek reached out to Patrick for comment.
Trump and many of his Republican allies continue to baselessly claim that the 2020 election was rife with voter fraud, leading to President Joe Biden's victory. They have not provided evidence substantiating this extraordinary allegation.
On the contrary, dozens of election challenge lawsuits filed by Trump and his supporters have failed in state and federal courts. Even judges appointed by Trump and other Republicans have rejected the allegations. Meanwhile, audits and recounts in key battleground states, including in areas where the election was overseen by pro-Trump Republicans, have reaffirmed Biden's victory.
Former Attorney General William Barr, who was widely viewed as one of Trump's most loyal Cabinet members, said last December that there was "no evidence" to support the claims of widespread fraud. The Cybersecurity and Infrastructure Security Agency at the Department of Homeland Security has described the 2020 election as the "most secure in American history."