Democratic Congressman Who Voted Against Impeaching Trump: 'I May Stand Alone But I Stand in Good Conscience'
A Democratic congressman who voted no to the two articles of impeachment brought against President Donald Trump, one of just two in his party that did not vote yes, said his conscience is clear on the issue.
The House voted on Wednesday evening to impeach Trump on the two articles—abuse of power and obstruction of Congress—over the president's alleged Ukraine-related misconduct. Abuse of power was backed by 230 to 197 and obstruction of Congress by 229 to 198.
Rep. Colin C. Peterson who since 1991 has represented the 7th district of Minnesota, which voted heavily for Trump in 2016, called the impeachment inquiry a "mistake," said it has "failed," and that it was not a bipartisan process.
"I'm not a lawyer and am not sure what 'high crimes and misdemeanors' are, but I do know that this process has not convinced the people in my district we have impeachable offenses and that the president needs to be removed," Peterson said in a statement after the vote.
"I disagreed with how the Russia probe and Mueller report were handled and think it set the stage for the failed impeachment inquiry. The inquiry and hearing have been partisan and have failed in convincing the country while further placating some people who have wanted the president impeached since he was elected."
Peterson, who plans to remain a Democrat, concluded: "This process has been a mistake and I will not be whipped in line by my party. I may stand alone but I stand in good conscience. History will show this to be a mistake and the Senate will make short work of an acquittal."
The other Democrat to vote no to both articles, Rep. Jeff Van Drew of New Jersey, is planning to join the Republican Party over the impeachment issue.
Rep. Tulsi Gabbard of Hawaii, a 2020 candidate in the Democratic race, voted present. Rep. Jared Golden, a Maine Democrat, voted yes to abuse of power but no to obstruction.
All other Democrats voted yes to both articles.
The graphic below, provided by Statista, illustrates the House vote on Trump's impeachment.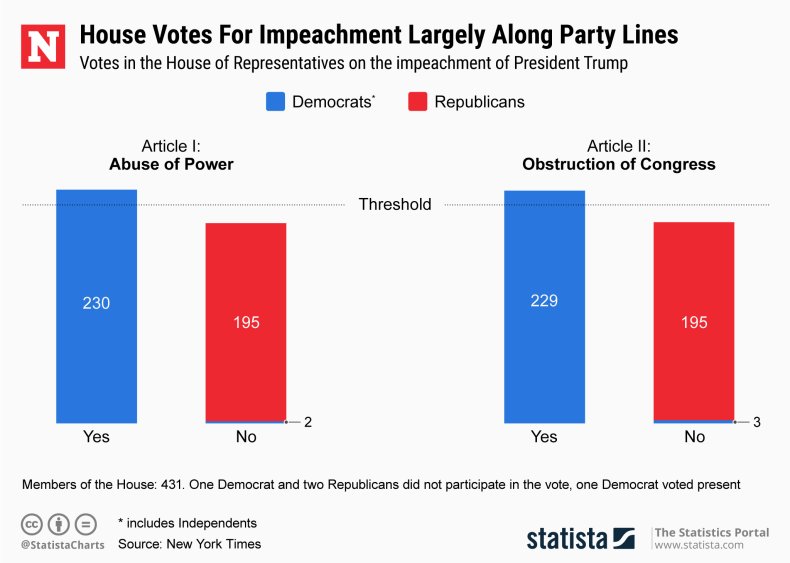 Impeachment now moves to the Senate where Trump will have a trial on the two articles. The House is majority Democrat, but Republicans control the Senate and some have made clear that they plan to acquit Trump.
Trump is accused of soliciting Ukraine's interference in the 2020 election to his personal advantage.
He allegedly conditioned $391 million in security aid and a White House meeting for President Volodymyr Zelenskiy on Ukraine opening unfounded investigations into his political rivals, namely former Vice President Joe Biden, a leading, 2020 candidate, and the Democratic Party.
President Trump is also accused of obstruction because of the White House's refusal to cooperate with the impeachment inquiry or comply with any congressional subpoenas stemming from it.
Trump denies any wrongdoing and says he wanted nothing from Ukraine to open the investigations. He also claims to have been pursuing legitimate concerns about allegations of corruption in Ukraine.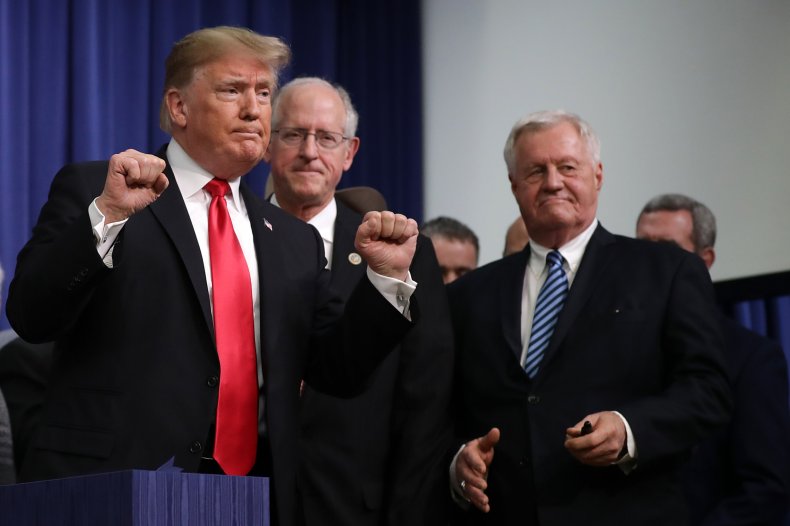 This article was updated to include an infographic.