Full List of Congress Members Arrested With AOC Protesting SCOTUS
More than a dozen Democratic members of Congress on Tuesday were arrested during an abortion-rights protest in Washington, D.C., including Representatives Alexandria Ocasio-Cortez of New York, Ilhan Omar of Minnesota and Ayanna Pressley of Massachusetts.
U.S. Capitol Police announced on Twitter that 17 members of Congress were arrested. Newsweek found through the verified Twitter accounts of representatives that 17 House Democrats posted that they were detained at the protest.
The legislators and throngs of demonstrators reportedly marched from the U.S. Capitol to the Supreme Court to protest the recent ruling that overturned Roe v. Wade, the Supreme Court case that had found the Constitution protected a woman's right to an abortion. In the wake of the ruling, many states enacted laws with stringent restrictions or bans on abortions.
Based on the Twitter accounts of the representatives or official statements, below is a list of the members of Congress who confirmed that they were arrested.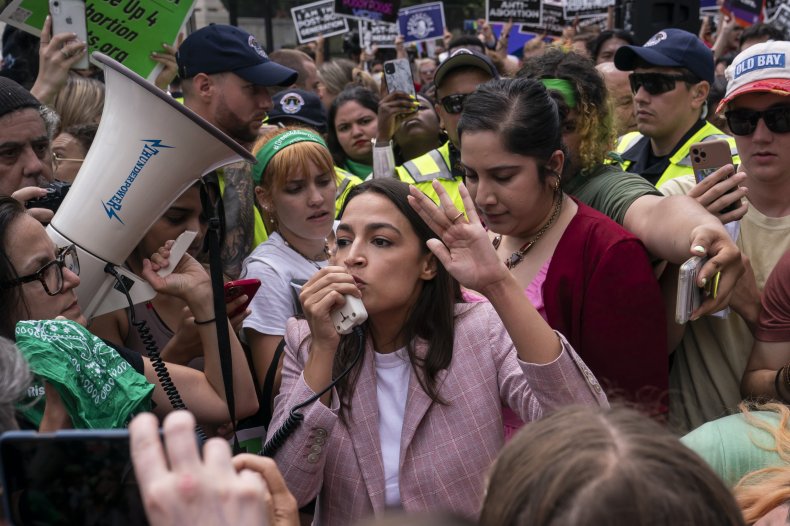 • Alma Adams of North Carolina
• Cori Bush of Missouri
• Assistant Speaker Katherine Clark of Massachusetts
• Madeleine Dean of Pennsylvania
• Veronica Escobar of Texas
• Sara Jacobs of California
• Barbara Lee of California
• Andy Levin of Michigan
• Carolyn Maloney of New York
• Alexandria Ocasio-Cortez of New York
• Ilhan Omar of Minnesota
• Ayanna Pressley of Massachusetts
• Jan Schakowsky of Illinois
• Jackie Speier of California
• Rashida Tlaib of Michigan
• Nydia Velazquez of New York
• Bonnie Watson Coleman of New Jersey
U.S. Capitol Police said 35 people in total were arrested on charges of crowding, obstructing or incommoding.
"It is against the law to block traffic, so officers are going to give our standard three warnings before they start making arrests," the police force tweeted earlier in the day. "We have already given our standard three warnings. Some of the demonstrators are refusing to get out of the street, so we are starting to make arrests."
Several of the representatives who were arrested released statements about the incident.
"There is no democracy if women do not have control over their own bodies and decisions about their own health, including reproductive care," Maloney said in a statement. "I have the privilege of representing a state where reproductive rights are respected and protected—the least I can do is put my body on the line for the 33 million women at risk of losing their rights. The Republican Party and the right-wing extremists behind this decision are not pro-life, but pro-controlling the bodies of women, girls, and any person who can become pregnant. Their ultimate goal is to institute a national ban on abortion. We will not let them win. We will be back."
"Today, I am making good trouble," Schakowsky tweeted, along with a video of her being led by a police officer.
"Abortion rights are human rights and I'm not letting up in this fight," Pressley wrote on Twitter.
"Today I was arrested in a civil disobedience action at the Supreme Court to protest Roe v. Wade getting overturned and the assault on reproductive rights across the country," Omar said in a statement provided to Newsweek. "Our reproductive rights are under assault across the country, thanks to an extremist court with little regard for precedent or our basic rights. I will do whatever it takes, including putting my body on the line, to protect our reproductive rights."
This story will be updated should the arrest of other members of Congress be made known.