Democratic Senator Mazie Hirono Says Kamala Harris Should Visit the Border, Calls Situation a 'Crisis'
Criticism of Vice President Kamala Harris for not yet visiting the southern border continues, as the number of migrants in federal custody swells and strains the nation's immigration system.
Now Democratic Senator Mazie Hirono of Hawaii has weighed in on the issue.
"Of course," she said when asked if Harris should visit the border in an interview Friday with PBS Firing Line With Margaret Hoover.
When host Margaret Hoover asked Hirono why Harris has yet to make the journey to the border, she responded: "I don't know. Maybe we have a few other things to deal with, like the pandemic and everything else, so I'm not going to point fingers at her in the sense of — I hope that she will go down to the border."
The Hawaiian senator added: "I hope that we can have a comprehensive, 'whole of government' approach to what we need to do to have a humane immigration system."
Hirono's comments are the latest instance of pressure on Harris, who President Joe Biden named as his decision-maker on resolving the tremendous numbers of migrants crossing the U.S.-Mexico border.
But Harris has stirred confusion in the eyes of critics regarding her strategy so far. She's made trips to New Hampshire and other states to promote the administration's jobs and infrastructure plan and its coronavirus response, with most of her work on the matter occurring in the form of roundtable discussions with experts and meetings with regional leaders.
Amid rebuke from Republicans, the White House defended Harris, reiterating that her task is not the border itself, but the "root causes" fueling the surge in immigrants risking the dangerous journey to the U.S.
"Her focus is not on the border—it's on addressing the root causes in the Northern Triangle, and that's why the majority of her time has been spent on working on a diplomatic level," White House Press Secretary Jen Psaki told reporters Monday.
She added security is also a factor: "If the president or vice president goes down and visits a facility like this, you have to potentially clear some parts out. There's a lot of security that comes."
Harris is at work determining what is causing high numbers of unaccompanied children, families and adults to cross the border, straining federal immigration facilities obligated to house and process these new arrivals. She met virtually with Guatemalan President Alejandro Giammattei on Monday, and she told the president the U.S. is aiming to increase relief to the Northern Triangle region, which includes Guatemala, Honduras and El Salvador, the three nations driving most of the immigration north, The Associated Press reported.
Harris has also called Mexican President Andrés Manuel López Obrador in addition to consulting multiple experts on the region. Earlier this month, Harris told reporters she hoped her first trip could be to the Northern Triangle and Mexico.
"The deliberate engagement and lifting up of civil society is a really encouraging early sign that the vice president and her team understand what it's going to take to move the needle on this issue," Dan Restrepo, a senior fellow and expert on immigration at the Center for American Progress, said to The Associated Press.
In her opening notes during Monday's meeting, she said a combination of "acute causes" like the COVID-19 pandemic and "root causes" like failed economies and corruption have driven a surge in migration that began even before Biden took office. And this past month marked this year's high point so far. According to recent data from U.S. Customs and Border Protect (CBP), border agents conducted over 172,000 encounters with illegal immigrants in March alone. Over 18,000 of those encounters in March were unaccompanied minors.
Scenes of cramped border facilities filled with children may paint a dire picture, but the Biden administration has maintained their "focus here is on solutions, on making progress, on moving these kids out of these facilities and getting them connected with sponsor homes with family members, if possible," Psaki said on Monday.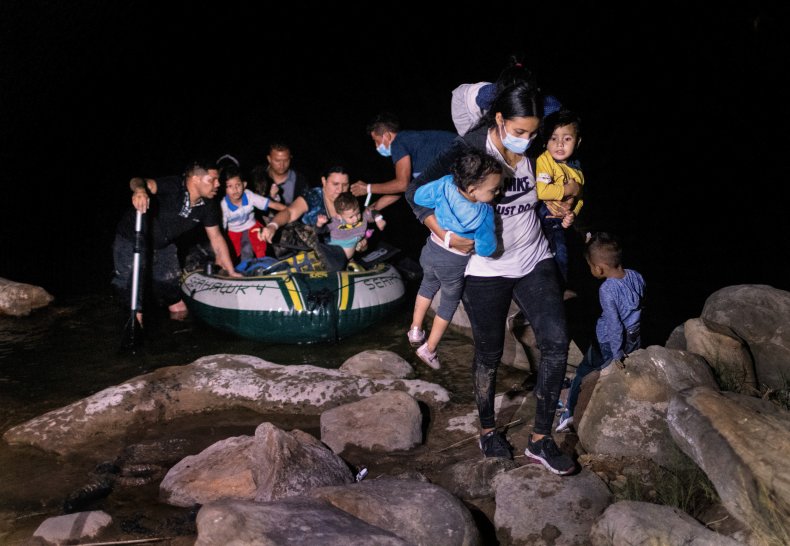 But Hirono went on to refer to the situation at the U.S.-Mexico border as a "crisis," a word Homeland Security Secretary Alejandro Mayorkas has avoided to use when discussing the thousands of immigrants who have arrived at the border in the hope of gaining asylum in the U.S.
"I think the president calls it a crisis," Hirono said to Hoover. "I would call it a crisis. We can call it a challenge. But we know what the factors are. We know what is happening. So whatever you call it, we're going to need to deal with it. We're going to need to address it in a humane way."
Newsweek has reached out to the White House for comment on Harris' travel plans.