Democrats Could Lose the Senate in Nevada
Before 2022, some were saying that the purple state of Nevada was beginning to trend blue.
The governor's seat flipped to Democrats in 2018 after nearly two decades of Republican control, giving them their first statehouse trifecta since the early 1990s. Senator Jackie Rosen joined fellow Democrat Catherine Cortez Masto to give Democrats control of both of the state's seats in the U.S. Senate for the first time in decades, giving Nevada just its third Democratic duo since 1954.
But with Cortez Masto facing re-election this year, warning signs are emerging that Democrats' momentum could be in jeopardy amid an apparent exodus of members from the party that have so far gone unmatched among Republicans.
Writing for the Las Vegas Review-Journal, conservative columnist Victor Joecks highlighted disparities in voter registration numbers that he believed could bode poorly for Cortez Masto's chances in her campaign against Republican Adam Laxalt.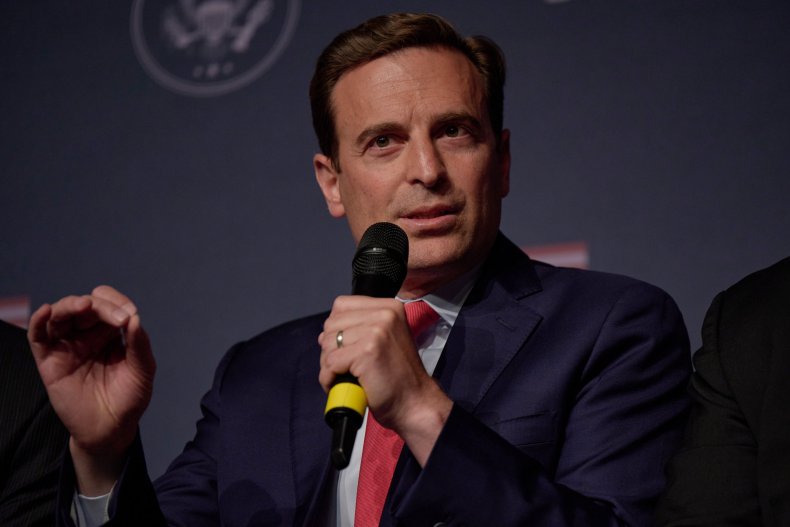 In October of 2018 and 2020, Democrats boasted roughly 5-point advantages in registered voters over Republicans. However, by last month, the Democrats' advantage had shrunk to just under 49,000 voters, a margin of less than 2.8 percentage points, a sign Joecks said could indicate a Republican advantage this cycle after a presidential election that Joe Biden won by just 2.3 points in the state.
"There are now fewer registered Democrats in Nevada than there were in October 2018, while the number of registered Republicans is up," Joecks wrote. "Republicans generally overperform in Nevada's off-year elections, too."
In recent years, Democrats' registration advantage has helped buoy the party's success in general elections. In 2018, Rosen unseated incumbent Republican Dean Heller by five points, while Democrat Steve Sisolak defeated Laxalt by four points. When Biden won in 2020, Democrats' voter registrations outpaced Republicans' by 13,000 entering October, according to a Newsweek analysis.
Democrats' lead has shrunk since then, an analysis of voter registration data shows. Much of the reason, according to the data, was a large-scale decline in the number of Democrats and a sizeable increase in the number of independents, a trend that has been mirrored nationwide. Where Republicans lost just 9.5 percent of its registered voters since October of 2020, Democrats have seen a near-15 percent decline over that period, while the number of registered non-partisan voters increased by just over 18 percentage points.
Newsweek reached out to the Nevada Democratic Party for comment.
While most polling has shown Cortez Masto with a comfortable lead entering the closing months of the campaign, others from conservative pollsters have shown the pair in a virtual tie, suggesting the race could be significantly closer than anticipated. Recent history bears that out as well. While 2020 polling gave Biden a roughly 4-point advantage in the polls, the final margin was roughly half that.
Republicans also bear a demographic advantage. While Hispanic voters were critical to Biden's victory in the state in 2020, the demographic has been trending Republican in recent years, particularly on issues like the U.S.-Mexico border. On Wednesday, Laxalt's campaign released a statewide advertising buy emphasizing Cortez Masto's support of Biden's border policies, arguing that she has remained in lockstep with an administration that has failed to stem the crisis.
However, history has shown a propensity for pollsters to unduly advantage Republicans in major races in the state.
Polling in 2018 showed Rosen and Heller virtually tied in the polls, only for Rosen to escape with a five-point victory. That same year, Sisolak defeated Laxalt by four points in a race many saw as a toss-up. And in 2010, Republican Sharon Angle was a nearly 3-point favorite to upset Democrat Harry Reid in a year that favored conservatives, but Reid won by more than 5 points.