Democrats Defend Republican Facing Backlash for Shifting Stance on Abortion
South Carolina Democrats are defending a Republican lawmaker whose tearful comments in a committee hearing this week about an abortion law he had voted for went viral, earning scorn from liberals.
Neal Collins, a state representative from the state's Upstate region, visibly fought back tears as he shared the story of how the 2021 "heartbeat" abortion law he'd supported led to a 19-year-old woman in his district nearly losing her uterus and facing the loss of her life weeks after enactment of the legislation.
"That weighs on me," Collins said during the hearing. "I voted for that bill. These are affecting people."
His comments came during a state House committee hearing Tuesday on proposed legislation that would outlaw most abortions in the state, escalating what is already considered one of the strictest abortion bans in the country. Until the state Supreme Court temporarily blocked the state's 2021 heartbeat law this week, abortions were illegal in South Carolina after six weeks, typically before most women realize they're pregnant. Following the court's ruling, abortion is still outlawed after 20 weeks.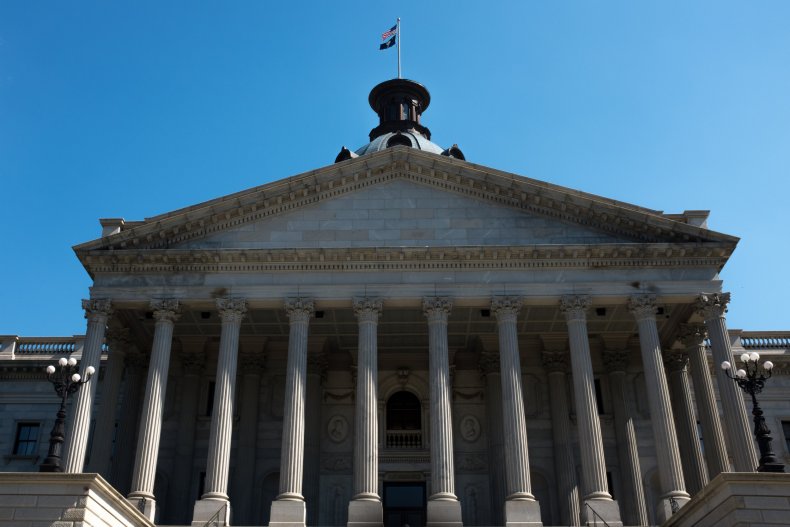 As the House considers a new abortion ban that has no exceptions other than to save the life of the mother, the South Carolina Senate has pursued an even stricter version that would criminalize anyone who aids those seeking abortions. The House's version of the bill advanced to the full chamber in a 13-7 vote Tuesday, with Collins and five other Republicans declining to vote.
Video of Collins' remarks quickly went viral, earning mentions on prime-time shows like MSNBC's All In With Chris Hayes. But they also earned attention from liberal figures like Star Trek actor George Takei, who criticized Collins' comments in a tweet shortly after video of the hearing went public.
"Oh, he just realized there are real-world consequences to his votes?" Takei wrote in a tweet with more than 6,000 impressions as of Friday.
South Carolina Democrats, however, quickly rose to defend Collins, saying that it was important to acknowledge politicians whose thinking had evolved on issues like abortion.
"To those jumping on @collins_neal please get some perspective," tweeted Jay Parmley, executive director of the South Carolina Democratic Party. "Yes, he is a GOP legislator. If we want to protect abortion rights, we need GOP legislators who may have voted a certain way in the past to grow & evolve. For heaven's sake, he's open to change—don't denigrate him."
"I've known Neal Collins since law school and his character is of the highest quality," Seth Rose, a Democratic state legislator, tweeted. "There's a lot of politicians that use the slogan 'people over politics' but @collins_neal actually does it—he puts people first."
Others addressed Takei's tweet directly.
"Hey @GeorgeTakei! South Carolinian here. Bless your heart. @collins_neal is one of the best," tweeted Phillip Ford, a South Carolina lobbyist who works with liberal groups. "Next time, try not to use your platform to attack elected officials who display courage. Normalize not attacking people who change their positions for the better."
Newsweek reached out to Collins for comment.
Collins' remarks come as abortion has become a major campaign issue in South Carolina and around the country. Former Vice President Mike Pence recently visited a Christian pregnancy center earlier this year, one of several stops he's made in the early-voting state this year. In South Carolina's Lowcountry, Republican Representative Nancy Mace has faced attacks from her Democratic challenger, Annie Andrews, for her opposition to federal protections for abortion access.
On Thursday, South Carolina Governor Henry McMaster, who has previously expressed his support for a ban on abortions without exceptions, threw cold water on the Senate's version of a ban, telling reporters that such a strict bill "would not pass the House or the Senate."