Democratic lawmakers have reacted with anger and concern after the U.S. Supreme Court allowed a new Texas abortion ban to go ahead. The law effectively prohibits all abortions after around six weeks of pregnancy.
The nation's highest court did not respond to a request for emergency relief from Texas abortion providers on Tuesday and the new law - Senate Bill (SB) 8 - came into effect.
Several elected Democrats reacted to the news on Twitter on Wednesday morning with some warning the decision could threaten abortion rights throughout the country. Critics of the new law had argued that it went against the court's precedent established in 1973's landmark case Roe v. Wade.
Speaker of the House Nancy Pelosi tweeted: "SCOTUS's failure to block #SB8 has delivered catastrophe to women in Texas. This radical law is an all out effort to erase the rights and protections of Roe v Wade."
"Every woman, everywhere has the constitutional and moral right to basic reproductive health care. We will fight SB8 and all immoral and dangerous attacks on women's health and freedoms with all our strength," Pelosi said.
Representative Val Demings of Florida's 10th congressional district tweeted: "The war on women is not over. Last night Texas' radical anti-choice law went into effect. Florida could be next."
"Your right to choose can be taken away in an instant. Women must be able to make their own health care decisions. This fight is just beginning," she said.
Senator Elizabeth Warren (D-MA)wrote: "Basic health care includes safe, legal abortion. The Texas abortion ban is an unconstitutional attack on reproductive rights—an attack happening all across America. Let's be very clear: We're going to fight this ban and defend #RoeVWade."
Representative Jim Cooper of Tennessee's 5th district made a similar argument about his state: "Inaction by the Supreme Court on SB8 in Texas is a scary sign for what's to come, particularly in Tennessee. We must protect access to abortion, which can often be life-saving care, before that right is lost for good."
Representative Bill Pascrell, Jr. of New Jersey's 9th district specifically took aim at the Republican Party.
"While you were sleeping, in the dead of night, the rightwing extremist Supreme Court took a hacksaw to Roe v. Wade and overruled nearly 50 years of legal protections for women," Pascrell tweeted.
"For decades republicans have packed the courts with political operatives to impose by fiat policies they can't win democratically. This is a culmination of their sinister efforts. Make no mistake: their goal is putting women in prison for exercising control over your own bodies," he said.
It is important to note that the court's failure to stay the law is not a judgment on its constitutionality. No court has yet ruled on the law's validity and while critics charge SB8 is a way to get around the precedent set in Roe, the 1973 decision has not been overturned. It is also possible that the Supreme Court will grant a stay in the coming days.
Senator Ron Wyden (D-OR) also highlighted Republican efforts to appoint judges: "Today we're witnessing the endgame of Republican lawmakers who spent the last decade stacking the judicial system with right-wing judges and justices to do their dirty work. I won't stop fighting to protect access to safe and legal abortion in every corner of our country."
Representative Pramila Jayapal of Washington's 7th district wrote: "1 in 4 women have had an abortion. As one of them, I know that this attack is cruel, dangerous, and unjust. We must respond by urgently passing the Women's Health Protection Act—removing barriers to care and defending the right to choose. Reproductive rights are human rights."
The graphic below, provided by Statista, shows the declining rate of abortions in the U.S. among women aged 15 to 44.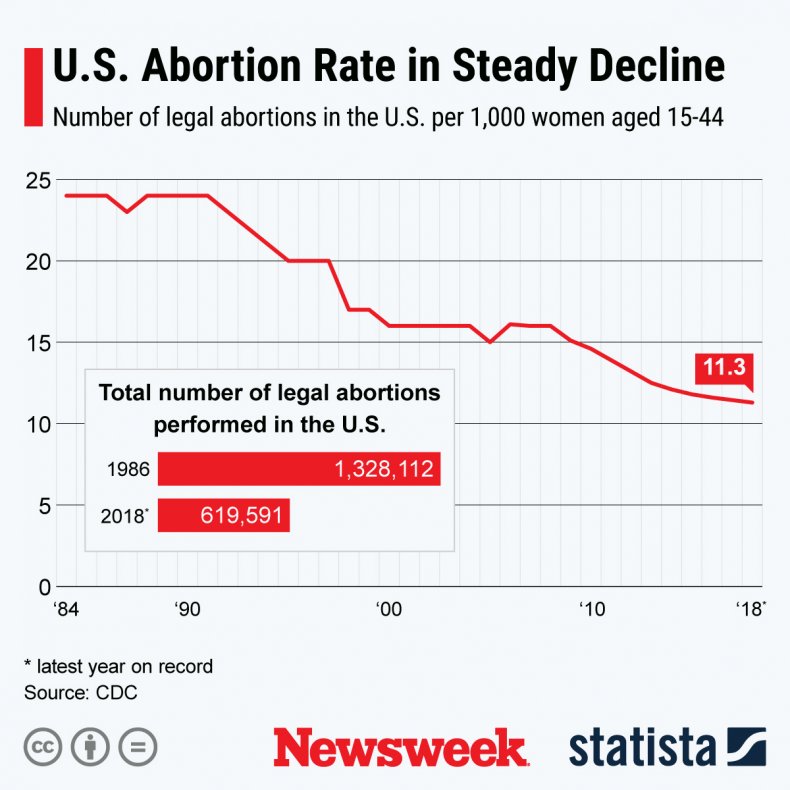 Representative Lisa Blunt Rochester of Delaware's at-large congressional district said SB8 "is in direct conflict of SCOTUS precedent and the Constitution. The Supreme Court must act now."
Senator Richard Blumenthal (D-CT) criticized the court's "inaction," writing: "Roe v. Wade was effectively overruled, not with a bang, but with a whimper, through the shadow docket. This is why we need to urgently pass the Women's Health Protection Act—it can't wait any longer."
Senator Catherine Cortez Masto (D-NV) called the court's decision "incredibly dangerous" and said the Texas law was "extreme."