Are Democrats Finally Getting Their 'Shit Together' To Stop Trump?
As the election results trickled in a year ago, Manka Dhingra's election night party that she hoped would conclude with the United States' first female president turned to dark disappointment. Yet it was from that cloud of despair that action swiftly sprung.
A month later, she attended her first Democratic Party meeting. Fast forward another 11 months, and on Tuesday Dhingra won elected office, helping her party wrest control of the Washington State Senate.
Her story was repeated across the country as Democrats enjoyed their finest night since Barack Obama's re-election in 2012, winning governors' races in Virginia and New Jersey while claiming sweeping victories in state legislatures. For the first time since Donald Trump's victory, the Democratic Party finally had something tangible to cheer.
Related: Who Are the Outsiders and Progressives Who Upset the Odds in Elections Across the U.S.?
"I think our unity is our greatest strength as a party and its Donald Trump's worst nightmare," Democratic National Committee Chairman Tom Perez said in a press call Wednesday while touting the partnership the DNC employed with 33 progressive groups in Virginia. "You saw that unity on display in Virginia, New Jersey and elsewhere as Democrats came together."
In Virginia, Ralph Northam, a former army doctor who twice voted for George W. Bush scored a crushing nine-point win over Trumpism-spouting Republican Ed Gillespie. Aiding Northam's victory had been the support of his Bernie Sanders-backed primary opponent, Tom Perriello. Elsewhere, there were progressive fairytales, like Dhingra, as well as Danica Roem, the first openly transgender person elected to a U.S. statehouse.
"Unity doesn't mean unanimity," Perez said. "Doesn't mean we have to agree on everything. But what we saw in the Virginia primary, when the Democratic primary was cast as another Bernie-Hillary proxy war, what happened was two candidates who agree on 90 percent or more of the issues ran a high road campaign."
The Democratic primary had seen record numbers head to the polls, which helped fuel the highest turnout in a Virginia gubernatorial race in 20 years. Trump can take plenty of the credit for the surge in Democratic motivation. Half of voters in Virginia said the current White House occupant was a reason for their vote, with those casting a vote to oppose him surpassing those who were doing so in support by a two-to-one margin.
In the era of Trump, there is a common mission that is bringing Democrats of all stripes together, according to Democratic strategist and former spokesperson for Hillary Clinton's campaign Jesse Ferguson.
"For all that we can get wrapped up in micro differences within our party and micro-divisions, by and large Democrats are united, fired up and ready to go," he told Newsweek Wednesday. "We have to debate the issues about our party while we unify to rescue the country from the Trump administration. Last night was the latest proof point that what unites us is far greater than what divides us."
Yet for all the talk of unity, evidence of a schism remains. This week saw the release of a book from former DNC Interim Chair Donna Brazile, in which she suggested the party had clearly favored Hillary Clinton in her primary battle against Sanders. In the year since that bitter primary, Sanders has been invited into the party's leadership, yet he recently confirmed he would again run as an independent in 2018.
Just as voters were going to the polls Tuesday, leading Democratic donor Stephen Cloobeck encapsulated the divisions when calling on the party to "get our shit together."
And, for all the jubilation evident on both sides of the Democratic Party Wednesday, it came only a matter of days after progressive group Democracy for America abandoned Northam's campaign, labeling it "racist and morally debased" after he said he'd sign a bill banning so-called "sanctuary cities."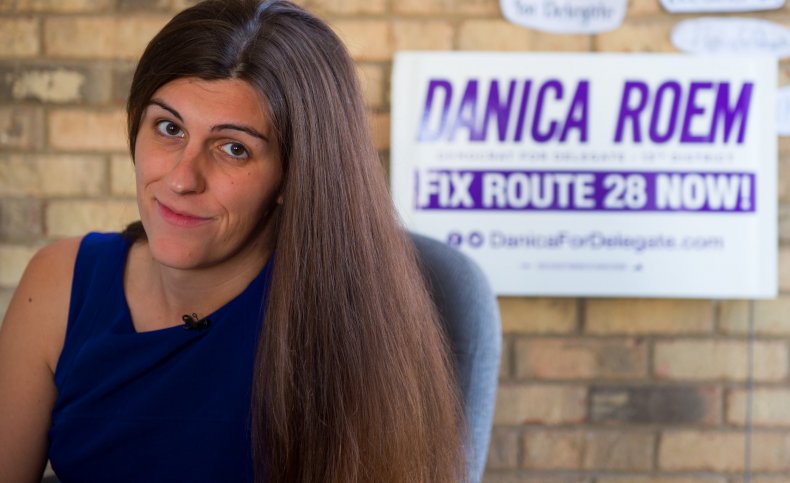 The split was visible again when those on either side were discussing who and what was responsible for Tuesday's triumph.
"This was a rejection of Sanders-style politics, a rigid ideology and litmus tests," Matt Bennett, senior vice president for public affairs at the center-left think tank Third Way, told Newsweek. "What voters are looking for is something completely different from Trump; they don't want populism dressed up in blue."
To Bennett, the moderate at the top of the ticket had driven the support for the progressives down the ballot in Virginia. "Very few people could tell you the names of the candidates that they voted for general assembly or lieutenant governor," he added.
Unsurprisingly, progressives came away with a very different message.
"Last night was a huge progressive victory—and makes clear that the way for Democrats to win big in 2018 is to field inspiring and diverse candidates who run on big ideas," Stephanie Taylor, co-founder of the Progressive Change Campaign Committee and a Virginia native said in a media call.
"Let's be clear about what happened: Inspiring people decided to run for office as their act of resistance. And they beat Republicans by running as bold progressives, weaving their powerful personal stories into their campaign narratives," she added. "We had reverse coattails. Statewide candidates were boosted by the energy around inspiring down-ballot candidates."
Yet for all those problems, the surge in turnout among women and younger voters has fueled optimism come election night in 2020. Dhingra's party will this time have a happy ending.