A higher minimum wage, stronger gun control, police reform, more protections for LGBTQ people, lower health care costs, new paths to citizenship for immigrants—Democrats running in 2020 promised voters progress on a laundry list of political priorities if given control of Congress and the White House.
But nearly a year into their reign, few of those promises have been fully realized, poll numbers are in free fall, and the party is facing midterm races that by most projections will cast it out of power in the House and possibly the Senate.
Senator Joe Manchin, a conservative Democrat from West Virginia, has gotten a lot of the blame, as one of the more visible naysayers blocking his party's agenda. Over the weekend, he created yet another setback for the Build Back Better bill, President Joe Biden's plan to massively expand the social safety net and combat the climate crisis, when Manchin said he couldn't support it.
The monthslong back-and-forth over Build Back Better has sucked up a lot of oxygen, largely because the Democrats, whose narrow majorities in both houses of Congress require little to no dissent to pass legislation, have struggled to close ranks. In the Senate, where Democrats have the slimmest possible majority, a single defector can stymie progress and force renegotiations.
But while Democrats have been hyperfocused on Build Back Better—and the bipartisan infrastructure package that was once attached to it before it got passed in a separate vote—a number of other priorities Democrats campaigned on seem to have fallen by the wayside. This has frustrated many progressive activists who point out that voters turned out in record numbers last year because they were promised substantial policy changes that haven't been delivered.
"A lot of people came out during a pandemic—a lot waited in long lines during a pandemic—not just to get rid of Trump but to deliver change," Yvette Simpson, CEO of Democracy for America, a progressive advocacy group, told Newsweek.
"The reality is, people will not show up for Democrats again if they have nothing to show," said Marge Baker, executive vice president of the progressive group People for the American Way. She expressed frustration with the Democrats but argued that Republican obstruction also deserves blame.
"I understand the frustration, but the reality is, the reason these measures aren't moving is because Republicans are blocking them," she told Newsweek. "We just have to keep up the fight."
The House of Representatives, where Democrats hold a narrow but solid majority, has passed many of the bills that Democrats, including Biden, ran on during the 2020 election.
But the Senate's current filibuster rule, which requires 60 votes to begin debate on legislation, has blocked Democrats from attaining their most consequential legislative goals. Democrats and the independents who caucus with them hold 50 seats in the Senate, and Republicans make up the other 50. Vice President Kamala Harris can cast a tie-breaking vote with the Democrats when needed, and the 60-vote filibuster can be bypassed by a budget process known as reconciliation, which Democrats used to pass a nearly $2 trillion coronavirus aid package last spring and are relying on to pass Build Back Better.
Manchin's declaration over the weekend prompted Senate Majority Leader Chuck Schumer to pen a "Dear Colleagues" letter to senators. It relayed his intention to bring Build Back Better to a vote early in 2022, "so that every Member of this body has the opportunity to make their position known on the Senate floor, not just on television."
Manchin and Biden have acknowledged that their talks will continue on forging a path forward. But if Build Back Better is put to a vote in its current form, it seems a virtual certainty that Manchin will vote against it, forcing negotiations to stretch further into 2022's critical campaigning season.
Neither Schumer's office nor the White House responded to Newsweek's requests for comment.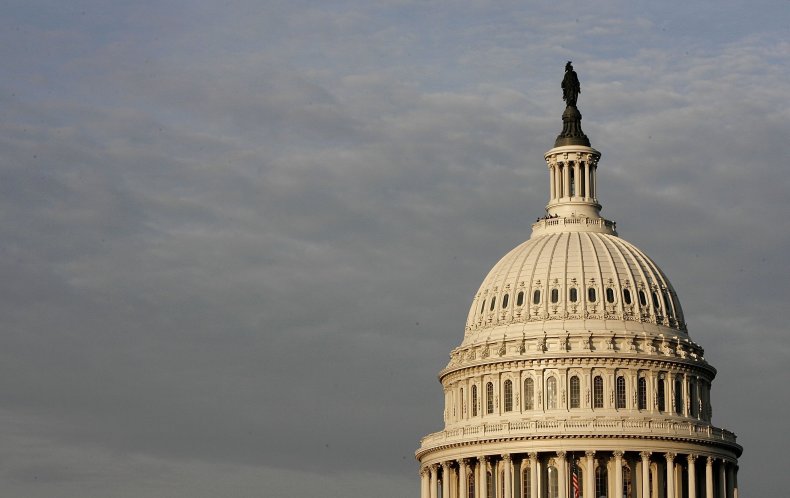 While the nearly $2 trillion social spending proposal touches on several progressive priorities—universal prekindergarten, paid family leave, climate change and health care initiatives—the far-reaching plan doesn't address a number of other issues Democrats, including Biden, campaigned on last year.
The upcoming elections will be critical for Democrats, as the party of a sitting president often loses congressional seats in the first midterms. And amid a resurgence of the coronavirus pandemic, supply chain problems and inflation, Biden's job approval ratings are down. As states are drawing new congressional districts, many solidifying Republican control or pushing seated Democrats out of their districts, 23 Democrats in the House have announced they won't seek reelection next year, further endangering their majority.
"Elections matter. What happens in 2022 is going to matter. You can't get these measures through without the votes," People for the American Way's Baker said.
Democracy for America's Simpson said that during the 2020 election cycle Democrats were able to campaign against Trump on the promise that when they gained control, they would come through for people. Now, she said, it feels as if progressives are faced with arguing that what they really need is a few more Democrats—not just majority control— and that things can happen only after that.
"People just want to see things moving," Simpson said. "We need to see Democrats do real things."
Jennifer Victor, a political science professor at George Mason University, told Newsweek that despite the current frustrations and setbacks, Democrats have still managed to avoid a government shutdown, raise the debt ceiling, pass a massive coronavirus relief package and provide historic funding for infrastructure projects across the country.
"The Democrats have actually had a pretty productive year," she said. "They were able to convert a lot of what they wanted.... That is one thing that is notable."
But whether voters will weigh those successes heavily enough to keep Democrats in power, or give them the extra seats they need to be more effective, is a question that won't be answered for 11 months. In the meantime, the Democrats will have to do their best to chip away at their priorities and fulfill as many of the promises they made in 2020 as they can in order to convince voters they deserve another two years in power in the Capitol.
Here's where several of those priorities not addressed by Build Back Better currently stand:
Minimum Wage
Biden has promoted a plan to increase the federal minimum wage for all workers across the country from its current $7.25 an hour to $15. The federal minimum wage has not been increased in more than a decade, although several states and cities have set their own rates above the federal wage.
The Biden administration attempted to get the hike into the nearly $2 trillion coronavirus relief package that was adopted earlier this year, but the Senate parliamentarian determined that the rules governing the budgetary process of reconciliation, which Democrats used to skirt the filibuster and push the legislation to a vote, did not allow for its inclusion. The parliamentarian's ruling means a minimum wage hike would require 60 Senate votes, and thus buy-in from at least 10 Republicans in the chamber, to overcome the filibuster. That is support the hike didn't and likely won't have in the near term.
However, Biden did make some progress on this goal in April when he signed an executive order that would increase the minimum wage for federal contractors to $15 an hour by early 2022.
Gun Control
A steady news feed of mass shootings and other instances of gun violence has frequently prompted demonstrations and calls for tighter weapons restrictions. Biden has referred to gun violence as an "epidemic" in the U.S.
According to the nonprofit Gun Violence Archive, which tracks instances of gun violence, gun-linked injuries and deaths have been on the rise over the past two years amid the pandemic. More than 43,000 deaths so far in 2021 have been attributed to guns, including suicides, according to the GVA's analysis.
The House has advanced legislation that would require more thorough background checks to purchase firearms, but it hasn't gained traction in the Senate or won support from enough Republicans to pass.
However, Biden did notch one gain, signing an executive order earlier this year to clamp down on homemade guns, frequently referred to as "ghost guns," by directing the Justice Department to implement a new rule that would regulate gun kits as firearms. Biden has also directed his administration to work with communities on gun violence intervention efforts, among other measures.
The Justice Department and federal prosecutors throughout the country have been directed to work with local law enforcement to develop localized enforcement plans. In addition, federal officials are developing model "red flag" legislation for states to copy, making it easier for family members and law enforcement to seek temporary removal of firearms from people who are believed to be a danger to themselves or others.
Police Reform
In 2020, the video recording of George Floyd being killed while in Minneapolis police custody fueled already burning unrest over police violence against people of color. It also sparked waves of protest across the U.S. and the world.
In response to the outcry, Democrats sought to enact the George Floyd Justice in Policing Act, which would increase police accountability for misconduct and give the Justice Department more oversight power in such cases, enhance transparency and data collection, restrict the use of deadly force, and require training on racial profiling and implicit bias, among other measures.
The legislation passed the House early this year without any Republican votes in favor. It's been deadlocked in the Senate, despite an attempt at bipartisan negotiations earlier this year that later broke down with no deal reached.
LGBTQ Protections
House Democrats unanimously agreed to a measure early this year that aimed to extend federal equal rights protections under the Civil Rights Act of 1964 to gay, lesbian, bisexual and transgender people.
But like so many Democratic priorities, it stalled in the Senate, unable to garner the Republican support necessary to even bring it to the floor for debate.
Just hours after taking office, Biden signed an executive order directing his administration to examine federal policies, programs and other endeavors that were "inconsistent" with his stance on equality. It served as a signal that the new administration wouldn't follow the Trump administration on issues like transgender bathroom access and others that are seen as harmful to the LGBTQ community.
In practice, an executive order only applies to executive government agencies: the policies they adopt and how they enforce what's on the books. Executive orders can also be reversed by any president at any time, so they don't hold the full weight of the law.
Health Care
Democrats have tried to pass several health care measures aimed at driving down costs for patients and bolstering the federal Affordable Care Act.
Some progressive lawmakers—including Senator Bernie Sanders, a Vermont independent and former presidential candidate—have pushed a "Medicare for All" proposal that would effectively create a universal, government-supported health care system through the existing framework of the Medicare program. But Biden isn't among the proposal's backers. During his 2020 campaign, he instead promised to deliver a public buy-in option controlled by the government that would compete with commercial plans.
The idea hasn't gained traction in Congress, given the reality of the 50-50 split in the Senate.
Biden and Democratic leaders have also unsuccessfully pushed reproductive health care legislation as more states adopt tighter restrictions on abortion access.
The Women's Health Protection Act, which seeks to codify the Supreme Court's Roe v. Wade decision in federal law, passed the House in September on a near party-line vote, with Representative Henry Cuellar the only Democrat to join Republicans in opposition. It has not gotten a vote in the Senate.
The Build Back Better plan that passed in the House in November does contain some health care provisions, although whether they will survive Senate negotiations remains to be seen. Among those measures are a temporary expansion of health insurance marketplace subsidies and maternal and child health initiatives.
Immigration
Democrats had hoped to add a pathway to citizenship for some undocumented immigrants into the Build Back Better bill, but the Senate parliamentarian ruled that the effort didn't pass muster under budget rules.
It was the third time that immigration reform, which include proposals for temporary work visas and protections for some undocumented immigrants already in the country, had been stricken from the Democrats' reconciliation proposals this year.
Without the tool of reconciliation, Democrats have two options left: add the legislation to a larger bill that would have to achieve bipartisan support in the Senate or try to pass it as a stand-alone immigration reform bill. The latter would still need bipartisan support and would likely get little buy-in from Republicans.
One proposal in the House would provide a pathway to citizenship for some undocumented people, including many who entered the country as minors or agricultural workers, or those who agree to a new set of regulations, including regular background checks.
The measure would also modernize language in federal laws to strike out outdated terms like "illegal alien." The U.S. Citizenship Act, first introduced in February, has 150 co-sponsors, but it hasn't received a floor vote because leaders have focused on passing larger spending bills with immigration provisions attached.