House Democrats Prepare to Hold William Barr in Contempt for 'Failure to Comply' With Subpoena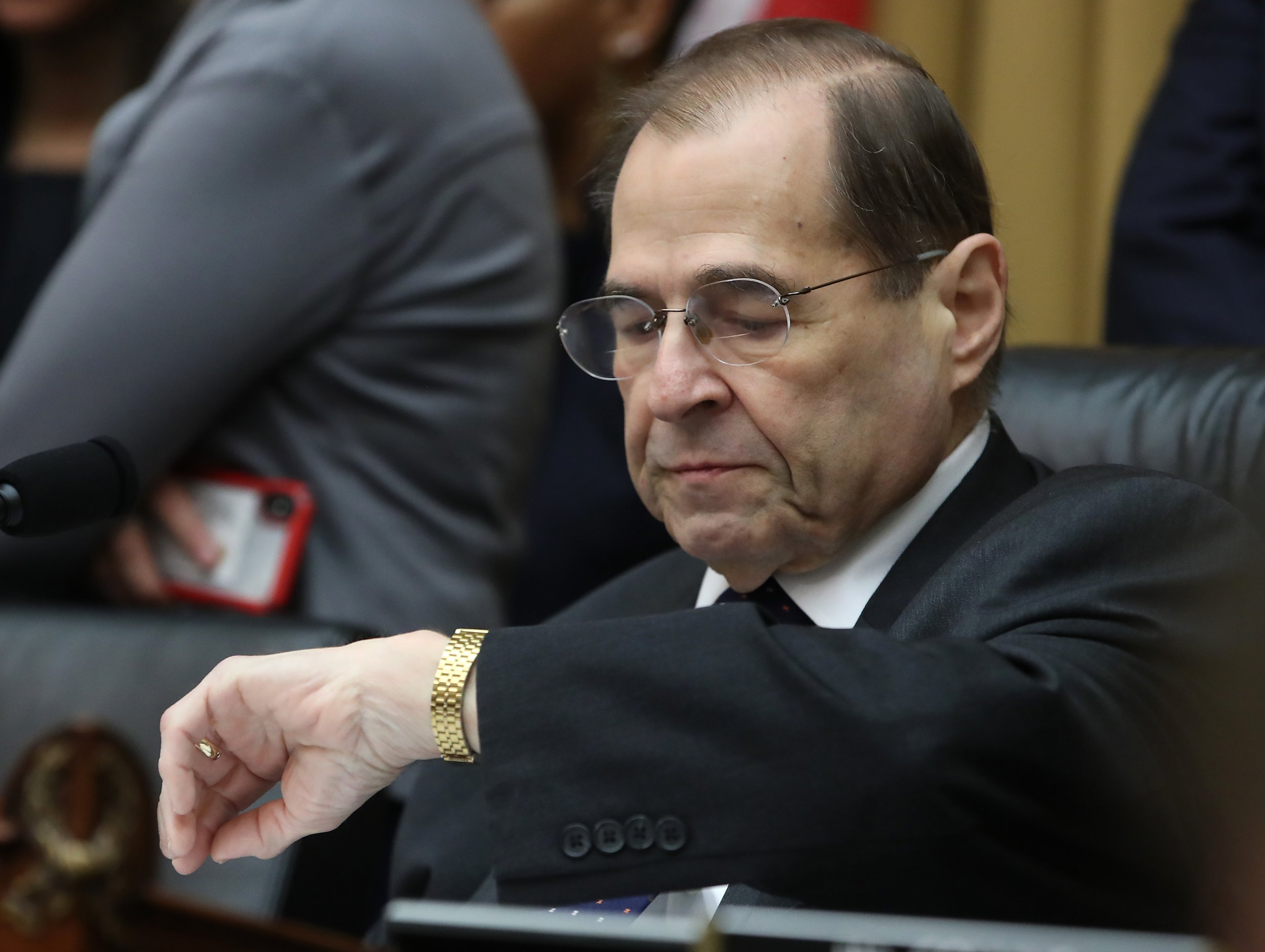 The House Judiciary Committee will hold a vote Wednesday to begin the formal process of holding Attorney General William Barr in contempt of Congress for failing to comply with a congressional subpoena for the unredacted Mueller report and its underlying evidence.
Should the contempt citation pass—which is expected, due to the Democrats' majority on the Committee—it will move to the full House for a final vote. A court battle will likely ensue.
The move came after Barr failed to provide the committee with a response by the 9 a.m. Monday deadline, as previously set by Democratic Chairman Jerrold Nadler last Friday. Barr has not produced the full report or its underlying evidence, and has indicated he has no intention of doing so since missing the subpoena's deadline last week because he said the law does not allow it. But Nadler believes otherwise.
"The attorney general's failure to comply with our subpoena, after extensive accommodation efforts, leaves us no choice but to initiate contempt proceedings in order to enforce the subpoena and access the full, unredacted report," Nadler said. "If the department presents us with a good faith offer for access to the full report and the underlying evidence, I reserve the right to postpone these proceedings."
Assistant Attorney General Stephen Boyd in a letter Monday said he was "disappointed" to hear Nadler chose to move forward with contempt, while offering Committee staff the chance to meet with department officials "to negotiate an accommodation that meets the legitimate interests of each of our coequal branches of government." He urged Nadler and other top congressional Democrats to take advantage of the previously refused offer to view some of the redacted portions of the report while the two parties negotiate how more members of Congress can see such information.
Nadler later said the Justice Department agreed to meet with his staff Tuesday.
The Committee's top Republican, Representative Doug Collins, ridiculed his counterparts for requesting a document and evidence that he said would require Barr to "break the law" if he were to provide it to lawmakers.
"[Democrats] know the Justice Department is working to negotiate even as they pursue contempt charges, making their move today illogical and disingenuous," Collins said in a statement. "Democrats have launched a proxy war smearing the attorney general when their anger actually lies with the president and the special counsel, who found neither conspiracy nor obstruction."
In the midst of conducting several congressional investigations, the battle of power between House Democrats and the Trump administration has escalated in recent weeks as the president has vowed to "[fight] all the subpoenas." Barr refused to testify last week before the Judiciary Committee, ratcheting up calls from Democrats to either resign or be impeached for his handling of the Mueller report's release.
The committee is also in talks with the Justice Department to establish a date for special counsel Robert Mueller to testify about discrepancies between his findings and Barr's four-page summary of the report's conclusions—another reason Democrats said Barr should step down. Those discrepencies have caused Democrats to accuse the attorney general of committing "a crime" by "[lying] to Congress." Committee Democrats indicated May 15 as the likely testimony date, but nothing has been finalized.
Over the weekend, Trump voiced his opposition to Mueller testifying, despite previously saying he would not take issue with the special counsel coming before Congress.
"After spending more than $35,000,000 over a two year period, interviewing 500 people, using 18 Trump Hating Angry Democrats & 49 FBI Agents - all culminating in a more than 400 page Report showing NO COLLUSION - why would the Democrats in Congress now need Robert Mueller to testify," he tweeted. "Are they looking for a redo because they hated seeing the strong NO COLLUSION conclusion? There was no crime, except on the other side (incredibly not covered in the Report), and NO OBSTRUCTION. Bob Mueller should not testify. No redos for the Dems!"
This story has been updated to include a response from the Justice Department. It was further updated with information from Nadler that his committee's staffers will meet with DOJ officials Tuesday.