Derek Chauvin Juror Says Guilty Verdict 'Possibly' Affected by His Silence at Trial
A juror in the trial of Derek Chauvin has said that the former police officer's decision not to take the stand "possibly" affected the jury's deliberations and ultimate guilty verdict.
Brandon Mitchell was Juror 52 of the 12 jury members who convicted Chauvin of George Floyd's murder earlier this month after three weeks of often emotional testimony. The jury deliberated for 10 hours before reaching their decision.
Mitchell spoke of the "distressing" deliberation process on CBS This Morning today and the emotional toll the trail took on him and his fellow jurors.
He also revealed that some of the jurors "would have liked to have heard from him [Chauvin] during the trial.
Chauvin was found guilty of third-degree murder, second-degree unintentional murder and second-degree manslaughter on April 20 and had declined to testify during the hearings.
Chauvin invoked his Fifth Amendment privilege during the trial when asked by the judge if was to take the stand.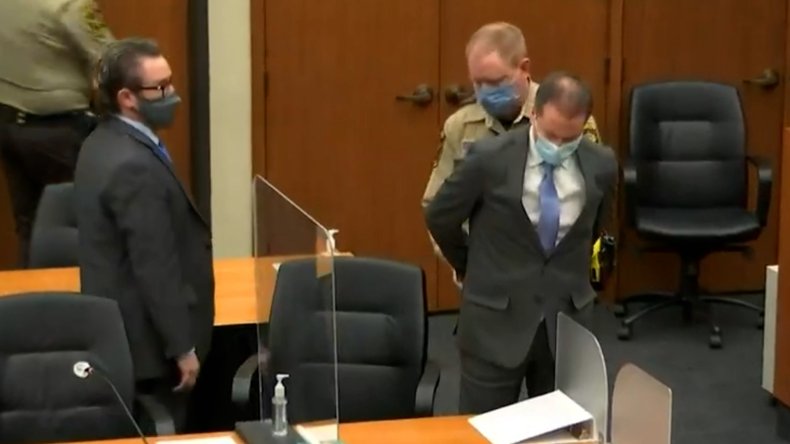 "How did you all feel about Derek Chauvin and the fact that he did not take the stand, would that have made a difference?" CBS host Gayle King asked juror Mitchell.
"It possibly could have," Mitchell responded.
"We did talk about the fact that he didn't. Somebody had brought it up like... they would have liked to have heard from him."
He explained Chauvin's decision not to testify "possibly could have affected the outcome either way.
"Either way, I can't say would it change the outcome but it's a possibility for sure."
Most experts speculate Chauvin will be sentenced to a maximum of 40 years in prison but he faces a maximum sentence of 75 years. He will be sentenced in approximately seven weeks.
Mitchell spoke about the "distressing" and "stressful" nature of the hearing, saying that every day he and the other jurors had to "watch a black man die."
"That alone is stressful," he said. "Coming in each and every day and having to watch somebody die is stressful enough by itself. So anything outside of that was a secondary it's because, as a human, it's natural to feel some kind of way. As you're watching somebody in agony."
Mitchell even questioned how he, as a Black man was going to make it through the full trial.
"It definitely had its impact on me I mean there was a few days where I was like 'I don't know how I'm going to make it in this next day' especially as a Black man and a larger Black man," he said.
"Some of the testimonies just like saying how size could be considered a risk or a threat whereas me, I'm a gentle giant. That affects me in a way that is weird."