DeSantis Won't Allow Cruise Ship Restrictions, Warns He'll Take CDC Fight to Supreme Court
Republican Florida Governor Ron DeSantis has pledged to fight pandemic restrictions placed on cruise ships by the U.S. Centers for Disease Control and Prevention (CDC) all the way up to the Supreme Court.
Under the governor's direction, the state of Florida sued the CDC in April, saying that Congress had never granted it the authority to regulate health and safety standards on cruise ships. He said the CDC's restrictions were illegal and harmful to Florida's economy.
A U.S. district judge granted the state a preliminary injunction against the CDC in June, but the CDC appealed the injunction. On Saturday, a three-judge appellate court panel delayed the injunction in a 2-1 decision issued a day before the injunction was set to take place.
On Monday, DeSantis pledged to appeal the decision all the way up to the Supreme Court so that cruise ships could continue operating without CDC interference.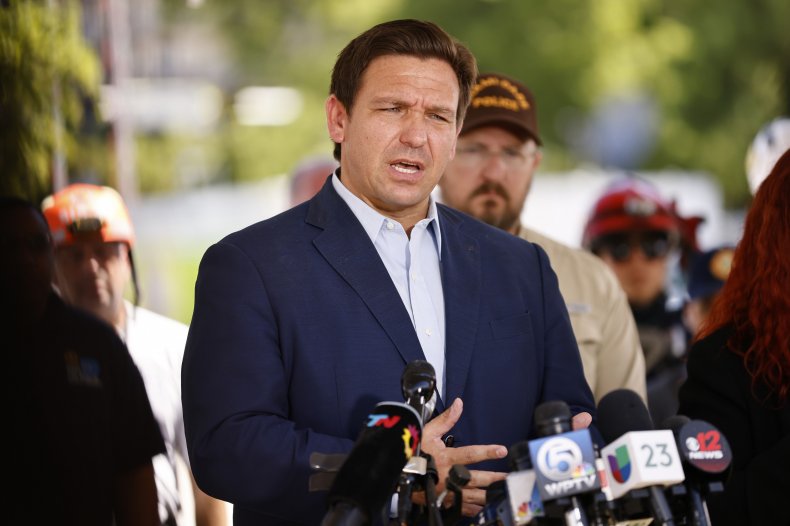 "Can you just have one agency in the government, without Congress ever passing a law, just basically shutting down an industry?" DeSantis recently asked reporters, according to the Sun-Sentinel. "Maybe you don't care about the cruise industry. Next time, it might be your industry. Next time, it may affect people that you know, or people that depend on this for their livelihood. So I think it raises a lot of important implications."
A spokesperson from DeSantis' office told Newsweek that it agreed with a ruling last month from Judge Steven Merryday, the Tampa federal judge who heard the case last month. In his decision, Merryday wrote that there is no precedence for the CDC to shut down an entire industry for one year and then to regulate it by imposing "impossibly detailed" technical guidelines in order to prevent even a single transmission of any disease.
In March 2020, the CDC stopped all cruise ships from departing from U.S. ports as a way to prevent further COVID-19 outbreaks. In October 2020, the federal agency issued a framework for gradually restarting cruises. The framework required cruise operators to instate and then test prevention measures on simulated cruises before disembarking with paying passengers.
In late April, the CDC said that cruises could resume by mid-July without restrictions if operators could make sure that nearly everyone on board, passengers and crew members included, had gotten vaccinated, the Associated Press reported.
However, DeSantis opposes these restrictions. Part of his opposition stems from his April executive order banning "vaccine passports", any attempt by any business or public agency to provide services only to those who have been vaccinated. DeSantis such actions "reduce individual freedom and will harm patient privacy."
Nevertheless, major cruise lines operating out of Florida have tried to find a balance between following CDC guidelines and not requiring so-called vaccine passports.
Carnival Cruise Line and Royal Caribbean Cruise Line have both required guests who don't provide proof of vaccination to follow mask-wearing and social distancing rules that vaccinated travelers can ignore on-board. Both also require unvaccinated travelers to purchase travelers' insurance before boarding.
Last week, Norwegian Cruise Line filed a separate lawsuit challenging DeSantis' vaccine passport ban. The cruise line had hoped to sail a ship made up entirely of vaccinated travelers. The cruise line has threatened to leave the state entirely if DeSantis' ban stays in place.
In November, all CDC restrictions on cruises are expected to expire, unless reinstated due to rising case numbers.
Update (7/22/2021, 12:21 a.m.): This article has been updated to include a statement from DeSantis' office.
Correction: An earlier version of this story said that Norwegian Cruise Line wouldn't sail out of Florida until December. The cruise operator has a cruise leaving Miami on August 15.